Polls: Romney Leads in First 4 Primary States
Herman Cain may be ahead in some national surveys, but the former governor is winning where it counts according to CNN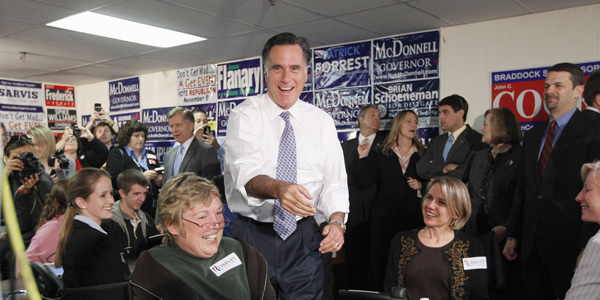 Former Massachusetts Gov. Mitt Romney leads in new CNN/Time polls of the first four states on the Republican presidential nominating calendar -- Iowa, New Hampshire, South Carolina and Florida -- though in Iowa and South Carolina, Herman Cain runs a close second.
---
MORE FROM NATIONAL JOURNAL:
Student Loan Relief Is Modest but Could Be Politically Smart
GOP Candidates Flip-Flop Away
2012 Narrative Still Being Written
---
Cain, the former CEO of Godfather's Pizza, runs second in each of the four states, and in three of the four states, Rep. Ron Paul (R-Texas) runs third.
Notably, the best that Texas Gov. Rick Perry can manage in any of the states is a tie for third.
Taken collectively, the polls show that -- despite Cain's slight lead over Romney in some recent national polling -- Romney has the advantage in the four states that will most determine the direction of the GOP nominating process:
-- In Iowa, which will hold its caucuses on Jan. 3, Romney leads Cain, 24 percent to 21 percent -- within the margin of error. Paul was third, at 12 percent, followed by former House Speaker Newt Gingrich and Perry, who both earned 10 percent. Rep. Michele Bachmann (R-Minn.), who edged Paul in August's Iowa straw poll, was at only six percent.
-- New Hampshire is expected to hold its first-in-the-nation primary on Jan. 10, and Romney has a strong lead in the poll, at 40 percent. Cain is at 13 percent, with Paul right behind him at 12 percent. Former Utah Gov. Jon Huntsman, whose campaign is predicated on a strong performance in the Granite State, is fourth at six percent, followed closely by Gingrich, at five percent. Perry is at just four percent.
-- The first-in-the-South primary will be held in South Carolina on Jan. 21, where Romney (25 percent) and Cain (23 percent) are now in a virtual tie. Paul is third at 12 percent, and Perry is at 11 percent, his strongest performance in the four polls.
-- Romney leads Cain in vote-rich Florida, which will hold its primary on Jan. 31, 30 percent to 18 percent. Gingrich and Perry tied for third with nine percent, and Paul was fifth at six percent.
All four polls were conducted Oct. 20-25 by ORC International. The respective sample sizes and margins of error are as follows:
-- Iowa: 405 registered Republicans; margin of error +/- 4.8 percent.
-- New Hampshire: 400 registered Republicans or independents who voted in the 2008 Republican primary; margin of error +/- 4.9 percent.
-- South Carolina: 400 registered Republicans and Republican-leaning independents; margin of error +/- 4.9 percent.
-- Florida: 401 registered Republicans; margin of error +/- 4.9 percent.
Image credit: Pablo Martinez Monsivais/AP