Poll: Perry Falls, Cain Surges Into Second
Mitt Romney now leads the Republican presidential race, according to a new survey from ABC and The Washington Post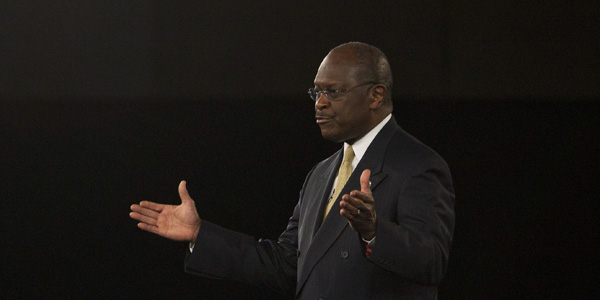 Former Massachusetts Gov. Mitt Romney is back atop the field of Republican presidential contenders as Texas Gov. Rick Perry's support has been cut nearly in half, according to a new ABC News/Washington Post poll, as businessman Herman Cain has surged into a tie for second place.
---
MORE FROM NATIONAL JOURNAL:
Republicans Look for a Fighter Against Obama
Voters of Two Minds on Regulations
Christie Must Be Ready to Scramble
---
The poll also shows that New Jersey Gov. Chris Christie would start the campaign with double-digit support, if he chose to enter the race this week.
Romney leads among Republican and Republican-leaning voters with 20 percent of the vote, according to the poll, released early Tuesday. Perry and Cain tie for second place, with 15 percent. Christie is fourth, at 10 percent. Former Alaska Gov. Sarah Palin is next at eight percent, while former House Speaker Newt Gingrich and Rep. Ron Paul, R-Tex., are at seven percent each.
When the second choice is substituted for those respondents choosing Palin, Romney leads with 22 percent, trailed by Perry and Cain, with 15 percent each. Christie is at 11 percent with Palin's votes reallocated.
And if neither Christie nor Palin ran, Romney would lead with a quarter of the vote, trailed by Perry and Cain, who each earn the support of 17 percent of voters.
Perry has clearly been damaged over the last month by revelations about his record and uneven debate performances: 44 percent of all Republicans (including non-voters) say that the more they hear about Perry, the less they like him. Just 30 percent say the more they hear, the more they like the Texan.
More Republicans now trust Romney than Perry on issues like Social Security and immigration -- two areas on which Republican candidates have focused their criticism of Perry. And by a 20-point margin, more Republicans think Romney has the better chance to defeat President Obama in November 2012.
The poll was conducted largely before the Washington Post reported in Sunday's editions that his family's hunting camp in West Texas had been referred to in the past by a racial slur.
The Cain Train has picked up significant momentum over the past month. Cain's support has more than doubled from last month, and 47 percent of Republicans say the more they hear about the former Godfather's Pizza CEO, the more they like him, higher than any of the five candidates or potential candidates tested. Only 18 percent say they like him less.
As for Christie, he would be a legitimate contender if he entered the race. A plurality of Republicans (42 percent) want him to jump into the pool, while 34 percent do not; comparatively, 66 percent of Republicans say they do not want Palin to join the race. And 43 percent say the more they hear about the pugnacious New Jersey governor, the more they like him, compared to just 23 percent who like him less the more they hear.
Meanwhile, Obama's approval rating now stands at 42 percent -- a new low -- with 54 percent of Americans disapproving. Among registered voters, Obama trails Romney by two points, 48 percent to 46 percent; ties Christie, with 45 percent each; and leads Perry, 49 percent to 46 percent.
The two news organizations reported Monday that a majority of Americans think Obama will be defeated by the Republican candidate, leading the president to declare himself "the underdog" in an interview with ABC News Monday.
The ABC News/Washington Post poll was conducted Sept. 29-Oct. 2, surveying 1,002 adults, for a margin of error of +/- 3.1 percent. There were 869 registered voters, for a margin of error of +/- 3.3 percent.
The total sample size of Republicans and Republican-leaning independents was 397, for a margin of error of +/- 4.9 percent. Of those, 350 were registered to vote; the margin of error for the GOP primary matchups is +/- 5.2 percent.
Image credit: