Poll: On the Economy, Voters Trust Romney Over Obama
As the former Massachusetts governor surges in GOP primary surveys, he eclipses the president on the top issue in his campaign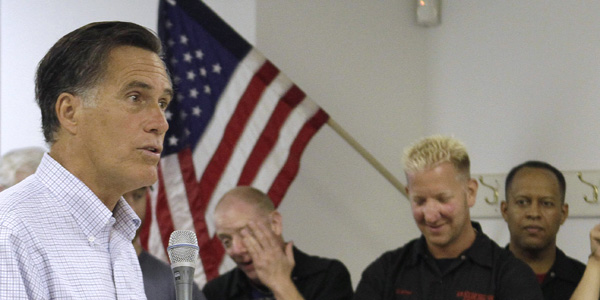 A growing plurality of voters think Mitt Romney would do a better job on the economy than President Obama, according to a new Quinnipiac University poll released early Thursday, as the nation's sagging economy continues to weigh down Obama and bolster the GOP's effort to defeat him next November.
---
MORE FROM NATIONAL JOURNAL:
Cain Campaign: Selling a Candidate or Selling Books?
The 10-Year Tragedy
Next Stop: Animal House
---
Romney leads on the economy, 49 percent to 39 percent. His lead on the question is 13 points among independents, and he has a 16-point edge among white voters. In late August, voters preferred Romney by a narrower, 46-42 percent margin; the new poll represents significant movement and shows that the former Massachusetts governor's efforts to burnish his standing on economic issues are paying off. The poll underscores why the White House is trying to brand Romney as a Wall Street villain, particularly as protests in lower Manhattan receive increased media attention.
Even the beleaguered Texas Gov. Rick Perry leads Obama when it comes to who would do a better job on the economy, 45 percent to 42 percent. In late August, Obama held a two-point advantage over Perry on that question.
Overall, just 32 percent of voters approve of the job Obama is doing handling the economy, equal to his record-low standing in late August. A record-high 64 percent of voters disapprove.
Obama has also hit a new low in his overall approval rating: Only 41 percent of voters approve of his job performance, while 55 percent disapprove. The percentage of voters who disapprove of Obama is up from 52 percent in late August.
Data from the poll released Wednesday showed Romney with a four-point lead over Obama, within the survey's margin of error. Perry trailed Obama by a single point in the poll.
Romney's advantage over the current president is not restricted to economic issues. By a four-point margin, they prefer Romney on Social Security, 46 percent to 42 percent. Perry, on the other hand, trails Obama on Social Security; some Republican opponents have criticized Perry's past statements and positions on the issue, and 35 percent of voters in the poll say they think Perry wants to end the program.
On foreign policy, voters are split between Obama and Romney, with each preferred by 43 percent of voters. Obama leads Perry on the question by eight points.
The question about foreign policy was asked after respondents rated Obama on the situation between Israel and the Palestinians: only 34 percent of voters approve of his handling of that issue, while 48 percent disapprove.
The Quinnipiac University poll was conducted Sept. 27-Oct. 3, surveying 2,118 registered voters, for a margin of error of +/- 2.1 percent.
Image credit: Jim Cole/AP