Poll: Most Americans Support Occupy Wall Street
National Journal's latest survey shows broad support for the protest movement and Democrats' plan to make the rich pay more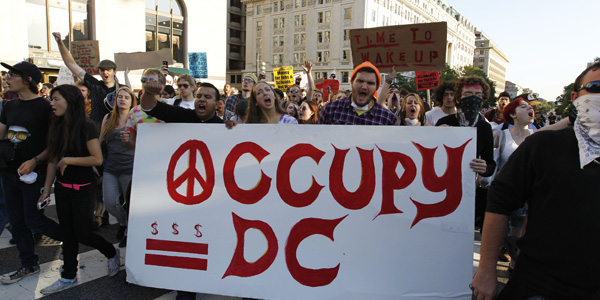 At a time when protests have erupted across the country over a growing inequality of wealth and Congress is considering measures to impose a surtax on those earning more than $1 million annually, the public seems to be in a populist mood--one that's tempered by skepticism about Washington's ability to do anything about the grim economy.
A new survey shows that Americans overwhelmingly support the self-styled Occupy Wall Street protests that not only have disrupted life in Lower Manhattan but also in Washington and cities and towns across the U.S. and in other nations. Some 59 percent of adults either completely agree or mostly agree with the protesters, while 31 percent mostly disagree or completely disagree; 10 percent of those surveyed didn't know or refused to answer.
What's more, many people are paying attention to the rallies. Almost two-thirds of respondents--65 percent--said they've heard "a lot" or "some" about the rallies, while 35 percent have said they've heard or seen "not too much" or "nothing at all" about the demonstrations.
The results appear in the latest edition of the United Technologies/National Journal Congressional Connection Poll.
When it comes to the question of how to pay for the Democratic jobs bill, most respondents were more than willing to place a special burden on the wealthy. Those surveyed were asked about a possible 5 percent surtax on those earning more than $1 million annually. The idea got considerable discussion earlier this fall when Congress considered President Obama's jobs package. Senate Republicans united against the bill and were joined by some Democrats, making it impossible for the measure to pass in a chamber where 60-vote majorities have become the norm because of filibustering. Still, a whopping 68 percent of adults support the Democratic surtax to pay for the cost of their jobs plan. Only 27 percent opposed the tax, while 5 percent didn't know. Men and women split almost identically on the issue, and black non-Hispanics were more supportive of the surtax than white non-Hispanics, with 84 percent supporting the idea.
Congressional Democrats and Obama can also take comfort from Americans' reaction to Senate Republicans blocking the nomination of Richard Cordray, the former Ohio attorney general, to head the Consumer Financial Protection Bureau, an agency created in the wake of the financial crisis to look out for the interest of citizens. More than 40 Republicans--enough for a filibuster--have signed a letter vowing to block his appointment unless changes are made to the bureau that the GOP feels, in its current construct, is inhibiting financial institutions and lending that could spur the economy. A majority of those surveyed said that the Senate should confirm Cordray, and 39 percent said that it should not confirm him, while 15 percent either didn't know or refused to say.
Perhaps not surprisingly, 70 percent of Republican respondents said that Cordray should not be confirmed, while 75 percent of Democrats said that he should be. Independents broke 43 percent to 40 percent in favor of confirmation.
The United Technologies/National Journal Congressional Connection Poll is conducted by Princeton Survey Research Associates International, which surveyed 1,007 adults by landline and cell phone on Oct. 13-16. It has a margin of error of plus or minus 3.7 percentage points.
Looking at Washington and the ability of lawmakers to do anything about an economy beset by high unemployment, more than half of adults said the main reason that unemployment has remained high is that "there have been good ideas, but fighting between Democrats and Republicans has blocked needed government action." Only 16 percent said that the main reason was that "neither Democrats nor Republicans have come up with any good ideas to reduce unemployment so far." A slightly higher percentage of respondents--21 percent--saw the problem as being more about government efficacy. They said the main reason for such high unemployment is that "there is not much Washington leaders can do to reduce unemployment through policy or legislation."
Throughout the fall, the United Technologies/National Journal Congressional Connection Poll has revealed an electorate that's extremely critical of Congress and wary of embracing any particular policy prescription for getting the American economy growing more briskly. The millionaire's surtax has cut through the clutter. Although it may not be surprising that 90 percent of Democrats support this Democratic proposal, it's notable that 71 percent of independents do and even 37 percent of Republicans like this kind of a tax increase.
When it comes to those Wall Street protests, there's also a populist streak: Remarkably, nearly one-third of Republicans--31 percent--completely or mostly agree with their aims. The sour economy has sparked some class resentments in unexpected places, it seems. Those stirrings are unlikely to come to fruition in this divided Congress, but there's no indication they're going away anytime soon.
Image credit: Jose Luis Magana/AP