Poll: More Than Two-Thirds Say Obama's Policies Will Fail
Another piece of bad polling news for the president, as Americans express little faith that he can succeed in the White House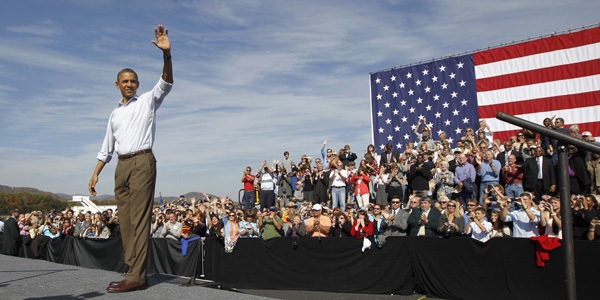 Americans say they are rooting for President Obama's policies to succeed, but a majority thinks it is more likely that they will fail, according to a new CNN/ORC International poll released late Monday.
---
MORE FROM NATIONAL JOURNAL:
Fundraising Winners and Losers: Senate Edition
Top 10 House Fundraisers
Obama Heralds King's Return to the National Mall
---
Asked whether they hope his policies will succeed or fail, 67 percent of Americans say they hope they will succeed, slightly higher than the 61 percent who rooted for their success last December. Just a quarter of Americans say they hope Obama's policies fail, including just over half of Republicans.
But while Americans are still pulling for Obama, nearly six-and-ten believe that his policies are likely to fail: 34 percent of Democrats, 83 percent of Republicans and 61 percent of independents. Nearly two-thirds of whites believe they are more likely to fail. Only 36 percent believe they are likely to succeed.
Last December, Americans were mixed on Obama's prospects, with 44 percent thinking Obama's policies would more likely succeed and 47 percent thinking they would fail.
Despite Americans' declining confidence in Obama's agenda, his approval rating ticked up to 46 percent. From July through September, his approval rating fluctuated between 43 and 45 percent.
Meanwhile, the percentage of Americans who disapprove of Obama's job performance dropped to 50 percent. Over the summer, it was in the 52-to-55-percent range.
The CNN/ORC International poll was conducted Oct. 14-16, surveying 1,007 adults. The margin of error is +/- 3.1 percent.
Image credit: Jason Reed/Reuters