Poll: Herman Cain Ties Romney for the Lead in 2012 Race
The former Godfather's Pizza CEO has surged in three new surveys this week, while Texas Gov. Rick Perry has fallen out of the lead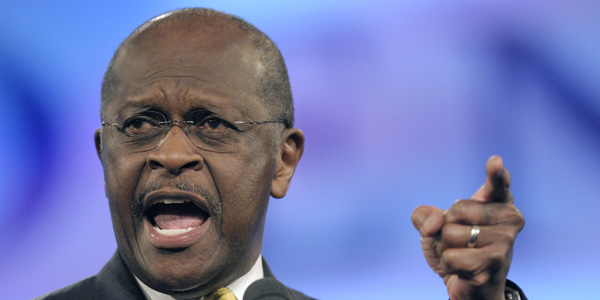 Businessman Herman Cain is tied with former Massachusetts Gov. Mitt Romney for the lead in the increasingly turbulent race for the Republican presidential nomination, according to a new CBS News poll released Tuesday, the third poll in the last 24 hours to show Cain at least with a share of second place.
Romney and Cain each earn 17 percent of the vote in the new CBS News poll. Texas Gov. Rick Perry is third, with 12 percent of the vote, within the margin of error. Former House Speaker Newt Gingrich is at eight percent, while his fellow Texan, Rep. Ron Paul, is at 7 percent. Trailing the pack are Rep. Michele Bachmann, R-Minn., at four percent; former Sen. Rick Santorum, R-Pa., at three percent; and former Utah Gov. Jon Huntsman (two percent). Twenty percent of voters either want another candidate or were undecided.
The field remains extremely fluid: Among those who chose a candidate, only 19 percent of Republican voters said they have made up their mind, and more than three-quarters said they could still change their vote.
The poll is a significant change from just two weeks ago, when Perry led Romney, 23 percent to 16 percent. Perry has fallen 11 points, while Cain has risen by 12. Romney, on the other hand, has ticked up just a single point in the past two weeks.
The change has almost entirely come among more conservative voters. Among those Republicans who identify as members of the Tea Party, Cain leads Romney, 24 percent to 17 percent, with Perry back in fourth place at 12 percent. Two weeks ago, Perry had nearly a third of the Tea Party vote, but recent criticism of his record and poor debate performances have damaged Perry's candidacy.
Cain, meanwhile, was a non-factor among Tea Party supporters two weeks ago, with only seven percent of the vote among those voters. Over the past two weeks, as Perry's support has dwindled, Cain's outsider profile -- he is the former CEO of the Godfather's Pizza chain -- appears to have resonated among Tea Party voters.
Despite Cain's rise, Republican primary voters are not yet quite convinced he is ready for prime-time. Asked which candidate has the best chance to defeat President Obama in the general election, 32 percent choose Romney, and 21 percent say Perry. Just eight percent of Republican primary voters think Cain has the best chance to beat Obama.
Polls released early Tuesday from ABC News/Washington Post and Quinnipiac University also showed significant increases in Cain's support, while also showing a decrease in support for Perry.
The CBS News poll was conducted Sept. 28-Oct. 2, surveying 324 voters who say they plan to vote in the Republican presidential primary. The margin of error is +/- 5.4 percent.
Image credit: Phelan Ebenhack/Reuters