Poll: Cain Leads GOP Race
According to a new poll from NBC and the Wall Street Journal, the former Godfather's Pizza CEO is the new Republican front-runner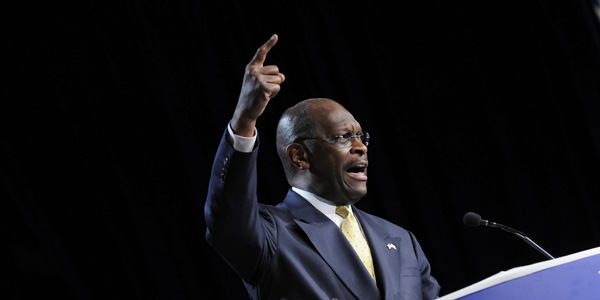 Herman Cain, the former CEO of Godfather's Pizza, is the preferred choice of a narrow plurality of Republican presidential primary voters in a new NBC News/Wall Street Journal poll released late Wednesday, as the already-volatile race for the GOP nomination has again been turned on its head.
---
MORE FROM NATIONAL JOURNAL:
Obama, DNC Raised $70 Million Since July
GOP Candidates: Don't Blame Wall Street for the Economy
The Missing GOP Establishment
---
Cain leads former Massachusetts Gov. Mitt Romney, 27 percent to 23 percent, well within the survey's margin of error of +/- 5.3 percent. Texas Gov. Rick Perry is third, at 16 percent, followed by Rep. Ron Paul, R-Tex., at 11 percent. Trailing the pack are former House Speaker Newt Gingrich, with eight percent; Rep. Michele Bachmann, R-Minn., with five percent; and former Utah Gov. Jon Huntsman, who is at three percent.
Six weeks ago, Perry was the national frontrunner, while Romney was clearly in second place. But as Perry has plummeted -- a result of poor debate performances and effective attacks from his GOP competitors -- Romney remains stuck at the exact same percentage. In that survey, conducted at the end of August, Perry had a clear lead over Romney, 38 percent to 23 percent, with Cain at just five percent.
After that poll six weeks ago, Democratic pollster Peter Hart declared that President Obama "was no longer the favorite" for reelection. This new survey contains slightly better news for the president and his party, though Obama's vulnerability is still very evident in the data.
Obama's approval rating is just 41 percent, identical to the late August survey. A slight majority, 51 percent, disapproves of his job performance. On the economy, 39 percent of Americans approve of the job Obama is doing, virtually identical to his 37-percent rating on that issue in August.
But other measures have improved slightly. His personal positive/negative rating is once again right-side-up: 46 percent have a positive opinion of him, while 40 percent have a negative opinion, better than the 44 percent positive/44 percent negative score he tallied in August.
Matched up against a generic Republican opponent, Obama has a slight advantage among registered voters, 44 percent to 42 percent. In August, the generic Republican had a four-point lead on that question.
Against specific Republican candidates, Obama leads by small margins. His two-point edge over Romney -- up from one point in August -- is within the margin of error. He notches 11-point and 12-point leads against Cain and Perry, respectively, a sign that Romney is, at this time, the more formidable general election candidate.
Indeed, despite Cain's surge among Republicans, few Americans know enough about him to form an opinion. Twenty-four percent of Americans say they have a positive opinion of Cain, while 18 percent have a negative opinion. Twenty percent describe themselves as "neutral," while 38 percent say they haven't heard of the new leader in the GOP race.
Amazingly, nearly half of Republican primary voters either haven't heard of Cain or have no opinion of him. But, among those who have an opinion, Cain's numbers are incredibly positive: 52 percent have a positive opinion of him, compared to just six percent with a negative opinion.
One more piece of better news for Democrats: Registered voters now prefer a Democratic-controlled Congress by a four-point margin, 45 percent to 41 percent. That is a ten-point turnaround from late August, when voters said they preferred a Republican-controlled Congress, 47 percent to 41 percent.
The NBC News/Wall Street Journal poll was conducted Oct. 6-10 by the bipartisan team of Hart and Republican Bill McInturff. The poll surveyed 1,000 adults, for a margin of error of +/- 3.1 percent. There were 837 registered voters for 2012 election questions; those carry a margin of error of +/- 3.4 percent. For the oversample of Republican primary voters, there were a total of 336 voters surveyed, for a margin of error of +/- 5.3 percent.
Image credit: Jonathan Ernst/Reuters