Perry's Energy Job-Creation Promises Sound a Lot Like Obama's
The Texas governor unveiled his plan to spur the economy with energy projects, claiming it will reduce unemployment by 1.2 million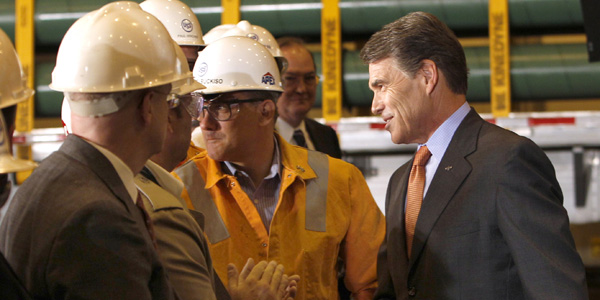 Here's something President Obama and Texas Gov. Rick Perry have in common: Both anchor their plans for the nation's economic recovery on energy-sector jobs. In Obama's case, it's green jobs in the renewable energy sector. In Perry's case, it's jobs in the oil sector.
---
MORE FROM NATIONAL JOURNAL:
Architect of Cain's 9-9-9 Plan Donated to Romney
Blackberry: Still No. 1 in Congress
Obama's Performance Rating Slips Again
---
In reality, neither would likely make a major dent in the nation's unemployment level. Perry on Friday laid out a series of energy proposals that he presented as "phase one" in his plan for economic recovery. The proposals--expand drilling in the Gulf of Mexico, the Arctic Ocean, the south Atlantic, the Arctic National Wildlife Reserve, and Western states--are essentially an oil industry wish-list. That comes as no surprise from a GOP Texas governor whose biggest campaign contributions have always come from the oil industry.
Making his first major policy speech, Perry also said he would stall new Environmental Protection Agency regulations on coal-plant pollution, and took aim at the agency's new climate change regulations. These are the same rules Perry has fought aggressively in Texas, and which congressional Republicans have been skewering weekly on the House floor.
What's new about the old proposal is that, just as Obama once framed his proposed cap-and-trade and clean-energy mandates as "green jobs" creators, Perry is now presenting drilling and regulation rollbacks as a plan to create an estimated 1.2 million new jobs.
In both cases, it appears that Perry and Obama had an energy plan they wanted to push, and sought to fit it into a message about voter's top concern: jobs.
"What's striking is, like Obama, Perry is trying to turn to the energy industry as a job magician. And it's unclear that that is even remotely the case," said a former Clinton White House aide who works on energy issues, but asked to speak anonymously in order to be candid. "The only bipartisan thing in energy policy right now is looking for it to magically create jobs."
It's not clear where the Perry campaign came up with the 1.2 million jobs number, but it's almost the same number as the American Petroleum Institute, the lobbying arm of the oil industry, cited in a recent report.
"It's so important to have presidential candidates out there talking about the resources we have out there," Rayola Douger, senior economic advisor for API, said of Perry's speech. "We can bring 1 million jobs to the market in the decade if given [the] opportunity to do this development. Until now, no one but the oil and gas industry has been saying this." It's probably true that both mandating clean-energy development and aggressively pushing offshore drilling would create some new jobs. But the number of jobs in each of those sectors only represent about 1 percent of the economy.
One big difference between Obama's and Perry's energy-jobs plans is a president's ability to push it through. While it's likely that Obama's plan could have generated jobs in the renewable sector, there's no way to know how many, since none of his climate or green-energy bills made it through Congress--nor are they likely to as long as Republicans control one chamber.
But if he were president, Perry could use executive authority to start new drilling, bypassing Congress and assuring that his drilling plan might actually come to pass.
Image credit: Keith Srakocic/AP