Occupy Wall Street Bests Tea Party in Google Searches
Residents of Vermont, Oregon and New York were most likely to seek information about OWS -- and interest in the Tea Party spikes around Tax Day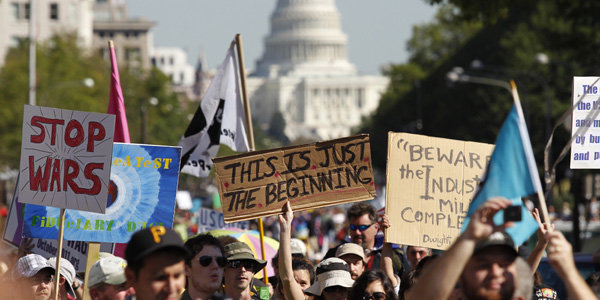 Over at Google's "Politics & Election Blog," Jake Parrillo has put together a comparison of Internet searches for Occupy Wall Street and the Tea Party, an exercise that turned up some interesting results:
Based on search patterns from Google users, Americans' interest in these two large groups is clear. Here's what we found:



Searches for Occupy Wall Street started on Sept 16th & peaked one month later on October 15th
NY is tops in searches, right? Wrong. Top 3 states for most "Occupy" searches: Vermont, Oregon, New York
Search interest in OWS is higher than the Tea Party. Both currently and in looking at the birth of each

Searches for the Tea Party peak each April as Americans begin to file their taxes    

The folks at Google also looked at data from Google News, and found that "despite big leads in polls and search traffic for Occupy Wall Street, it is almost in a dead heat with the Tea Party for the volume of news coverage... between October 7 and last week, Occupy Wall Street only barely bests the Tea Party when we examine the number of news pieces covering each movement: 29,000 to 22,000."
They've got some interesting charts and maps here.