Obama: 'We Can't Wait' for Housing Help
The president unveils his new mantra, seeking to circumvent congressional Republicans with executive action on mortgages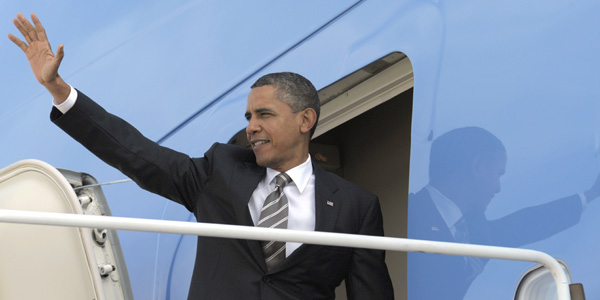 When President Obama on Monday offers more assistance to homeowners who are under water on their mortgages, he will cloak it in a shot at the Republican House, declaring "we can't wait" for Congress to address the nation's housing crisis. That is the mantra being unveiled by the White House for a planned series of announcements to demonstrate that the president is ready to use executive actions wherever he can to make up for congressional inaction.
---
MORE FROM NATIONAL JOURNAL:
Searching for Smoke Signals From the Super-Secret Committee
Underwater, Out of Mind
National Journal Debate Rescheduled to Jan. 23
---
But for many members of his own party, anger is also directed at the administration and the latest actions being announced on Monday fall far short of what they are demanding. Some of that anger surfaced last week when Rep. Dennis Cardoza (D-Calif.) took the unusual step of blasting the president's housing policies in his announcement that he is retiring from Congress. "I am dismayed by the administration's failure to understand and effectively address the current housing foreclosure crisis," said Cardoza, whose district includes three cities particularly hard-hit by foreclosures - Modesto, Stockton and Merced. "Home foreclosures are destroying communities and crushing our economy and the administration's inaction is infuriating," he said.
In his speech in Nevada, the president hopes to rebut this charge and show that he is addressing the crisis as aggressively as he can while dealing with a balky Congress. To do that, he is announcing changes in a federal program that lets homeowners refinance their mortgages even if they lack equity. The new rules are designed to get more homeowners to take advantage of the Home Affordable Refinance Program (HARP).
Since HARP was begun in 2009, about 894,000 borrowers have used it to refinance their mortgages, according to the Federal Housing Finance Agency - a small number compared to the 5 million people who have lost their homes to foreclosure and the additional 3.5 million who are expected to do so in the next two years, according to Moody's Analytics chief economist Mark Zandi. Nearly 15 million borrowers owe more on their mortgages than their properties are worth.
The new help only applies to mortgages owned by either Fannie Mae or Freddie Mac, which FHFA oversees, and only to mortgages where the current loan-to-value ratio is greater than 80 percent.
But that offers no help to the millions of homeowners whose mortgages are through private lenders - something the White House contends cannot be done without congressional authorization. "Any mortgage is a contract and the government can't simply come in and force refinancing of contracts, "Housing Secretary Shaun Donovan Monday told reporters Monday. "What we can do is take steps today for the portfolio of loans backed by FHFA." He added that the administration has asked Congress to give it new laws that would affect private lenders. But that, he said, is "something that is, frankly, unfortunately not in the cards."
And that is a source of tremendous frustration to members of Congress with constituents who are suffering. The lack of legal authority to do more was lost on several angry lawmakers who attended a recent meeting between the Housing Stabilization Task Force of the House Democratic caucus and Edward J. DeMarco, acting director of the FHFA. Venting their deep frustration over foreclosures and under water mortgages, several members at the Oct. 6th session demanded that the FHFA come to the rescue of mortgages held by private banks and hedge funds.
Many of the members who pressed DeMarco are from states that have been particularly hard hit by the deepening foreclosure crisis. According to the real estate research firm Corelogic, 10.9 million, or 22.7 percent, of all residential properties with a mortgage "were in negative equity at the end of the first quarter of 2011." The ten states with the most homes under water were Nevada with 63 percent, Arizona with 50 percent, Florida with 46 percent, Michigan with 36 percent, California with 31 percent, Georgia with 30 percent, Idaho with 24 percent, Maryland with 24 percent, Virginia with 23 percent and Ohio with 22 percent. In 2008, Obama won seven of these states, losing only Idaho, Georgia and Arizona.
The changes to HARP being announced include the elimination of some fees, removing the current 125 percent loan-to-value ceiling, protecting lenders from bad appraisals, and extending the end date for the program until Dec. 31, 2013. The FHFA estimates that HARP refinances "may roughly double," but adds, "such forward-looking projections are inherently uncertain."
The president's announcement comes on the first day of a three-day swing through Nevada, California and Colorado. The trip combines political fund-raising with his continuing campaign for elements of his jobs bill. "We can't wait" is the newest twist on that campaign and emphasizes Obama's willingness to use his executive powers wherever feasible. The New York Times reports that he will also announce in Denver policy changes designed to help those struggling with student loans.
House Speaker John Boehner's office shot back Monday, adopting the president's new rallying cry and applying it to Republican jobs proposals. "We can't wait," said a release from Boehner, "for President Obama to stop campaigning for more failed 'stimulus' spending and start working to find common ground."
Image credit: Susan Walsh/AP