Obama Gets a $35,800 Check Under the Revolving Door
The source of the campaign contribution is Peter Orszag, a former staffer turned Wall Street insider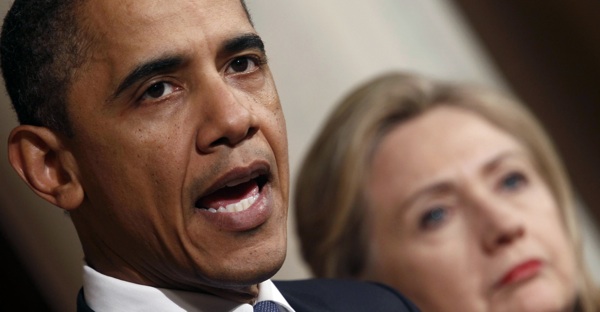 An oft-heard lament is that Washington, D.C., is a city where there is a revolving door between big business and big government. In August 2010, for example, Peter Orszag, the recently retired director of The Office of Management and Budget in the Obama Administration, joined (as a highly paid executive) the Wall Street firm Citibank, a financial institution that had depended on the Obama Administration's goodwill and discretion to survive the financial crisis.
The career move was "damaging and shocking," my colleague James Fallows wrote at the time, "Damaging, in that it epitomizes and personalizes a criticism both left and right have had of the Obama Administration's "bailout" policy: that it's been too protective of the financial system's high-flying leaders... Shocking, in the structural rather than personal corruption that it illustrates."
Fallows went on to explain what he meant:
The idea that someone would help plan, advocate, and carry out an economic policy that played such a crucial role in the survival of a financial institution -- and then, less than two years after his Administration took office, would take a job that (a) exemplifies the growing disparities the Administration says it's trying to correct and (b) unavoidably will call on knowledge and contacts Orszag developed while in recent public service -- this says something bad about what is taken for granted in American public life.

I remembered my colleague's criticism just now when I came across a related item by Tim Carney, the tireless Washington Examiner reporter whose beat is influence peddling in the District. His column argues that Obama is misleading voters when he claims he doesn't take money from lobbyists. And as Carney builds his argument, we get the next chapter in the Orszag story:
Wealthy revolving-door banker Peter Orszag epitomizes everything Obama ran against. Orszag was Obama's budget director until the 2010 elections at which point he cashed out to bailed-out megabank Citigroup. A Citi executive touted Orszag's "key ... government experience" and "his expertise in economic policy." In other words, Orzag has monetized his public service and sold it to Citi, which, like all big banks, counts on favorable government policy for its profits.
 

Apparently feeling fairly plush after nine months at a Wall Street salary, Orszag cut a $35,800 check last month to the Obama Victory Fund, a joint fundraising committee that divides its funds between the official Obama campaign and the Democratic National Committee.

Says Carney in his conclusion, "To sum up: Orszag gained inside knowledge and connections on the taxpayer dime, put them to work for a big bank, then used his salary from this bailed-out bank to give the maximum contribution to the man who hired him in the White House."
Exactly right. And so wrong.
Image credit: Reuters