Newt Gingrich Is Not Really Boycotting Nevada
On the trail with the Gingrich campaign -- Newt, Callista and their cartoon elephant -- it's all working out for the best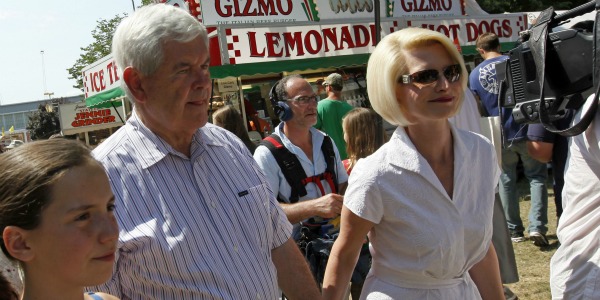 LAS VEGAS -- Newt Gingrich, his wife Callista and the cartoon elephant that travels with them sold over 100 books at a Las Vegas Barnes & Noble store on Tuesday -- both his book, A Nation Like No Other, and hers, Sweet Land of Liberty, a children's book about a history-loving pachyderm. Callista's book is currently outpacing her husband's on the best-seller lists.
Newt Gingrich is supposedly among the Republican presidential candidates boycotting Nevada to protest its calendar clash with New Hampshire, but there he was, greeting his fans. He had also held a fundraiser in Las Vegas on Monday night.
Called upon to explain that seeming contradiction, Gingrich said the boycott did not apply to this event and was really more of a hypothetical future boycott in any case.
"We just said we would boycott campaigning in Nevada for the primary. That would be in January," Gingrich said in a brief interview. "We're not campaigning in the primary at this stage; we're out here for the debate tonight. We said we would boycott campaigning here if they don't solve it."
Gingrich expressed hope that the parties involved would find a peaceful resolution. "There's no reason [they can't]," he said. "There are five Tuesdays in January."
The elephant costume travels with the Gingriches on their book-tour-slash-traveling-film-festival-slash-presidential-campaign, in a special trunk that Callista checks at the front of the plane. An aide said she calls on her network of friends across the country to wear the costume at events, where the elephant stands, silently grinning, behind the prolific couple as they sign and chat. One has to remind oneself: This man used to be speaker of the House.
The Gingrich campaign has been through a lot over the past several months. In June, a high-profile crackup resulted in the departure of most of the staff. Top strategists were dismayed by, among other things, the Gingriches' decision to go on a Mediterranean cruise mid campaign.
But Gingrich professed to be liberated by the disappearance of the squabbling bureaucracy that had formed around him. (Many of the staffers who left went to work for Texas Gov. Rick Perry, about which one Gingrichite mused: "I think they're doing just as good a job for the governor as they did for Newt.")
Gingrich's latest financial report shows his campaign still mired in debt. But the campaign is growing again after its months of retrenchment, said R.C. Hammond, who, in the spirit of the leaner, meaner Gingrich 2.0 effort, serves simultaneously as media spokesman, traveling advance man and New Hampshire director.
After the implosion, Gingrich "trimmed down and figured out what needed to be done," said Hammond, who said the payroll, once around 40, will be up to 18 by the end of the week. Adam Waldeck, the campaign's national coalitions director, has redeployed from Virginia to South Carolina, and Allen Olson, founder of the Columbia, S.C., tea party, has left that post to work for Gingrich full time, Hammond said.
Later this week, the campaign plans to announce another staffer on the ground in New Hampshire and multiple hires in Iowa, building out its early-state network. Gingrich plans to travel to northeastern Iowa next week.
Meanwhile, national polling shows Gingrich on a gradual upward trajectory, which his camp professes to prefer to a meteoric rise and which it attributes to his crowd-pleasing performances in recent debates.
"We knew it was going to be about restoring credibility, and that's what he did," Hammond said. "He went out and used the debates to show that he's the candidate who meets the needs of the time. He has the political courage and fortitude to actually force Washington to change things. There's not a lot of people on that stage with a record of actually shaking up Washington."
In particular, Gingrich has made a franchise of going after the debate moderators, though Hammond notes he does not do so indiscriminately: "We actually thought Wolf Blitzer did a really good job. We encouraged CNN to keep using him" as a moderator, Hammond said. Tuesday's CNN debate here is being moderated by Anderson Cooper.
David Baugh, a 51-year-old I.T. worker from the Las Vegas suburb of Henderson, came out to get his Gingrich book signed and wants him to be president, though Baugh is not convinced Gingrich can win.
"He was big back in the 90s," said Baugh, who thinks Gingrich ought to remind voters he was responsible for abolishing the national 55-mph speed limit. "I like the way he ran things. He got things done."
Image credit: Reuters/Jim Young