Why Mitt Romney is the prohibitive favorite in the Silver State -- hint: it's not just the Mormons -- and why a win there still might not help him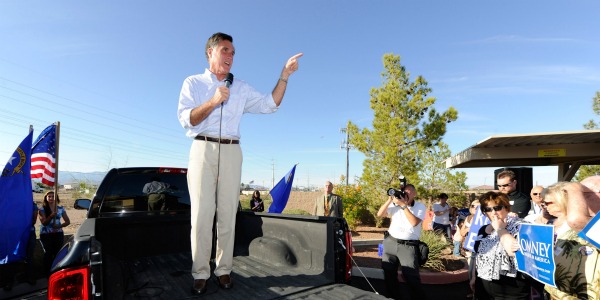 LAS VEGAS -- In 2008, Mitt Romney won the Nevada caucuses in a landslide. What did it get him? Nothing.
No delegates. No bounce. Nothing to halt his slippage to the eventual nominee, John McCain, who spent that January day in South Carolina -- winning where it counted.
Now, as 2012 approaches, the significance of Nevada's place in the primary lineup is once again in doubt. And once again, Romney's problem isn't winning over the state's voters -- as far as they're concerned, Nevada is still Romneyland. The problem is making it count.
On Monday, an adoring throng -- yes, adoring -- surrounded Romney as he strolled into the parking lot of a nondescript office park in southwest Las Vegas to open his local campaign headquarters.
Romney's hair was uncharacteristically lank and ungelled, flapping youthfully across his forehead as he gladhanded and baby-kissed. Beneath a clear blue sky and blazing sun in the 80-degree heat of a Mojave Desert autumn, Romney declared, "It's wonderful to be here again in Nevada, with my friends in Las Vegas."
He added, "Now, you're here not because things are great right now in Nevada -- but because they're going to be great after I become president!"
Romney spoke for just four minutes, handing the stage over to former Minnesota governor Tim Pawlenty, his rival-turned-surrogate. "We need Mitt!" the crowd chanted.
They followed him inside, jam-packing the campaign office, defeating both the room's posted capacity and the building's air-conditioning.
For Romney, a weak front-runner whose primary obstacle has long been his perpetual inability to enthuse Republican voters, it must feel awfully good to come to Nevada.
Elsewhere, his Mormon faith is reason for suspicion; here, it's an asset.
It's commonly assumed that Romney won Nevada because of all the Mormons. The Mormons -- and the Romney people -- hate that assumption, which they consider an ignorant myth.
They have a point: According to the exit polls, members of the Church of Jesus Christ of Latter-day Saints made up a quarter of 2008 Nevada caucus-goers and half of Romney's total votes. Had all the Mormons stayed home, Romney still would have gotten the most votes.
But Romney's LDS support is significant, and the prevalence of Mormons in Nevada also means non-Mormons have a higher comfort level here with the faith and its adherents. Many at Monday's rally said they were powerfully offended when a Texas pastor supporting Rick Perry called Mormonism a non-Christian cult.
The Mormon vote is also a convenient excuse for other candidates to skip a state that is unfamiliar and in many ways unappealing -- a five-hour flight from the East Coast, with a reputation for sin that might make Bible Belt voters wary.
The more significant factor in Romney's 2008 win was that he worked for it, and nobody tried to stop him.
Romney visited the state far more than any other candidate, as he has this time around. And no other 2008 campaign was systematically doing the spadework Romney's people were doing: persuading voters, identifying supporters, committing them to the weird, new, time-consuming caucus process and getting them to their caucus locations on a chilly Saturday morning.
The other candidates focused on South Carolina instead, which held its Republican primary the same day as Nevada's caucuses. (The South Carolina Democratic primary was a week later.) As a result, just 40,000 Republicans caucused around the state, compared to nearly 120,000 Democrats.
Would Romney still have won if he'd had more competition? Who knows? The second-place finisher, Ron Paul, was the only other candidate with an organization in Nevada, though his was more a grass-roots than a professional operation. McCain finished third with less than 6,000 votes to Romney's more than 22,000.
This time around, Paul is making a more concerted shot at Nevada. Like Romney, he has natural affinity with the state's voters, who lean libertarian. On Monday, Paul announced his budget proposal in Las Vegas, following in the footsteps of Romney, who last month unveiled his jobs plan here. Like Romney, Paul benefits from a legacy organization from four years ago that's never stopped working.
Rick Perry also seems committed to playing here, having locked up the state's premier endorsement in popular Gov. Brian Sandoval and hired staff, though he has yet to campaign in the state -- Tuesday's debate will be his first visit.
But the other candidates have largely taken New Hampshire's side in the current interstate tiff over the primary calendar.
New Hampshire's powerful secretary of state, Bill Gardner, hopes to intimidate the Silver State off of the date its Republicans have picked to hold their contest, Jan. 14 -- a week before the South Carolina primary and 11 days after the Iowa caucuses. Already, Rick Santorum, Michele Bachmann, Newt Gingrich, Jon Huntsman and Herman Cain have vowed to boycott Nevada in solidarity with Gardner's contention that the Jan. 14 date doesn't leave enough room for New Hampshire.
It seems they've all made the same assumption most in Nevada have: that Nevada is Romney's to lose -- and the only way to take the victory away from him is to discredit it.
Annalise Castor, a 28-year-old mother of three who came out to see Romney on Monday, said she supported him not because of their shared faith but because "I think he has the best plan for my kids' future."
There are plenty of Mormon candidates she would never support, she noted -- like the state's senior senator, Harry Reid. "I don't usually vote for LDS politicians. He's the best candidate," she said of Romney.
She had no doubt Romney could pull off again what he did four years ago -- and this time, get noticed.
"One thing we've proven is that Romney's people come out to vote in Nevada," she said. "We care about our families and we care about our future."
Image credit: Getty Images/Ethan Miller