Mitt Romney Says He'd Vote for Rick Perry
Things got testy between the two candidates at last week's debate. In New Hampshire, the former Massachusetts governor struck a conciliatory note.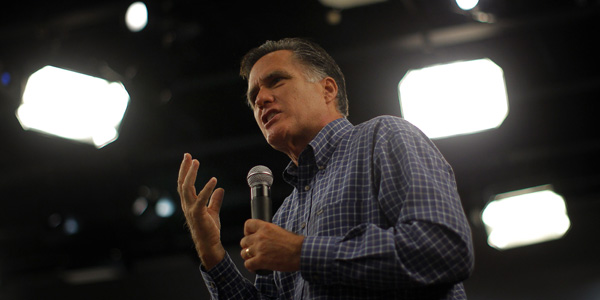 MANCHESTER, N.H. -- Mitt Romney extended an olive branch towards one of his leading GOP rivals and continued to attack President Obama's Iraq policy on Saturday, as he made an appearance in a state he's counting on to launch him towards the Republican presidential nomination.
---
MORE FROM NATIONAL JOURNAL:
Searching for Smoke Signals From the Super-Secret Committee
Underwater, Out of Mind
National Journal Debate Rescheduled to Jan. 23
---
Taking questions from reporters for the first time in nearly two weeks after working the phone banks at his campaign headquarters here, Romney was generous when asked about whether he could back Texas Gov. Rick Perry as his party's nominee. The two men had several notably contentious exchanges during Tuesday's presidential debate in Las Vegas, but Romney told reporters here there's no hard feelings.
"If Rick Perry were the nominee, I'd be voting for him," Romney said. "I believe every single person on the stage in that last debate would do a better job than president Obama." Romney added that he thinks the GOP will be better off with him as the party standard-bearer. "I believe that I'm the best suited to beat President Obama and that's why I'm running," he said.
In an appearance the same day in Iowa, Perry did not quite reciprocate the kindness, continuing to hammer Romney on immigration issues.
Like Perry, Romney continued to criticize the president's announcement of a troop withdrawal from Iraq by year's end. Noting that negotiations had been underway to keep a cadre of U.S. forces in Iraq, Romney said that Obama "failed to deliver" a deal to do so. "Why did it fall apart?" he asked, suggesting that Obama was either "out-negotiated" or made a "political recalculation."
Romney also offered a warm defense of Sen. Marco Rubio, a Florida Republican who is widely regarded as a potential vice presidential candidate, but whose story of his family's flight from Cuban dictator Fidel Castro came under question this week. The Washington Post reported that Rubio's parents arrived in Florida before Castro's rise to power.
"I have the highest respect for Marco Rubio. I think his family's history of having come to this country speaks for itself," said Romney, adding: "I think the world of Marco Rubio, support him entirely and think that the effort to try to smear him was unfortunate and bogus."
Romney's appearance here came just before Nevada Republican leaders voted to hold their presidential caucuses Feb. 4, ending a scheduling squabble with Republican officials in this state and a political dilemma for Romney, who had been under pressure to join a boycott of Nevada, a state whose caucuses he easily won in 2008, out of solidarity with New Hampshire.
Nevada Republicans' original proposal to hold their caucuses Jan. 14 infuriated Granite State politicos, who thought it would dim the luster of their historic first-in-the-nation primary, likely to be held Jan. 10. Romney, who served as governor of neighboring Massachusetts and owns a vacation home here, needs a strong showing in New Hampshire. "I sure hope this gets resolved," he said here, shortly before the intra-party fight was.
At his campaign headquarters here, Romney provided pizza for volunteers and made a few phone calls to voters himself and proved a game improviser when he had to go off script.
"Hi! Oh, this is the wrong number?" he could be overheard on one call. "Well, do you know who Mitt Romney is? It's me! I'm on the phone!"
Image credit: Brian Snyder/Reuters