There were plenty of wry smiles, knowing nods, and arched eyebrows in Washington when Barack Obama's campaign team let it be known in 2008 that it would spend money in, and send Obama to, Indiana and Virginia. Republican strategists were delighted to see opponent resources misspent, and worried Democratic strategists lobbied to divert time elsewhere. After all, neither state had voted for a Democrat for president in the 10 elections since 1964. It was difficult to believe that either was poised for a reversal. Almost as odd, another state that found itself getting unexpected attention — North Carolina — had deserted the GOP only once in that span, when it voted for Southerner Jimmy Carter in 1976.
The Obama mantra was "expand the map," which meant challenging Republicans on what once seemed like their turf but now showed signs of change — particularly growing diversity and increasing education among white voters. That helps explain the campaign's expansion into Colorado, Nevada, and New Mexico, too. It also symbolized the continued evolution of the Democratic coalition away from white, blue-collar, and senior voters who dominate traditional Midwestern swing states toward minorities, youths, and well-educated whites in parts of the Sun Belt. When the votes were counted, the strategy resulted in three states and 39 more electoral votes in Obama's fold.
Four years later, "expand the map" is again the mantra. It is why the president spent three days this week on a bus traveling the back roads of North Carolina and Virginia. And it is why the president's team is looking for new states to pry from the Republican base in 2012. This time, they have Arizona and Georgia in their sights.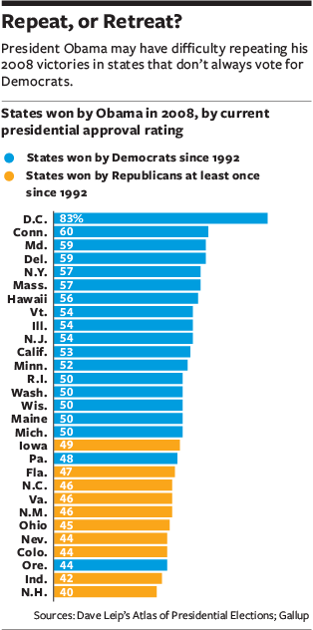 But it won't be easy. If political insiders thought success was improbable in 2008, they privately view these new challenges as closer to impossible. Nevertheless, having proved the insiders wrong once, the Obama brain trust in Chicago is not inclined to listen. "The Democrats can never go back to the electoral map of 2000 or 2004, where the whole campaign comes down to one or two states," said Ben LaBolt, the campaign's spokesman. "We're working to chart multiple paths to victory." LaBolt doesn't have to specify those "one or two states." Everybody knows they are Florida and Ohio. If Al Gore in 2000 or John Kerry in 2004 had won either one, he would have become president. Obama is determined not to let his fate rest on those two states.
The commitment shows in the bus tour and the frequent presidential visits. It shows in the selection of North Carolina to host the Democratic National Convention. And it shows in the campaign offices opened more than a year before the election. Already operating are offices in Raleigh, Charlotte, and Greensboro in North Carolina; Phoenix and Tucson in Arizona; Indianapolis in Indiana; Atlanta in Georgia; and Richmond in Virginia. Newport News will follow there soon.
This time, the skeptics are particularly doubtful about the Peach State (even if the demographics are slowly changing), because it went for John McCain 52 percent to 47 percent over Obama. "Georgia is a fool's errand," said veteran Republican strategist Charlie Black, who acknowledged that Arizona makes more sense with favorite son McCain no longer atop the ticket. Black also sees Virginia as "a true swing state these days."
Merle Black, a political scientist at Emory University and a leading expert on Southern politics, likewise wonders about adding Georgia to the target list. Democrats are correct that demographic changes over the last decade have altered the state's electorate, he says: It is more African-American, more Asian, and more Latino than before. Some Democratic strategists believe that Obama could win Georgia if he gets heavy minority turnout and manages to win at least 25 percent of the white vote. That will be difficult, however.
In 2008, only 23 percent of whites in Georgia voted for Obama, the fourth-lowest support in the country, behind only Alabama (10 percent), Mississippi (11 percent), and Louisiana (14 percent). That was a far cry from the success that Obama had with whites in Virginia (39 percent) and North Carolina (35 percent). "It is hard to think that Obama has become more popular with white voters in Georgia than he was three years ago, given that the economy is in terrible shape," Merle Black said. Democrats suffered their worst-ever thrashing in Georgia in 2010, he pointed out. "The Democrats lost the white conservatives here a long time ago. Now they've lost the white moderates. So they're down to white liberals and minorities."
The picture is much less bleak in North Carolina and, particularly, in Virginia, which longtime Democratic strategist Tad Devine calls "very much in play for the president." It is critical for Obama to avoid "getting backed into some Electoral College corner where it is all Ohio or it is all Florida," he said. "The important thing for the president and his team is to make sure they have as many states as possible in play for as long as possible."
But Devine worries the Republicans will not be caught as underfunded as they were in 2008. Charlie Black estimated that the McCain campaign and the Republican National Committee spent $450 million that year, while Obama and the Democratic National Committee spent $750 million. In 2012, independent committees have vowed to raise enough money to allow the GOP nominee to counter Obama's moves into unexpected states. It is just one more challenge to Obama's efforts to expand the map. But don't count on it swaying the team in Chicago. They can't wait to prove the experts wrong again.