Iowa in Turmoil Over GOP Presidential Pick
With just over 60 days until the Iowa caucuses, the state's Republican voters are a picture of anguished indecision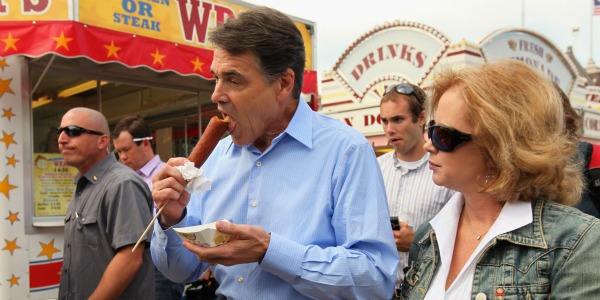 The candidates they like aren't trying to win their votes. The candidates working to win them over can't close the sale. In Iowa, Republicans are restless.
With just two months to go before the caucuses that kick off the primary voting season, operatives in Iowa say they've never seen such a peculiarly fluid political landscape. The caucus process is built for surprises, but this time, far more than usual, it really seems like anything could happen.
"I've been involved for a long time, and I don't recall one this unsettled a little more than 60 days out from the caucuses," said Richard Schwarm, a former state Republican Party chairman who advised Mitt Romney in 2008 but is neutral this time.
"It's going to come down to Governor Romney and a not-Governor-Romney candidate -- the question is, is it one or several," Schwarm said.
The turmoil in Iowa is a microcosm of the state of the Republican primary nationally: coming down to the wire, yet not quite seeming to gel.
A Des Moines Register poll released over the weekend underscored the strangeness of the current situation in Iowa: Two candidates who've paid scant attention to the state, Herman Cain and Romney, were at the top of the standings with 23 and 22 percent of the vote respectively. Ron Paul had 12 percent and the rest were clustered in single-digit territory.
Perhaps most telling, just 25 percent of those surveyed said their minds were made up. The rest either had no chosen candidate or said they could be persuaded to change allegiances.
Every potential scenario for how it will play out sounds unlikely, yet one of them has to happen.
Romney could win despite turning his back on the state. Herman Cain could magically triumph despite an almost total lack of traditional campaign organization. Michele Bachmann could regain the mojo she's lost since her Ames straw poll win. Rick Perry could use his zillions of dollars to convince voters he's not as bad as they think.
Rick Santorum's hard work might finally pay off. Newt Gingrich's high-minded grouch act could find favor despite his lack of legwork. Heck, even Paul could pull off an upset: Despite his heterodox platform, he seems to have the best ground-level organization in the state at the moment.
"This is a season unlike any other I've ever seen. Nobody really has any boots on the ground yet," said Christopher Rants, a former state House speaker. "Everybody took this hiatus after the straw poll and just never geared back up again." A Romney supporter four years ago, Rants describes himself as "firmly uncommitted" at the moment.
Normally, there's a formula for winning the Iowa caucuses: Candidates nearly take up residence in the state, hire large staffs of field workers and diligently build a precinct-by-precinct operation in all 99 counties. Four years ago, both Romney and Mike Huckabee "could have registered to vote or pay taxes here," Rants said.
This time around, Romney has downplayed Iowa in favor of planting a flag in New Hampshire, where he's a clear favorite. In a presidential race where the big picture consists of Romney, the frontrunner who mostly leaves his party cold, and a squabbling crew of lesser figures straining to capture the anti-Romney vote, Iowa ought to be all the more significant: A Romney win there, combined with New Hampshire, would create a nearly unstoppable one-two punch, while a win for anyone else would seal that candidate's status as the Romney-slayer.
"If anyone is going to stop Romney, they'd better stop him here," Rants said. "It may be that none of them stop Romney here. If that's the case, who knows, I don't know what the people in South Carolina will say, but I don't think it goes very much farther than that."
The inability of any one candidate to satisfy their desires has left conservative activists fretful and anxious. Even their congressman -- Rep. Steve King, the archconservative whose sway with the GOP base extends far beyond his western Iowa district -- has taken to publicly agonizing about his inability to commit, saying recently, "I wanted to come together with my head and my heart. ... It sure would be nice for that to happen."
Steve Deace, a Des Moines talk-radio host who can't stand Romney, is in the same boat.
"At least 20 to 25 percent of the voting electorate -- the hard-core Republicans, the real caucus-goers -- is totally up for grabs and don't know what they're going to do. I would be one of this group," Deace said. "The activist class of the Republican Party has moved the ball much further down the field than the candidates have, and now the candidates are trying to catch up to where the voters are."
Cain, Deace said flatly, will not win the caucuses. "I have a stronger organization in Iowa than Herman Cain does," he said, recalling that Cain's Iowa staff quit in July in exasperation over Cain's failure to devote serious effort to the campaign.
But Deace doesn't see a lot of viable alternatives. Bachmann "has the best pastoral network in the state," but "this isn't going to be an I-love-Jesus election." Perry has the money to buy himself a lot of second chances, but "they keep doing everything wrong," Deace said of his campaign. Particularly with last week's waffling on whether Perry would participate in future debates, the supposedly macho Texas governor has instead looked more and more weak: "This guy's trying to make Tim Pawlenty look like Clint Eastwood," Deace cracked.
Perry is airing TV ads in Iowa and has hired a well-respected state director -- the former executive director of the state GOP. But Iowa Republicans are still waiting to see if he'll build out his operation.
For the candidates further down Deace's list, things look even more dim. Paul's foreign policy views will prevent him from rising much higher than he already has. Gingrich, like Cain, doesn't seem interested in getting out of book-tour mode and building a real operation. Santorum, for all his diligent campaigning -- he's on track to finish hitting all 99 counties this week -- remained stuck at 5 percent in the recent Register poll.
Deace ticks off the names of Iowa GOP movers and shakers who are sitting out this primary, from establishment figures affiliated with Gov. Terry Branstad to the grassroots activists sympathetic to Branstad's onetime primary opponent Bob Vander Plaats. Branstad was one of the national GOP figures so dissatisfied with their current choices that they tried unsuccessfully to get New Jersey Gov. Chris Christie to run; now he says he won't endorse. Vander Plaats, the social conservative activist who chaired Huckabee's Iowa campaign, remains unaffiliated.
"This time around, I don't think people care so much what your evangelical testimony is or what endorsements you have or how much money you raise," Deace said. "People are looking for substance. That's what's going to coalesce conservatives around an alternative to Mitt Romney. And if none of [the candidates] have that, there will be no alternative to Mitt Romney."
Image credit: Getty Images/Chip Somodevilla