Highlights: GOP Candidates Debate in New Hampshire
Three weeks after the last nationally televised forum, the Republican presidential primary has changed considerably
Three weeks after the last nationally televised forum, the Republican presidential primary has changed considerably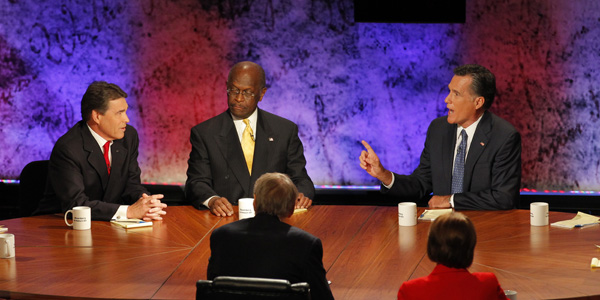 The start of the GOP presidential economic forum looked like a replay of the last three presidential debates: Texas Gov. Rick Perry v. Massachusetts Gov. Mitt Romney in a spat, with Perry taking an opening pot-shot at Romney.
---
MORE FROM NATIONAL JOURNAL:
Iran Containment Strategy Cast in Doubt
Bachmann Unveils Jobs Plan
Feisty Romney Barnstorms Granite State
---
But after the initial banter, the debate quickly took on a different look than its predecessors. The biggest difference came with the involvement of Herman Cain, surging in the polls, who not only fielded an array of questions but for the first time was forced to defend his record. And he wasn't the only candidate on the defensive: Romney was put in the uncomfortable position of defending the Wall Street bailouts, an incendiary issue among the conservative base, arguing it was necessary to prevent an economic free-fall.
In the opening round, Perry mocked Romney's status as a longstanding candidate. The Texas governor said he hasn't introduced a detailed economic plan yet because he hasn't been running for president nearly as long.
"Mitt's had six years to be working on a plan," said Perry. "I've been in this for about eight weeks."
The last three debates, Perry's first three as a presidential candidate, have featured squabble after squabble between him and Romney. Perry and Romney each took the early questions during this debate, but the first went to businessman Herman Cain, who has surged in most recent polls. Asked how he would help resolve the country's political dysfunction, Cain touted the hallmark of his campaign, his "9-9-9" plan, to lower corporate and personal income taxes to nine percent and impose a nine percent national sales tax.
More highlights of the debate follow.
Andrea Mitchell's Husband
Cain's praise for widely acclaimed former Federal Reserve Chairman Alan Greenspan inspired 12-term congressman Ron Paul to decry the never-before-elected pizza executive as "an insider." Paul's take on the former Fed chair: "Alan Greenspan was a disaster."
Target Romney
Romney just discovered the downside of re-emerging as the race's front-runner: He becomes a target. Like a firing squad, four candidates - Cain, Gingrich, Huntsman, and Perry - took chose Romney as their target in a segment of the debate where candidates were free to question each other. They grilled Romney on everything from his health-care plan to job-creation record.
After Cain criticized Romney's 161-page economic plan for being too complicated, Gingrich asked him why he would enact a capital gains tax cut only for those making less than $200,000 - a proposal he said was reminiscent of "class warfare" waged by President Obama. As he has on the campaign trail, Romney defended his plan by saying the middle class, not upper-income or poorer Americans, need the most help.
"I'm not worried about rich people, they're doing just fine," said Romney, whose net worth has been pegged at north of $190 million.
Huntsman lambasted Romney's job-creation record while governor - saying Massachusetts ranked 47th in the country - while Perry took issue with his rival's health-care plan. The former Bay State chief executive fired back with statistics of his own, saying while less than one percent of his state's children lack health insurance, Perry's state has more than 1 million kids without coverage.
"We have lowest percentage of kids uninsured of any state in America - you have the highest," said Romney.
It's perhaps the most intense and sustained scrutiny Romney has faced yet on the debate stage this year.
Raising Cain
Cain, widely quoted of late for saying "I don't have the facts to back this up" while alleging a conspiracy behind the Occupy Wall Street movement, scolded Ron Paul for what he said was a misquote. He never called Paul and his followers ignorant, Cain said.. "You've got to be careful of the stuff you get off the Internet," the former pizza executive told Paul.
Hunting the Establishment Huntsman's best bet when he started was the GOP establishment - the country club and business Republicans who don't subscribe to tea party principles. His answer on trade war with China showed why. Huntsman preached a long view, arguing for "very, very aggressively" using trade laws, but pushing for cooperation with the country where he served as President Obama's ambassador.
"We have no choice, we have to find ground," Huntsman said, proposing matching up state and local officials across the Pacific to explore export opportunities. "As far as the eye can see in the 21st century, it's going to be the United States and China on the world stage."
And he got in a dig at the front-runner: "I don't subscribe to the Don Trump School or the Mitt Romney School of international trade," Huntsman said, yoking Romney with the celebrity real estate mogul. Interestingly, Huntsman and fellow Chamber-of-Commerce-friendly candidate Romney parted company dramatically on the point. Romney chose much more strident rhetoric: "The Chinese are smiling all the way to the bank" and "If you're not willing to stand up to China, you'll get run over by China Debating the Gipper
Romney dodged a direct question about whether he'd prefer deep spending cuts or tax increases to help bridge the nation's deficit, pivoting instead to saying that he would rather just grow the economy and pass a Balanced Budget Amendment.
The ex-governor said it is a "terrible idea" to cut defense spending or raise taxes - two solutions to reining in the nation's burgeoning deficit being discussed by the Congressional Super Committee. Even after being shown a clip of conservative icon and former President Ronald Reagan touting the benefits of revenue increases in exchange for spending cuts, Romney said they were not necessary, alleging that government spending has consumed nearly 40 percent of the country's economy.
"We cease at some point to be a free economy," he said.
Shown the same clip, Perry said Reagan lived in a different time - and never saw the promised spending reductions anyway. He said the country needed a Balanced Budget Amendment.
Bachmann Overstatement?
Michele Bachmann implied that the Community Reinvestment Act, which requires financial institutions to reinvest in the communities in which they serve, including in low- and moderate- income neighborhoods, contributed to the subprime lending and broader financial crisis.
"It was the federal government that pushed the subprime loans. It was the federal government that pushed the Community Reinvestment Act," she said.
Despite widespread opposition to CRA by Republicans, the Federal Reserve Board has repeatedly testified to Congress that banks were not given CRA credit for shoddy subprime loans and that CRA did not contribute to the financial crisis.
In 2009 the Dallas Fed attempted to set the record saying CRA was enacted "to reduce discrimination in credit and housing markets" and requires banks to invest "in a manner consistent with safe and sound banking operations."
"In the interest of separating fact from fiction, the Federal Reserve did its own research and found that the CRA is unequivocally not to blame for the housing market's fall. The numbers just don't add up," said Alfreda Norman the assistant vice president and community development officer of the Federal Reserve Bank of Dallas.
Bachmann also said Tuesday night that lending standards had been lowered in the run-up to the crisis which she said would be left intact in the Dodd Frank financial regulation law. "We had lending standards lowered for the first time in American history and it all goes back to the federal government and that's what's wrong with Dodd-Frank. Dodd-Frank institutionalized all of these problems that were put into effect by the federal government," she said.
Although her complaint that Fannie Mae and Freddie Mac and their affordable housing goals were not reformed in last year's Dodd-Frank financial reform law is true, the law does specifically address lending, requiring financial regulators to set tougher mortgage lending standards that ensure borrowers can afford to repay their loans among other standards.
Eight-Mile Wide
Romney plays a dangerous game when he talks about large-scale federal aid for the auto industry. His 2008 New York Times op-ed entitled, "Let Detroit Go Bankrupt," has created political headaches for Romney, the son of a Michigan governor, and he subsequently contested the extent to which he would have allowed that to happen. Pressed on his stance on bailouts, Romney argued that the Troubled Asset Relief Program (TARP) that assisted Wall Street was justified -- a position unpopular with both parties' bases -- but that the auto industry rescue was imprudent. That's unlikely to help Romney in battleground Michigan, where the Detroit bailout is widely hailed as staving off further economic pain. "Bailouts? Of individual institutions? No one is interested in that, I don't think," Romney said of the assistance for the American auto industry. Democrats are sure to pounce on Romney's apparent sympathies for the financial sector over blue-collar jobs like those in the auto industry. Perry's camp promptly released Perry's statement from Oct. 1, 2008 -- 2008 -- opposing TARP: "In a free market economy, government should not be in the business of using taxpayer dollars to bail out corporate America. Congress needs to take off its partisan gloves and work together to bring both short and long term stability to the credit markets. They need to stop blaming each other and start thinking about solutions that put the taxpayers of this country first." But Romney's campaign circulated excerpts from a letter Perry signed, also on that date, reading, "We strongly urge Congress to leave partisanship at the door and pass an economic recovery package."
Huntsman in a better humor
Early on, Jon Huntsman is avoiding the kinds of gaffes that have marred some his previous debate performances. Already, he's cracked two jokes that has the roundtable of candidates and moderators laughing.
Remarking on Rick Santorum's contention that Pennsylvania is the "gas capital" of the country, Huntsman shot back he had the wrong city. "Washington, D.C., is the gas capital of the world," he said.
Later, he took a shot at Cain's well-known "9-9-9" plan.
"I think it's a catchy phrase, in fact, I thought it was the price of a pizza," he said, referring to Cain's history as a pizza executive.
A Newt Moment
"Virtually every American has a reason to be angry," Gingrich began, winding himself up in response to a question about the Occupy Wall Street movement. "Left-wing agitators" comprise one side of the movement, Gingrich said, folks happy to show up next week to protest on any range of topics. Then he pivoted to the federal government, gaining momentum, then proposing jail time for two New England liberals who wrote the financial regulation bill: "If you want to put people in jail, you oughta start with Barney Frank and Chris Dodd," Gingrich said. Then, thundering now, he moved onto the Federal Reserve Bank, winning the first sustained applause of the evening by going after Federal Reserve Chairman Ben Bernanke for allegedly spending hundreds of billions of dollars in secret.
The Background
When last the Republican presidential contenders took the debate stage on Sept. 22, former New Mexico Gov. Gary Johnson was among them and Texas Gov. Rick Perry was poised to answer questions about whether his performance could preserve the brittle front-runner mantle that had been hastily bestowed upon him.
A lot has happened to make this debate different from the one that took place 19 days ago--and not just the exclusion of libertarian Johnson, who didn't make the cut for tonight's 8 p.m. EDT face-off at Dartmouth College in Hanover, N.H. Perry has careened downward in the polls, his fall barely cushioned by an impressive $17 million fundraising total for his first quarter of contention. Pizza magnate Herman Cain has come on powerfully, becoming the latest answer for conservatives looking for anybody-but-Mitt Romney. And last week's announcement by New Jersey Gov. Chris Christie that he won't run settled the field.
In the five days leading up to the debate, three things happened that dramatically changed the campaign's contours. On Friday, a prominent Perry supporter argued that Romney's Mormon faith was "not Christian," putting the Texas governor on the defensive. Cain solidified his status as the second-best-performing candidate in national--and New Hampshire--polls. And hours before the debate, Christie endorsed Romney, touting him--in a bit of Garden State understatement--as someone who has eyed the Oval Office "for a good long period of time."
The Perry decline and Cain ascendancy are more than just blips in public opinion; both have long-term implications for the race. As the weekend Values Voters Summit straw poll showed, the affections of socially conservative voters remain elusive and diffuse. That opening has helped spur Romney to reconsider turning his back on the Iowa caucuses, where political veterans say opportunities still exist for him to improve upon his disappointing second-place finish there in 2008. He is planning a trip there later this month.
For Romney, the test at tonight's Washington Post/Bloomberg debate, focused on the economy, will be whether he can weave the disparate threads of the party into a cloak of inevitability while fending off the attacks other candidates are openly pining to launch against him. For Cain, it's an opportunity to sustain momentum. For Perry, it's an Alamo-moment: Surrounded by headlines about his bad poll numbers and speculation about his fitness as a candidate, can he stand and fight?
The crop of lower-tier candidates are presented with the same challenge each has struggled to overcome in the previous debates: Creating a memorable moment or two to fix them in the minds of voters while demonstrating some measure of seriousness as a candidate.
And, for Gary Johnson, it's time to fuel up on carbs and watch from afar.
Image credit: Adam Hunger/Reuters