Herman Cain's Terrible Joke About Electrocuting Illegal Immigrants
Can the GOP candidate explain what it is about that subject he finds funny?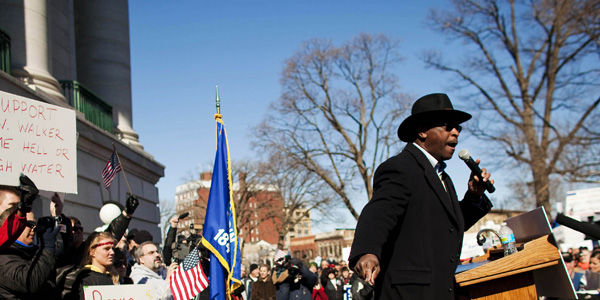 A poor man, his wife and their child walk toward a fence.
"We have to climb over," says the man.
"I'll go first," says his son.
"Wait, what does that sign say?" says his wife.
But it's too late. When the kid touches the fence, an electric current runs through his body. The smell of burning flesh fills the air. He falls down on the dirt. He's dead.
A tragic, blood-boiling story?
Or a funny joke?
If it sounds like a joke, you share Herman Cain's sense of humor. The GOP candidate joined the apparent movement in the GOP to make sure lots of Hispanic voters are always suspicious of it by detailing to two Tennessee crowds a proposed border fence. "It's going to be 20 feet high," Cain said. "It's going to have barbed wire on the top. It's going to be electrified. And there's going to be a sign on the other side saying, 'It will kill you -- Warning.'" The crowd cheered, joining the apparent movement of partisan GOP crowds enthusiastic about state sanctioned killing.
The next day, on "Meet the Press," Cain insisted he wasn't serious.
"That's a joke," he said. "That's not a serious plan. I've also said America needs to get a sense of humor."
I wish Cain's next interviewer would press him to explain the joke, and why he deems it to be funny. I'd like to understand the thinking behind the setup and the punchline. Cain is willing to draw out, indulge and exploit the worst impulses in humanity to boost his political career. If Republicans want as their nominee a candidate whose idea of humor involves a fence that kills any immigrant who touches it, they've found their man.

Image credit: Reuters