Herman Cain for Senate? The Inside Story of His First Insurgent Campaign
Years ago in Georgia, he ran as a conservative outsider against the establishment favorite -- and nearly succeeded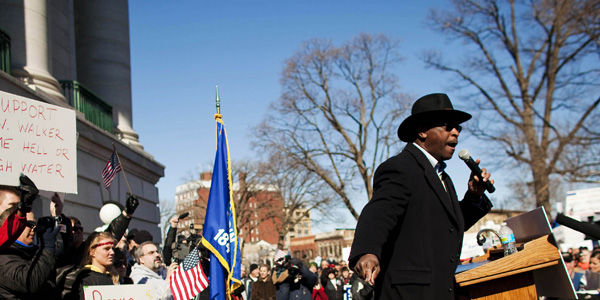 If the Republican primary is now a Mitt Romney-vs.-Herman Cain contest, Romney has an ace up his sleeve: One of his top advisers has run a winning campaign against Cain before.
Not many in politics can make that claim. In his only real previous try for elected office, Cain ran in Georgia's 2004 GOP Senate primary, coming in second to now-Sen. Johnny Isakson.
Back then, Romney strategist Stuart Stevens was a consultant to Isakson. Of Cain, Stevens recalls: "He scared the heck out of us."
Cain's 2004 candidacy positioned him to the right of an establishment candidate distrusted by the base, particularly on social issues. Sound familiar?
Stevens is not surprised to see Cain's pitch resonating the way it is at the moment. He's seen Cain's appeal up close before.
"I like him a lot," Stevens said. "I like anybody who gets in this process for a reason and has fun."
Though Cain lost by a 2-to-1 margin, 53 percent to 26 percent, those numbers don't tell the real story of that 2004 race.
Cain came out of nowhere: a virtual unknown banking on his business background, his message and his ability -- honed as a paid motivational speaker -- to hold audiences in thrall. And he very nearly forced Isakson, who was supposed to have it in the bag, into a humbling runoff.
"Had he understood politics a little bit more, had he started a little bit earlier and done things a little bit differently, he would be the United States senator from Georgia now," said Atlanta-based Republican strategist Tom Perdue, who supported Cain in 2004 but didn't work on his campaign.
Perdue believes the 2004 race was a vital political education for Cain.
The former Godfather's Pizza CEO went into that race "naive about politics," thinking he could command the political arena like he did the world of business. He came out of it with a better understanding, Perdue said.
"He learned from his mistakes," Perdue said. "That doesn't mean he's going to be president of the United States. But he learned, and that in itself tells you that he's a smart man."
Though Cain is commonly depicted as a political novice who's more or less lucked into his current position topping several national polls, he's not the newcomer he once was, Perdue said. Cain knows now, as he didn't then, that personal charisma and attractive ideas aren't enough -- you also have to be able to organize at the grassroots level, and you have to raise money.
The Senate race pitted Isakson, at the time a member of the House of Representatives, against another sitting member of Congress, Mac Collins, who also sought to outflank Isakson on the right.
Cain got in the race later than those two. As he does now, he styled himself as the rock-the-boat outsider against the career politicians. As he does now, he trumpeted a bold, regressive and probably unfeasible tax plan -- back then, it was the "fair tax" national sales-tax proposal.
"One thing you could say about him even then is he was bold. He was thinking outside the box," said Dave McCleary, who got to know Cain as vice chair of the Fulton County Republican Party at the time. He is now the Georgia state director of Cain's presidential campaign.
McCleary recalled seeing Cain speak at GOP events in 2004. "I was impressed not only with his speaking ability, but with his sincerity," he said. "Politicians tend to be a little shallow, but Herman Cain was extremely sincere. It didn't matter whether you were the waiter or the CEO, he spoke to everybody the same."
Both Cain and Collins saw their best chance in attacking Isakson for not opposing abortion strongly enough.
Though Isakson said he believed in just three cases where abortions should be allowed -- rape, incest and to save the life of the mother -- Cain and Collins believed in only one exception, for the life of the mother.
Many in the state's active Christian right were willing to give Isakson the benefit of the doubt until, in the middle of the campaign, Isakson voted in Congress to allow members of the military to get abortions at overseas military hospitals. That sent social conservatives into an uproar. Georgia Right to Life jointly endorsed Cain and Collins.
In another potential parallel with the current campaign, the social conservatives' anybody-but-Isakson ploy only furthered the right's inability to settle on a single candidate -- and probably ended up helping Isakson.
Cain was the first candidate to air TV ads, seeing the need to boost his name recognition. He was also the first to go negative.
"There is a big difference between me and Johnny Isakson, and it is not just the color of our eyes," one of Cain's ads said. "I believe in life from conception. Johnny has voted pro-abortion 14 times."
Isakson responded with a TV blitz that didn't attack Cain directly but decried "false, negative campaigns." His campaign sent a mailer that accused Cain of being on the same side as Hillary Clinton and Ted Kennedy when it came to the Iraq war.
Though Stevens, the Romney adviser, declined to talk in detail about the 2004 campaign, his firm's website cites it as a case study in successful political engineering.
The strategy: "Develop strategic plan based on financial discipline. Do not answer every charge. Let opponents spend money on the air and hold off on television advertising. Strike at high volume before primary to boost numbers, position as the conservative choice -- keep opponents at bay to win over 50 percent of vote to avoid run-off."
Despite the claim of "financial discipline," Cain's unexpected surge forced Isakson to spend $4.5 million on the primary. Cain spent less than $3 million, including nearly $1 million of his own money.
More than anything, the race established Cain as a political up-and-comer in Georgia.
In the ensuing years, Cain would become a force in the state's conservative politics through his Atlanta talk-radio show. Activists tried to recruit him to run for various state offices, including governor, lieutenant governor and Georgia's other U.S. Senate seat, held by Saxby Chambliss.
Cain may have given Isakson a scare, but there appears to be no bad blood. The senator praised Cain earlier this year, telling the Daily Caller he was "a very articulate guy" with "a good business background."
Cain, Isakson noted, "was underestimated" in the 2004 contest: "It was a three-man race, and the incumbent congressman who ran against me finished third."
McCleary, Cain's state director, said the campaign is in the process of opening a second Atlanta-area office and plans to use the area as a base to make a big play for the South, including Florida and South Carolina.
"To this day, Johnny Isakson and Herman Cain are very good friends," he said. "I saw the two of them at a political barbecue over the summer."
Image credit: Darren Hauck/Reuters