Herman Cain Flip-Flopped on the Killing of Anwar al-Awlaki
In May, he said the U.S. citizen could not be targeted for assassination legally. On Sunday, he praised Obama's decision.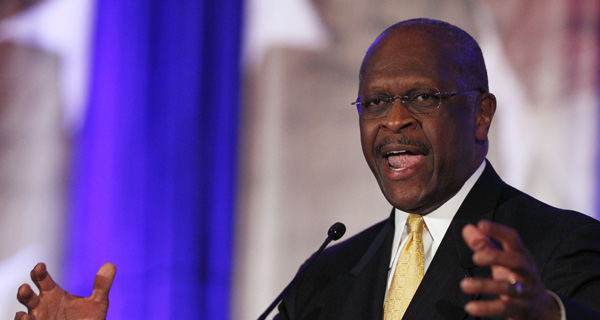 In early May, GOP presidential candidate Herman Cain said it would be illegal for the Obama administration to assassinate Anwar al-Awlaki, a U.S. citizen and suspected Yemeni terrorist known to be included on a "kill list" maintained by U.S. military and intelligence branches.
"In his case, no, because he's an American citizen," Cain said after a nationally televised presidential debate on May 5, when asked specifically about the Obama administration's targeting of al-Awlaki. "If he's an American citizen, which is the big difference, then he should be charged, and he should be arrested and brought to justice."
Several weeks later, in an interview with The Atlantic's Conor Friedersdorf, Cain said he hadn't heard of al-Awlaki or the administration's goal of killing a U.S. citizen. But Cain repeated that he opposed the idea: "I don't believe that the president of the United States should order the assassination of citizens of the United States. That's why we have our court system, and that's why we have our laws."
Yet after U.S. forces killed al-Awlaki on Friday in a joint drone and jet strike, Cain reportedly praised the assassination. Hot Air's Ed Morrissey reported on a panel discussion at a tea-party convention in Chicago on Sunday, where Cain appeared:
In a brief Q&A with our panel after his speech, Cain told the crowd that he fully supported Barack Obama's decision to strike Anwar al-Awlaki.
The killing of al-Awlaki has stirred debate over whether a U.S. president should be allowed to order the assassination of a citizen without due process. The libertarian candidates in the Republican presidential primary, Rep. Ron Paul (R-Texas) and former New Mexico governor Gary Johnson, have both questioned the killing. The two frontrunners, Texas Gov. Rick Perry and former Massachusetts governor Mitt Romney, have both praised it.
Image credit: Hyungwon Kang/Reuters