From New Hampshire, Huntsman Mocks GOP 'Game Show'
While the rest of the candidates bickered in Las Vegas, the former Utah governor declined to attend Tuesday night's debate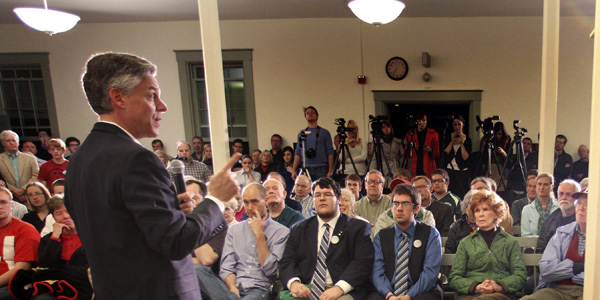 Thirty minutes before his seven GOP presidential rivals took the stage in Las Vegas on Tuesday for their latest debate, Jon Huntsman was in small-town New Hampshire, poking fun at the political "game show" that he alone was boycotting in a symbolic stand against Nevada's effort to eclipse the first-in-the-nation primary state.
"What happens in Las Vegas stays in Las Vegas," Huntsman said to laughs and cheers from an audience of about 100 at the Hopkinton Town Hall. "May I say that what happens in New Hampshire impacts the world!"
Huntsman, whose campaign is now single-focused on a New Hampshire win, announced last week that he would forgo his spot on the debate stage to protest Nevada's push to move up its primary. The campaign offered cider and cookies to attendees on their way in, and as a bonus to his stump speech, Huntsman took double his usual question quota. He talked up the Granite State's importance and lobbed a couple of zingers in the direction of the two current front-runners, Herman Cain and Mitt Romney.
"I was offered an invitation to a game show tonight, playing out in Las Vegas --it's called the presidential debate," Huntsman said. Following the debate, "I know my good friend Herman Cain will likely play the roulette wheel, and he'll be focused on getting that ball on 9-9-9," Huntsman continued. "I love Herman. And Romney will likely be staying at Trump Tower." The latter jab was a reference to Romney's paying court to celebrity real estate mogul Donald Trump.
While several of the candidates have agreed to boycott the Nevada caucuses should they interfere with New Hampshire's first-in-the-nation status, Huntsman was the only one to take it a step further and boycott campaign events in the state altogether, including the debate. Reactions have been mixed.
At a business town hall with the Manchester, N.H., Chamber of Commerce earlier on Tuesday, New Hampshire gubernatorial candidate Ovide Lamontagne told Huntsman he appreciated the support; a similar sentiment came on Monday from Gov. John Lynch, a Democrat. But 11-term state Rep. David Hess, a Romney backer, recently called Huntsman's boycott "a ploy and a publicity stunt."
Huntsman told a small group of reporters early in the day on Tuesday that he's confident in his strategy.
"All I can say is they're [his GOP opponents] missing out on a huge opportunity by not embracing a total boycott of the Nevada caucus and doing what the New Hampshire voters would expect," he said. "And that's to stand in a town hall meeting, delivering a vision for this country, and taking questions from average voters here."
In a Fox News appearance Tuesday, Huntsman said his plan is to leapfrog from a win in New Hampshire to South Carolina, where the second primary will be held and "where we have a great grand strategy," he said. "We have people there organized; we've made some great visits to South Carolina."
Image credit: Jim Cole/AP