For Real? Herman Cain Ad Shows Chief of Staff Smoking a Cigarette
A web ad from the Tea Party favorite's team serves as a reminder that Cain used to lead a lobbying group that fought tobacco rules
The chief of staff for Herman Cain's presidential campaign proclaims, "We've run a campaign like nobody's ever seen" in a web ad that went viral Monday night. And boy is he right, taking a drag from a lit cigarette at the 40-second mark in the 56-second political spot.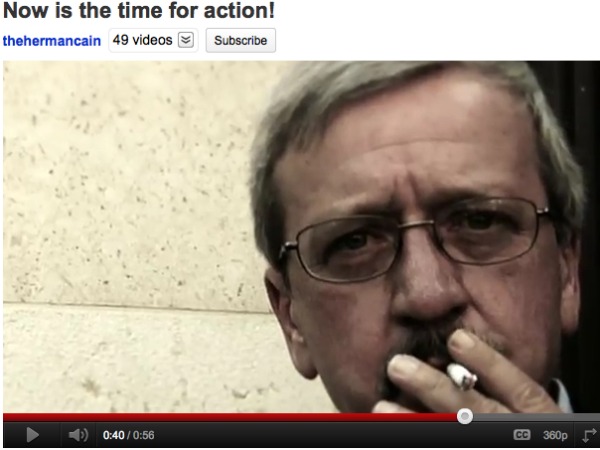 As disbelief spread about whether the smoking staffer ad, released on Herman Cain's YouTube channel, was real, a Google image search confirmed that the speaker really is who he says he is: Mark Block, chief of staff and chief operating officer for the Cain campaign and also, according to the Daily Caller, "The man who talked Herman Cain into running for president, and plotted a strategy that has the former Godfather's Pizza CEO surging in the GOP presidential race."
Before joining the Cain campaign, Block served as Wisconsin state director for free-market advocacy group Americans for Prosperity, which has opposed state smoking bans.
Cain also opposed smoking bans during his years working in Washington on behalf of a restaurant trade lobbying group, The New York Times has reported:
From 1996, when he left the pizza company, until 1999, Mr. Cain ran the National Restaurant Association, a once-sleepy trade group that he transformed into a lobbying powerhouse. He allied himself closely with cigarette makers fighting restaurant smoking bans, spoke out against lowering blood-alcohol limits as a way to prevent drunken driving, fought an increase in the minimum wage and opposed a patients' bill of rights -- all in keeping with the interests of the industry he represented....

Under Mr. Cain's leadership, the restaurant association opposed higher taxes on cigarettes and the use of federal money to prosecute cigarette makers for fraud -- positions that Matt Myers, president of the Campaign for Tobacco-Free Kids said had little to do with the restaurant business.

And Mr. Cain argued vociferously that the decision about whether to go smoke-free was the province of individual restaurant owners, not the government. "The restaurant industry literally became the alter ego of the tobacco industry during that period of time," Mr. Myers said in an interview.

The restaurant association relied heavily on R. J. Reynolds for financial support, records show. Mr. Meyne, the Reynolds senior director of public affairs, served on the restaurant group's board, and Mr. Cain served on the board of Nabisco, which had earlier merged with Reynolds.

In a 1999 memorandum, Mr. Meyne wrote that in previous years his company had given the trade group "as much as nearly $100,000 in cash and much more in in-kind support," adding, "They have done virtually everything we've ever asked, and even appointed us to their board."
The web ad was uploaded to YouTube on Oct 19 with the caption info: "Chief of Staff Mark Block talks about Herman Cain's Presidential Campaign and urges people to act because together we can elect Herman Cain!" It was not immediately clear why it took until Monday to gain notice.
Making a bold statement against anti-smoking regulations would seem general election suicide but also the sort of thing that might help Cain in Tea Party circles, where voters frequently complain about what they see as intrusive government regulations that prevent them from living the lifestyles they want to.
Here's another picture of Cain and Block together, from Block's public Facebook page:

Image credits: YouTube, Facebook