Does Herman Cain Need Campaign Staff?
If the success of tea-party candidates in 2010 told us anything, it's that the former Godfather's Pizza CEO might not have to hire any staff at all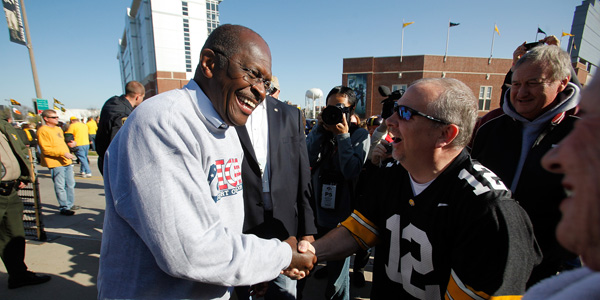 In early primary states, Herman Cain's campaign may not actually exist.
The former Godfather's Pizza CEO has become the GOP's unlikely front-runner for 2012, leading the presidential primary according to several major polls. It's possible the candidate himself didn't see this coming, as he has no staff to speak of in some of the most influential states, with New Hampshire's January vote swiftly approaching. Time's Mark Benjamin reported on Tuesday:
Well-connected GOP operatives in New Hampshire, Florida and South Carolina say they see little or no evidence of Cain's campaign in those key early primary states, and some are even unable to name who is leading his localized efforts just a little more than two months before voters are expected to cast the first ballots.

"There is no sense of a tangible organization that you can point to," says Rich Killion, an uncommitted GOP strategist in New Hampshire, who's unsure of the location of Cain's Granite State base of operations, or even if there is one. "If you said, 'Rich, tell me who is running the effort here?' I could not even give you that person." Matt Murphy, Cain's original state director, resigned in June.
That's an embarrassing revelation for the Republican Party's 2012 poll leader, but here's the thing: Cain might not actually need a campaign.
Cain's operation may be disorganized and unprepared, but if we've learned anything from recent GOP primaries, it's that you don't actually need a developed campaign staff in order to win -- particularly if you're a tea partier.
The 2010 elections saw tea-party Senate candidates defeat established opponents (the Mitt Romneys of the midterm election year) without much organization at all. They rode their images to victory, and, while they lost against Democrats in November, they proved that conservative primary voters will see the tea-party bat signal and turn out to vote for a candidate they may know little about.
Take, for example, Christine O'Donnell. She emerged from nowhere to win Delaware's Senate primary over the longtime favorite, then-congressman Mike Castle, and she did it without much of a team around her.
As of mid-summer, O'Donnell didn't really have anyone working for her. She only employed two staffers directly, according to Federal Election Commission disclosures filed last July, and she paid them as consultants. (Matthew Moran received "campaign manager consulting fees," and Steve Grossman received "fundraising consulting fees.")
The rest of her campaign was made up of consulting firms, plus an I.T. guy. O'Donnell had spent only $93,000 through June, with payments going to two campaign consulting firms, a Web-development/social-media firm, a law firm, an accounting firm, and a photo/video production company.
O'Donnell defeated Castle by six percentage points on Sept. 14 of last year.
Or take Alaska's Joe Miller. Less than two months before his August primary against Sen. Lisa Murkowski (R), he was paying nine people to work for his campaign -- seven of them listed as fundraising consultants. His campaign wasn't too cohesive, either: According to a Republican source in Alaska, Miller went through four campaign managers during his run.
These candidates didn't win by out-organizing their opponents; they won by attracting voters to a basic image. Republican primary-goers in Delaware and Alaska only needed to know that O'Donnell and Miller were conservative, disliked Obama, and wanted to cut spending. With the help of Tea Party Express and other groups, they spread that simple message with a series of low-budget TV ads. The Miller and O'Donnell campaigns weren't really campaigns so much as they were movements -- less about sustained ground-work and more about capturing the zeitgeist.
Cain might just have that same kind of momentum, despite the differences between an off-year Senate race and the big, bright lights of a presidential primary. If the 2012 Republican presidential primary is a Wegmans, the Delaware and Alaska Senate contests were like roadside tomato stands, but the principle can still apply, because a contingent of Republican presidential primary voters wants the same things those Senate primary voters wanted last year. And they're not sure they can get them from Mitt Romney. They have more options, and more time to study those options, but Cain has already begun to separate himself from the rest of the non-Romney pack.
If Cain enters the early states with momentum, having cast himself as the leading conservative alternative to Romney, he may not need a real campaign organization to ask Republicans to show up and vote for him. They could very well show up for him anyway.
Image credit: Brian Ray/AP