Democrats Lag in Recruiting Latino Candidates
In 2012 and beyond, the party's success will depend on support from the growing Hispanic vote. So why aren't more Latinos running for office as Dems?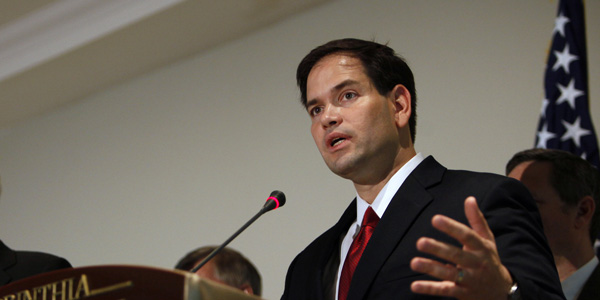 President Obama's numbers are cratering with nearly every demographic, but the latest Gallup weekly tracking poll shows his approval dropping most steeply among Latinos. It portends poorly not only for the president, but for a Democratic coalition that increasingly depends on their strong support.
---
MORE FROM NATIONAL JOURNAL:
GOP Candidates: Don't Blame Wall Street for the Economy
Perry on the Ropes?
Perry Attends Post-Debate Frat Party
---
Obama's support among Latinos dropped 20 points since his election, with only 47 percent of Latinos approving of his job performance, according to the poll. In 2008 Obama won 67 percent of the Latino vote; House Democrats took 60 percent amid a drubbing in the midterms. As National Journal reported last week, the recession has hit Latinos particularly hard. And Obama hasn't spent much political capital on immigration reform even though it is a top priority for Latino groups.
Talk to enough Democratic strategists about the 2012 landscape and one sees the problem extends beyond the presidency. They say a dearth of viable statewide Latino candidates is hurting the party's chances. Only two such candidates are running next year: New Mexico Auditor Hector Balderas, who was rebuffed by much of the establishment that prefers Rep. Martin Heinrich; and retired Lt. Gen. Ricardo Sanchez, whose Senate campaign in Texas has been virtually silent since he announced his candidacy in May.
Balderas has a good shot of knocking off the presumably better-funded Heinrich in the primary because the majority of New Mexico's Democratic electorate is Latino. Sanchez is a different story. Although he may win the nomination, party officials harbor few illusions about the general election prospects of the former Iraq commander of coalition forces under George W. Bush. He's looking less like a Tony Sanchez, the Texas businessman who gave Rick Perry a run for his money in the 2002 gubernatorial campaign, and more like a candidate who simply is not ready for prime time.
Their challenges are not lost on national Democrats and contrast with Republican efforts to spotlight their newly elected Latinos, who are emerging as possible presidential running mates. Florida Sen. Marco Rubio dismisses vice-presidential talk, but would be a logical running mate for former Massachusetts Gov. Mitt Romney. Beyond diversifying the ticket, he is a charismatic conservative who could rally the base. Others in the mix: Nevada Gov. Brian Sandoval, who was one of the first governors to endorse Perry and has tried playing kingmaker with his state's third-in-the-nation nominating contest; and popular New Mexico Gov. Susana Martinez, who would be the first Latino woman on a national ticket and would be the first woman to sit a heartbeat away from the presidency. All three hail from battleground states.
This background makes the news coming out of Arizona significant. President Obama is recruiting Richard Carmona, who was President George W. Bush's surgeon general, to run for the seat being vacated by Sen. Jon Kyl, according to The Arizona Republic. Carmona has yet to bite. Direct presidential involvement in an under-the-radar Senate race is unusual--especially when another Democrat, former state party chairman Don Bivens, is already running.
Obama's involvement strongly suggests that the White House is acutely aware of the need for Democrats to have a Latino candidate running for statewide office--at a time Republicans will be showcasing their own talent. As a former Bush administration official who later spoke out against the Republican administration's policies on stem cell research, climate change, and abstinence-only sex education, Carmona is exactly the type of candidate who could unite Democrats, appeal to Latinos, and pick up moderate Republicans. Obama's reelection team also has been routinely highlighting Arizona as a state it feels it can win, thanks to the growing number of Hispanic voters. What would it say about Obama's own prospects in Arizona if Democrats don't have a credible candidate to run in a winnable Senate seat?
But Arizona-based Democratic strategists aren't nearly as optimistic about Obama's prospects in the Grand Canyon State. Its economy is struggling and many white voters are still mad that his administration sued to prevent the state's immigration law from taking effect.
Making matters worse is the escalating Operation Fast and Furious scandal. In a botched mission, the federal Bureau of Alcohol, Tobacco, Firearms, and Explosives sent guns to Mexico that wound up being used in gruesome crimes, including by the group responsible for the murder of a U.S. Border Patrol agent. The scandal reminds white voters of the region's security problems and turns off Latinos who are infuriated that the misguided operation led to the deaths of dozens of Mexicans.
In the long term, Republicans' punitive policies on illegal immigration could backfire and are deeply unpopular with Latinos. If Democrats boost Latino registration and turnout, the state could be competitive. But Arizona Democratic strategists say the landscape is not favorable now, especially with the recession exacerbating anti-illegal immigrant sentiment. Homeland Security Secretary Janet Napolitano, once a popular governor, skipped the Senate race--in large part because of the blowback against the administration after the Justice Department filed a lawsuit against Arizona's immigration law. She'd have trouble winning elective office again in Arizona.
That political dynamic hinders Democrats' recruitment and leaves Carmona as their last best chance to make inroads in the state--and to land a marquee Latino recruit. The irony is the president may not be the best salesman for the job.
Image credit: Abdel Magid al-Fergany/AP