Christie Adds Spice to Romney's Campaign—and Defends His Faith
The New Jersey governor's fiery temperament makes him a welcome advocate for the mild-mannered GOP front-runner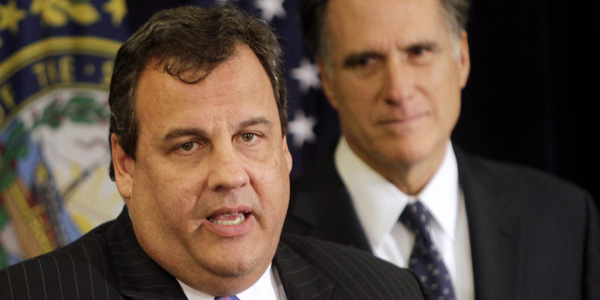 Updated 4:58 p.m.
LEBANON, N.H. -- New Jersey Gov. Chris Christie came out swinging in his endorsement of Mitt Romney Tuesday, showing right off the bat his greatest value to Romney's campaign will be as a tough-talking surrogate who can defend Romney's record better than the candidate himself.
He blasted those who would question Romney's religion, denounced critics of his health-care record and painted a rousing portrait of Romney as a get-it-done leader, all in the brash spirit that has so endeared him to conservatives.
Responding to a question about Robert Jeffress, the Texas pastor who endorsed Rick Perry over the weekend and describes Mormonism, Romney's faith, as a non-Christian cult, Christie was contemptuous.
"These types of religious matters have nothing to do with the quality of somebody's ability to lead," he said. "You have to evaluate their record, evaluate their character and their integrity, not based upon their religious beliefs but based upon who they are. And I think that any campaign that associates itself with that kind of comment is beneath the office of president of the United States."
Romney stepped in with a call for Perry to repudiate "the sentiment and the remarks made by that pastor." Coming from him, it didn't sound half as tough.
Christie was equally impatient with a question about health-insurance mandates like the one imposed on Massachusetts under Romney's governorship.
"Any attempt to try to compare what happened in Massachusetts and what the president has done to the United States of America with his plan is completely intellectually dishonest," Christie said. "Governor Romney did not raise one tax in doing what he did in trying to improve health care in the state of Massachusetts, and I will tell you that I'm proud of him for standing up and doing what he believes is right."
Christie's endorsement helps Romney in plenty of ways. It has the potential to open the dammed-up reservoir of elite GOP support and money. Already since Christie announced he wouldn't run last week, Republican pols and donors have started signing on with Romney. And it could help create an air of inevitability for the man who, despite being the GOP presidential front-runner for more or less the last three years, has never seemed to have more than a tenuous hold on that title.
But it's Christie's blunt, pugnacious manner that has made him a rock star to the right. And that's the quality that Romney -- bland, technocratic and earnest, perennially incapable of channeling populist anger -- could most use on his side.
Christie briskly depicted Romney as the only candidate in the field who has shown he can get things done in both the public and private sectors. It's a case Romney has been making for months, but coming from Christie, it sounded like more than just a line.
"He brings that great private sector experience, and he brings the experience, as governor of Massachusetts, of knowing how government works -- not as a legislator trying to figure out how to use executive power, but as an executive who's used executive power and will use it to make American lives better," Christie said.
Romney, he said, would be the best candidate to contrast with President Obama in the general election.
Obama "wants to tell [Americans] that the pie of America is only so big, and that if you want more we have to take it from others," Christie said. "I know Mitt Romney believes that the American pie can grow bigger, that it can be of infinite size." (Cue the jokes about Christie's desire for a pie of infinite size.)
And he described Romney as the most thoughtful, prepared candidate, the only one who has the courage of his convictions and a detailed grasp of policy.
"This is not someone who just decided to run for president off the back of an envelope, who just wandered into it and said, 'Hey, this seems like a good idea, let's see how it goes,'" Christie said.
"I've said many times that people who run for president of the United States because they think in their minds, 'I think I can win, I hope I'm ready,' are acting irresponsibly," Christie added, a reference to his own recently ended contemplation of a 2012 run. "Mitt Romney says, 'I hope I can win, I know I'm ready.'"
Perry campaign spokesman Mark Miner brushed off the Christie news and declined Romney's call for repudiation of Jeffress.
"Governor Perry is going to focus his campaign on improving the economy and creating jobs, issues that matter to Americans," Miner said. "Mitt Romney's comments are a distraction from the the fact that Romneycare served as a blueprint for Obamacare."
Image credit: Jim Cole/AP