Can Rick Perry's $17 Million Save Him?
His impressive third-quarter fundraising total supplied some good news following a bad week for the governor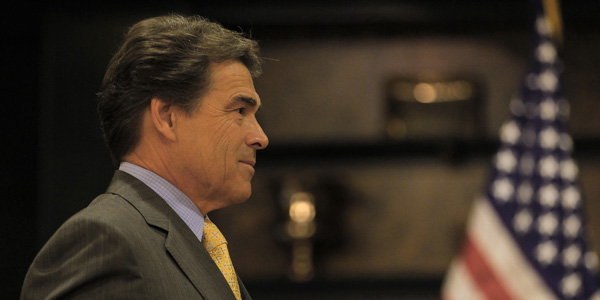 It's been a bleak week for former GOP front-runner Rick Perry.
The Texas governor dropped from first place in the 2012 Republican presidential primary, a position he had held since entering the race in August, with his supporters evidently fleeing for former Godfather's Pizza CEO Herman Cain.
It got worse, and worse, and worse for Perry. After he had led by seven percentage points in the last major poll, a Fox poll last Wednesday tallied Mitt Romney as leading by four percent, then yesterday a Washington Post/ABC poll ranked Perry in a tie for second with Herman Cain, while a Quinnipiac poll showed Perry in third place, behind Romney and Cain both, eight percent behind the resurgent former Massachusetts governor.
Today the Perry campaign leaked a bit of good news, taking some of the focus away from its apparent free-fall: The governor raised $17 million in the third quarter of 2011, lasting from July 1 through Sept. 30.
It's an impressive total, given that Perry only announced his entry on Aug. 13. In just a month and a half of official candidacy, he raised more than any other candidate over the three-month period, approaching Mitt Romney's second-quarter total of $18.25 million and beating Romney's estimated third-quarter total of between $13 million and $14 million.
But while the 2012 primary seems to have a new top money man, this moment could very well be Perry's zenith. Money typically follows polls. When Romney reported his massive second-quarter rake, he'd been rated as the GOP's 2012 front-runner by every reputable national poll since November. Perry certainly benefited from a splashy entry that saw him shoot suddenly into first place in national surveys, converting that initial popularity into a gigantic fundraising haul.
Now that he ranks second or third, depending on the poll, Perry can expect his glut of cash to slow down. Cain, meanwhile, is already seeing an uptick, as his spokeswoman said last week that Cain was taking in "several hundred thousand dollars a day."
The bright side, for Perry, is that he's holding onto that early money. According to National Journal, he still has $15 million in the bank.
Perry's campaign seems to have recognized that his early bump should be stashed away for the long-haul -- an apt strategy, given how polls have played out. The candidates who rate in the second tier of national polls have raised between $2 million and $5 million per quarter. If Perry can stretch out his $17 million, he'll find himself better positioned than anyone besides Romney, even if his fundraising tapers off over the next few months.
Image credit: Adam Hunger/Reuters