Can Obama Win as a War President?
With high unemployment and minimal job growth, Obama can't run on the economy. Can he win as commander in chief?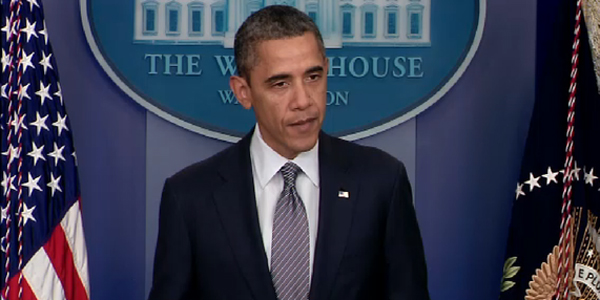 The Republicans aiming for the White House might be well-advised to pack it in on foreign policy for a while and cede the field to President Obama. While they've got a case to make against his economic stewardship, their national security critiques are increasingly at odds with the facts on the ground.
The narrative from Mitt Romney, Rick Santorum, Newt Gingrich and other candidates is that Obama is a weakling who continually apologizes for America, doesn't believe we're exceptional, cedes leadership to other nations, mistreats Israel, and is overseeing our march toward lesser-power status. The problem with those narratives is that they are, for the most part, false -- and obviously so.
Obama has brought his party close to parity with the Republican Party when it comes to which one voters trust more to keep the nation safe. In a world ever more complicated, dangerous and economically fragile, he can make a strong argument that he deserves re-election based his record as commander in chief. That may not be enough to offset the pain of the recession and voters' desire for change, but Republicans are bolstering his case in at least two ways: One, some are making unforced errors on foreign policy and two, as they court conservative primary voters, the GOP candidates may be misreading the type of foreign policy most Americans want.
The operating assumption among most of them is that the public yearns for the good old bellicose days when George W. Bush divided the world into with us or against us, talked about the axis of evil, invaded two countries, and decided we would stick around indefinitely to rebuild them as modern democracies. Yet Obama's election was a rejection of that approach. The public had turned against the wars in Afghanistan and Iraq, and remains against them. People have even been wary of Obama's limited deployment of U.S. military and diplomatic muscle in Libya, though it was in concert with NATO and Libyan rebel forces and there were no U.S. troops on the ground there.
Now Obama has announced that by the end of the year nearly all U.S. troops will be out of Iraq, a move which Romney and Michele Bachmann attacked as a negotiating failure that put U.S. victories at risk, but which will no doubt seem overdue to some of the two-thirds of Americans who oppose the war.
Furthermore, Obama has an unmatched record of targeting and killing terrorists and helping others to do so. The list starts with Gaddafi and Osama bin Laden, but it hardly ends there. ABC News includes nearly two dozen "senior terrorists" on a list it headlines "The Terrorist Notches on Obama's Belt." And Americans have noticed. A new AP poll finds that 64 percent approve of how Obama is handling terrorism.
What's more, whether it's killing terrorists or navigating the Arab Spring, Obama has been for the most part quiet and judicious and has avoided igniting anti-American sentiment across the globe. The image of the United States abroad improved when he was elected and "views toward the U.S. and Obama remained mostly positive across much of the world" in 2010 and 2011, the Pew Global Attitudes Project reported last month.
While there was a backlash against American power during the Bush presidency, Pew reports that now there are anxieties overseas about a perceived decline in U.S. power due to the rise of China and the troubled global economy. Republicans are trying to exploit that perception, which is also a nagging concern at home, and blame it on Obama.
Obama is second to none in his talk about the need to out-compete China, and is increasingly accusing the GOP of blocking his plans to help America "win the future." Still, this presents an opening for the Republican hopefuls, especially given the Democratic Party's historically weak standing on national security issues. They also have an opening in Obama's detached, low-key leadership style, which can mask the roles he, his administration and the country are playing on the world stage.
The primary process will determine whether Republicans are willing to put up against Obama a nominee like pizza magnate Herman Cain, who was until recently unfamiliar with "the right of return" in the Middle East and the neoconservative movement on the right, botched an answer to whether he'd negotiate with hostage-takers, and says he doesn't need to know who leads "Ubeki-beki-beki-beki-stan-stan."
But even Romney, a leading contender, has a chink or two in his foreign policy armor. In a foreign policy speech this month, he declared Obama's foreign policies "feckless" and said that as president, "I will devote myself to an American Century." He pledged to make full use of soft power -- diplomacy and leadership within alliances and organizations like the United Nations. Nine days later, however, he said Americans should stop providing so much foreign aid and let the Chinese handle it. As The Washington Post editorial board noted dryly, "It turned out to be a short century."
Romney is also a leading purveyor, though not the only one, of the idea that Obama is an apologist for America. "I will never, ever apologize for America," says the former Massachusetts governor, whose campaign book is called No Apology. Yet the notion that Obama tours the world making apologies has been declared false by Politifact and a four-Pinocchio whopper by The Washington Post's Fact Checker.
Jon Huntsman, who was Obama's ambassador to China until April, is as harsh as his rivals on his former boss. "President Obama's policies have weakened America, and thus diminished America's presence on the global stage," he said in his own foreign policy speech this month. His solution: "End nation-building, engage our allies, and fix our core. This is how we will fight the enemy we have, and renew American exceptionalism." Yet how, exactly, is this different from what Obama is trying to do?
Obama has taken enormous incoming for saying that pre-1967 borders with land swaps should be the foundation for Mideast peace talks. The entire GOP field has essentially accused Obama of abandoning Israel; Rick Perry has called his policies "naïve and arrogant, misguided and dangerous." Yet Obama recently intervened to help rescue six Israelis during an attack on their embassy in Cairo and opposed the Palestinian bid for statehood at the United Nations. Israeli Prime Minister Benjamin Netanyahu said Obama deserved a "badge of honor" for his stand at the U.N. and told NBC's "Meet the Press" that Obama is as much a friend to Israel as Bush and other presidents.
Libya has proven particularly unsettling to the field. Bachmann and Huntsman opposed intervention while Newt Gingrich and Romney have supported, opposed and everything in between. (Whatever Obama was doing at any given time, they disagreed.) Now the mission is not only a success, it is a validation of Obama's strategy of targeted, limited engagement in partnership with allies.
When it comes to Obama's economic record, the GOP candidates are determined to make sure Americans judge him by the cold, hard realities of unemployment, foreclosures and falling income. But in looking at him as commander in chief and leader of the free world, they would prefer that people ignore what's been going on in the real world. It brings to mind the old Marx Brothers joke: "Who you gonna believe, me or your own eyes?"