Cain Sexual Harassment Story Leads to Fresh Talk of Race
A first wave of takes on the right is comparing Herman Cain with Clarence Thomas, but not all conservatives agree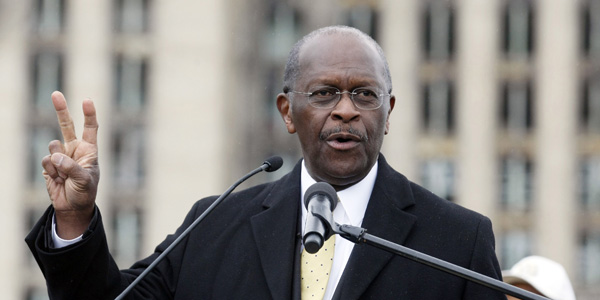 Updated 11:30 a.m.
Conservative reaction was mixed to to Politico's Sunday evening report that "at least two female employees complained to colleagues and senior association officials about inappropriate behavior by [Herman] Cain, ultimately leaving their jobs" while he was head of the National Restaurant Association during the late 1990s.
The first wave of reaction from the right was that the report was a racially motivated attack. RedState writer and CNN commentator Erick Erickson called it the beginning of "a sincere effort to destroy the black guy running to be the GOP's Presidential nominee." Ann Coulter said it was an example of the liberal media being "terrified of strong, conservative, black men." That view was echoed by a writer on The Right Scoop: "I'm sure these allegations have absolutely nothing to do with the fact that a strong, Conservative black man (a.k.a. living proof that blacks don't need the Democrats to succeed) is leading in the GOP polls." As Roger L. Simon at Pajamas Media put it late Sunday, "It took the mainstream media nearly a year to catch up with the John Edwards Affair, but only weeks into Herman Cain's narrow frontrunner status for the GOP nomination, the goodfellas at Politico are letting the uppity black conservative have it."
Cain seemed to want to emphasize that view, posting a promoted tweet Sunday night:

The implication seemed to be a reference to the accusations of sexual harassment against Clarence Thomas that Cain has previously discussed as akin to something he might also face. "They're going to come after me more viciously than they would a white candidate," Cain said in May. "...to use Clarence Thomas as an example, I'm ready for the same high-tech lynching that he went through -- for the good of this country."
But not all conservatives were so quick to suggest there was a racial element to the surfacing of the accusations, which date to the 1996-99 period, and that they were political rather than real. Concerned Women for America president Penny Nance had a different view, telling Politico Monday morning: "I think Herman Cain needs to directly answer the question."
"Early in my career I resigned from a trade association for the exact same reason and with no financial settlement. I simply found another job," she said. "Therefore, I know in a very personal way that sexual harassment exists and that it's demeaning and painful. It should never be tolerated in the workforce and certainly not the White House."
While the Politico report was obviously written only because of Cain's lead in a number of Republican presidential primary polls -- with prominence comes scrutiny -- the allegations detailed therein were made in real time and long before Cain was a presidential candidate. Cautioned Hot Air's Ed Morrissey, "This would differ from the Clarence Thomas/Anita Hill allegations."
Image credit: Rebecca Cook/Reuters