A new poll shows the former Godfather's Pizza CEO topping Mitt Romney in the Buckeye State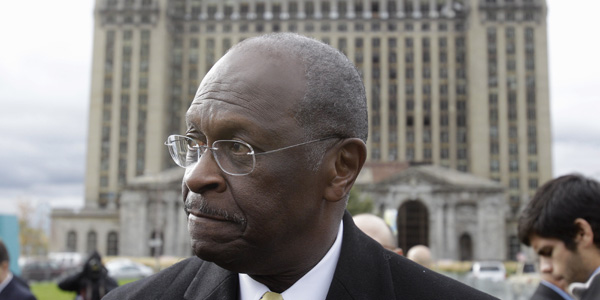 President Obama's approval rating remains underwater in the key swing state of Ohio, according to a new Quinnipiac University poll released early Wednesday, but his most formidable challenger, former Massachusetts Gov. Mitt Romney, now trails former Godfather's Pizza CEO Herman Cain for the Republican nomination.
---
MORE FROM NATIONAL JOURNAL:
Rise of the Republican Reformers
Perry Airs First TV Ad in Iowa
2012 Narrative Still Being Written
---
Ohio Republicans may not have a large role in selecting the next GOP nominee, but Cain's rise in the Buckeye State is emblematic of his surge nationwide. In this Quinnipiac poll, Cain leads Romney, 28 percent to 23 percent.
The bottom has dropped out of Texas Gov. Rick Perry's campaign in the state. A month ago, he was at 20 percent, a hair behind Romney. Now, he is at just four percent; his 16-point drop was eclipsed by Cain's 21-point jump. Rep. Ron Paul (R-Texas) and former House Speaker Newt Gingrich outpolled Perry in the survey.
In a three-way matchup between Cain, Perry and Romney, Cain leads with 40 percent. Romney earns 33 percent, and Perry captures just one-in-ten votes.
Romney, who was in southwest Ohio on Tuesday -- where he notably declined to comment on the Democratic-led effort to repeal an unpopular law that restricted collective bargaining for public employees -- still remains the Republican who fares best against Obama in a general election. He trails Obama, 45 percent to 41 percent. Cain trails the president by eight percentage points, and Perry is behind by nine points.
Romney leads Obama among independents by a small, seven-point margin. Cain and Obama run even among independents, while Perry trails Obama by five among that subgroup.
Just 43 percent of Ohio voters approve of the job Obama is doing as president, virtually equal to his 42-percent approval rating last month. Among independents, just 35 percent approve, while 55 percent disapprove.
Meanwhile, Sen. Sherrod Brown (D-Ohio) remains well-positioned for reelection, despite Obama's poor numbers. Half of voters approve of the job Brown is doing, compared to just 30 percent who disapprove. And Brown holds a 15-point lead over Republican state Treasurer Josh Mandel, 49 percent to 34 percent, up slightly from a 13-point advantage last month.
The Quinnipiac Poll was conducted Oct. 17-23. It surveyed 1,668 registered voters, for a margin of error of +/- 2.4 percent. For the GOP primary, there were 542 Republicans, for a margin of error of +/- 4.2 percent.
Image credit: Carlos Osorio/AP