Cain Doesn't Cancel Speaking Appearance
Despite the explosive story about allegations of sexual harassment during the 1990s, the candidate delivered a speech in Washington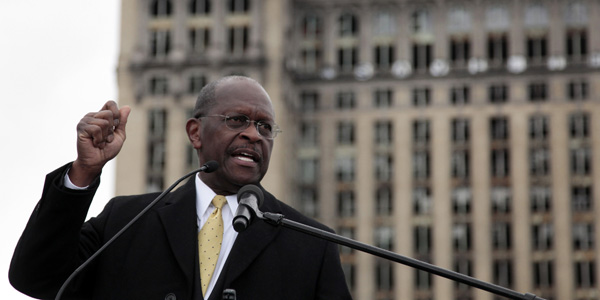 Herman Cain arrived on Monday at the American Enterprise Institute for a 9 a.m. talk about his economic plan.
---
MORE FROM NATIONAL JOURNAL:
Cain Hasn't Canceled
Clinton Played Pivotal Role in Libya Misison
U.S. Officials Were Warned of Abuse at Afghan Prisons
---
A swarm of media is waiting for him, following Sunday's late-night Politico report that he harassed two women when he headed the National Restaurant Association in the 1990s.
On MSNBC, Mark Block, Cain's chief of staff, said that Cain "never sexually harassed anyone."
A seat with Cain's name on it is reserved at the front of the room at AEI. Fifteen television cameras are pointed in that direction.
Seats are also reserved for his top advisors: Linda Hansen, Nathan Naidu, Mark Block and J.D. Gordon.
Overheard: "Do not let Block be Block. Do not let him out of the back room." It was a reference to the explanation the campaign offered for a puzzling Internet ad in which Block, Cain's chief of staff's, is smoking.
It's unclear if Block will attend the AEI event since he's expected to be interviewed by MSNBC's Chuck Todd on Monday morning.
Cain is also scheduled to address the National Press Club on Monday.
Image credit: Rebecca Cook/Reuters