5 Questions for the GOP's Economic Debate
Tonight the candidates won't talk about social issues or foreign policy but the one issue that matters most to voters: the economy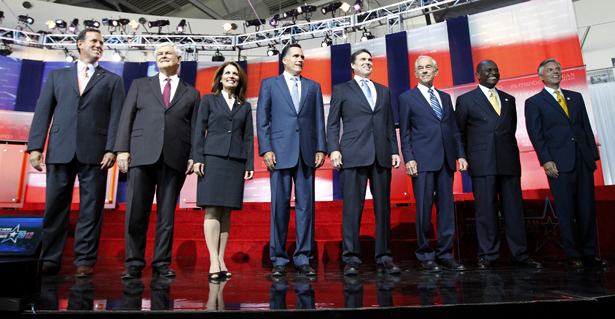 Reuters
Early in the campaign, most Republican presidential candidates hit two notes - and two notes only - when talking about the economy: Cut spending, reduce taxes. Now, they're getting more nuanced, but we still have a lot of questions we'd like to ask them, both to help define their differences from one another, and to push them to explain the reasoning behind their stated positions.

Sadly, we're not sponsoring the GOP's economy-themed debate on Tuesday evening at 8 p.m. EDT, at Dartmouth College in Hanover, N.H. - our pals at Bloomberg Television and The Washington Post are, with WBIN-TV. But we're happy to suggest some queries for the moderators of the two-hour roundtable, starting with these five topics.
1.  All of you here on this stage have said, for the last year, that cutting government spending will turn the economy around and unleash job creation. The Congressional Budget Office estimates that, in the last six months, Congress has passed bills to cut more than $1 trillion from the federal budget - or more than $2 trillion, if you count cuts mandated by the debt-ceiling deal in August. Yet unemployment is actually one-tenth of a point higher today than it was in January. How much more federal spending must we cut to reduce unemployment dramatically? Please be specific.
2. Gov. Romney, one of your advisers is the Harvard economist Greg Mankiw. Professor Mankiw recently published a detailed paper that concluded, at a time when the economy is struggling with high unemployment and interest rates are very low, that "unconventional monetary policy" is the best tool to stimulate job growth. You, however, have opposed such unconventional efforts by the Federal Reserve. Why do you disagree with your own adviser?
a. Follow-up for Gov. Perry and others: At a time when inflation is low and Americans are desperate for jobs, why do you support removing monetary policy as a growth tool, by stripping "full employment" from the Fed's dual mandate?
3. Gov. Perry, Europe appears to be on the brink of a financial meltdown. If you were president today, what would you counsel European leaders to do in order to avert a crisis? What actions, if any, would you take to support them - or to protect the American economy from Europe's ripples?
a. Follow-up for the field: If major American banks had their solvency threatened by exposure to European debt, raise your hand if you would support government assistance to prevent the banks from failing.
4. Mr. Cain, Gov. Romney has said that as president, he would declare China to be manipulating its currency, and begin retaliating accordingly. Would you do the same? As president, how would you manage the challenges and opportunities of trade with China?
5. Everyone: Raise your hand if you believe the United States should return to the gold standard.