With Doubts, Voters Prefer Obama Jobs Plan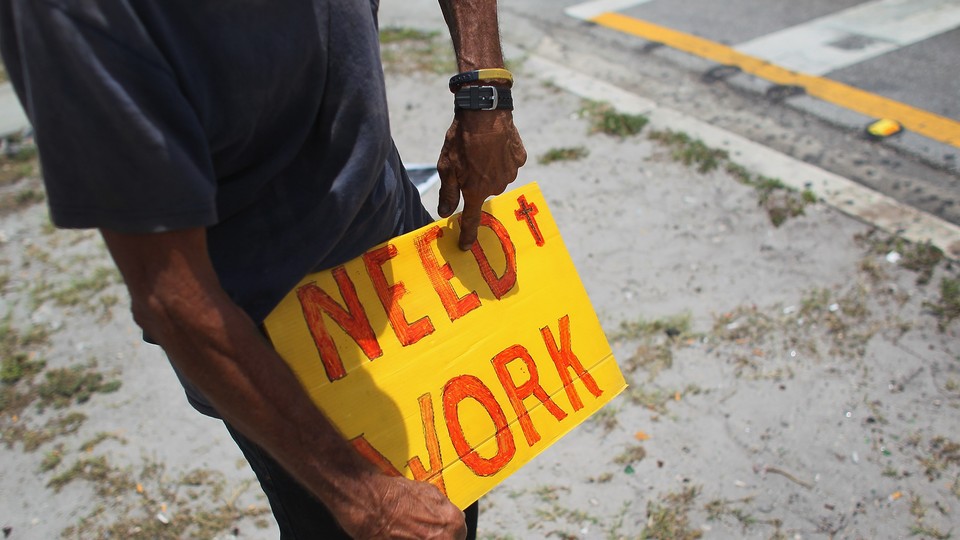 Despite deepening doubts about President Obama's economic agenda, Americans generally prefer the proposals he offered last week for reviving the economy to the competing ideas advanced by congressional Republicans and the GOP's 2012 presidential field, a United Technologies/National Journal Congressional Connection Poll has found.
The poll suggests Americans remain unconvinced that either party's agenda can significantly dent the nation's longest period of sustained unemployment since the Depression. The share of Americans who said that Obama's policies have compounded economic difficulties was nearly double the portion who said he has improved conditions. And just one-in-six said they expected the jobs plan he sent to Congress will significantly reduce unemployment.
Yet, nearly half of those surveyed thought his plan would help somewhat, and the president still held a 37 percent to 35 percent advantage over congressional Republicans when respondents were asked whom they trusted more to revive the economy.
The Congressional Connection Poll, conducted by Princeton Survey Research Associates International, interviewed 1,010 adults by landline and cell phone Sept. 8-11 for most of the questions in the survey; those questions have a margin of error of plus or minus 3.6 percentage points. Interviews about Obama's new jobs plan, which he announced on the evening of Sept. 8, were conducted with 783 adults Sept. 9-11; those questions have a margin of error of 4.1 percentage points.
With some exceptions, those polled saw more promise in the ideas that Obama offered in his speech than proposals Republicans are touting in Congress and in the 2012 campaign. The survey specifically identified the alternatives as proposals from the GOP or President Obama.
The most popular Republican proposal is the call to pass a constitutional amendment to cap federal spending at a fixed share of the economy and require Washington to balance its budget. Two-thirds of those polled thought that idea would be either very effective or somewhat effective at creating more jobs.
From National Journal:
PICTURES: GOP Candidates Debate in Tampa

Is Perry Making Romney a Better Candidate?

GRAPHIC: Florida's Political Corridor

Obama Gets Specific in His Jobs Bill

Charlie Cook: Volatility Now the Watchword
But other cornerstones of the GOP agenda drew more modest support. Just 52 percent thought reducing corporate taxes would be very effective or somewhat effective at creating jobs. When it came to what respondents thought would lead to a big jobs boost, 50 percent cited repeal of Obama's health care law, and 47 percent cited both Mitt Romney's proposal to require Washington to repeal a regulation for each new one promulgated and an extension of George W. Bush's tax cuts for all earners.
Nearly as many (46 percent) thought that extending the Bush tax cuts would not be too effective or not effective at all. That was the most skepticism expressed about any GOP ideas — although at least 37 percent also said expressed doubt that repealing the health care law, limiting regulations as Romney proposed, or cutting corporate taxes would do much good.
Ideas Obama touted in last week's speech generally fared better. Three-fourths of those polled said they believed his proposal to cut taxes on employers who hire new workers, or provide a raise to existing ones, would be either very or somewhat effective in creating jobs. Seven-in-10 said the same about his proposal to provide state and local governments funds to prevent layoffs of teachers and police officers. Two-thirds rendered the same verdict on the idea of helping more homeowners refinance their mortgages at lower interest rates.
The element of Obama's plan that costs the most, and is most likely to attract support from congressional Republicans, actually polled the weakest: cutting the Social Security payroll taxes paid by workers and employers. Just 42 percent of those surveyed believed that would be even somewhat effective, while 52 percent thought it would have little or no effect
For the most part, reaction to these ideas showed remarkable consistency across most of the demographic fault lines. Partisanship, not surprisingly, was the big exception: Republicans responded much more favorably to the GOP ideas, and Democrats showed more enthusiasm for Obama's proposals. Other than that, one of the few telling contrasts came over tax cuts: Whites (at 51 percent) were much more likely than minorities (just 39 percent) to believe that extending the Bush tax cuts would significantly help create jobs.
Conversely, minorities (at 51 percent) were much more likely than whites (just 38 percent) to believe that cutting Social Security taxes would improve conditions. Seniors were especially dubious of cutting Social Security taxes.
More familiar divides resurfaced in assessments of Obama's record and his new plan. Overall, about one-fifth of those surveyed said Obama's economic policies since taking office had improved the economy; nearly two-fifths said he had made the economy worse, while the rest said his policies have had no effect. That is Obama's worst showing since taking office, when compared with earlier findings on the same question from the nonpartisan Pew Research Center.
Reactions on that question showed a sharp racial divide: though weak itself, the share of minorities who thought Obama's agenda had improved the economy (29 percent) still exceeded the portion who thought he had weakened it (18 percent). But among whites, fully 48 percent thought his actions had hurt the economy-nearly triple the 17 percent who believed he had improved it. College-educated whites, who have generally been more positive toward Obama, were as negative on this judgment as whites without a college degree, his toughest audience throughout his presidency.
All of these results underscore how much Obama's hopes next year may turn on convincing voters to see the 2012 election as a forward-looking choice between competing vision rather than a referendum on his results since 2009.
Loading
Loading
Loading
Loading