Why 'Infrastructure' Should Be Sexy: Lessons from Uganda, Russia, and China
I mentioned yesterday that the passage I liked best from Obama's "pass the jobs bill / pass it right away" speech was his discourse on "infrastructure." Yes, that most boring of words, which applies to all the equipment and investment that collectively distinguish first- from third-world countries.
A reader who has traveled in Africa sends this note:

>>If I had the power to snap my fingers and immediately grant every young person in "red state" America a week's vacation in Uganda, I would do it.

[After a trip there] my wife and our two teenage children and I came back "changed" in many ways and one of the most significant ways was that we no longer take for granted the vast and complex "infrastructure" of our own country. 

Particularly with younger voters, Obama and the Democrats would be wise over the next 14 months to continually "re-educate" these voters about the national educational, transportation, scientific and social research, health, safety, energy, communication, natural and wildlife preservation, legal, social justice, national security, law enforcement, etc. "infrastructures" that are all so crucial to the individual prosperity and opportunity available, however unevenly, to all the citizens, of this great country.<<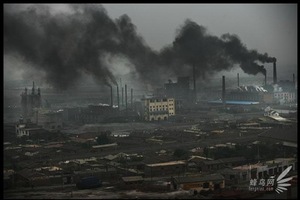 We usually hear this message in the form of "Holy Moley, look what the Chinese are doing!" It's also worth considering it in the grimmer version of "here is how it looks if you just let everything run down." (Or, for most Westerners who have actually spent time in China, "here is how it looks if you let the smokestacks belch out full blast, and can't keep toxic chemicals out of the water or the food supply." At right, scene from Inner Mongolia, as described here.)
Further on the theme of letting things run down, here is a message from another reader about the terrible (and not yet fully explained) crash that killed all members of the Russian Lokomotiv hockey team this week. Emphasis added:

>>While reading an AP article on the tragic crash of a Russian airliner carrying the Lokomotiv Yaroslavl hockey team, I zeroed in on the part speculating that the crash may have been caused by technical problems.

"The cause of Wednesday's crash was not immediately apparent, but Russian news agencies cited unnamed local officials as saying it may have been due to technical problems. The plane was built in 1993 and belonged to a small Moscow-based Yak Service company.

In recent years, Russia and the other former Soviet republics have had some of the world's worst air traffic safety records. Experts blame the poor safety record on the age of the aircraft, weak government controls, poor pilot training and a cost-cutting mentality."

I've read enough of your articles to know that it's way too early to jump to conclusions about the cause of this crash, but if Russia does have a poor record on flight safety due to lax regulations, it kind of makes you wonder if this is where we are heading in the U.S., particularly on the cost-cutting mentality.

I'm able to put up with the TSA, cramped cabins, poor service, extra fees, lack of food and etc. that has become the hallmark of modern commercial air travel, knowing that airlines (and our government) wouldn't skimp on safety.

However, with congressional budget fights over FAA funding and with intense pressure on airlines to be profitable, should we be concerned about the potential Russification of system?<<
It is worth remembering and re-emphasizing: the kinds of investments Obama was talking about constitute real wealth for a country, and their lack means real squalor, even though they are "public" wealth rather than belonging to anyone in particular. An obvious point but one now often unmentioned or overlooked.