Word broke today that Barack Obama's funniest speechwriter Jon Lovett -- performing above at the Washington Improv (giving an impeccable impersonation of Arianna Huffington) and who along with lead Obama wordsmith, Jon Favreau, was the genius this year behind President Obama's Trump-stirring White House Correspondent's Dinner speech -- will be leaving DC to write funny stuff for Hollywood.  Watch out 30 Rock.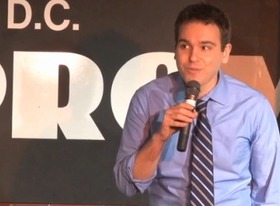 I've been studying Lovett from a safe distance for a while -- and he reminds me of my pal Darren Star who never wrote speeches -- but was from Potomac, Maryland before he began defining for the Beverly Hills and Melrose crowds how they lived better than they could ever tell. 
Darren, you should meet Lovett quick -- before one of those more humor-needy producers get him.
Two big immediate consequences from Lovett's departure though -- well three actually. 
The first, which I nearly forgot, is that I will probably not succeed now in getting Lovett and Favreau to headline the opening dinner chat for the Washington Ideas Forum organized by The Atlantic and the Aspen Institute on how they sew lots of chuckles and well delivered punchlines into vast political blandness.  Will still give it a try -- and maybe a ticket back from LA?