What to Watch For in Tonight's GOP Debate
Republican presidential candidates convene for a tea-party-flavored forum. Here are seven things to follow.
Republican presidential candidates convene for a tea-party-flavored forum. Here are seven things to follow.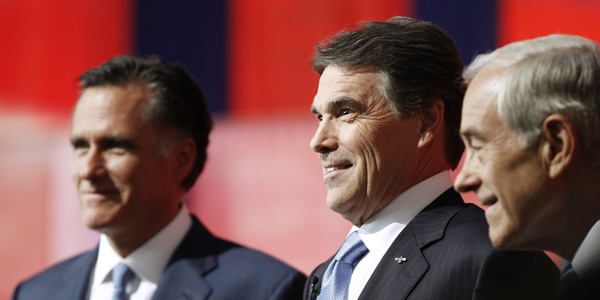 It's that time again: Republican candidates will appear in Tampa, Fla., for a nationally televised debate on CNN at 8 p.m. ET, just four days after a debate at the Ronald Reagan Presidential Library.
Should your curiosity about the future of the nation and the 2012 election supersede your curiosity about the New England Patriots and the Miami Dolphins' Monday Night Football match-up, here's what to watch for in tonight's GOP throwdown:
1. Rick Perry's second go-round. The Texas governor finally made his debate debut Thursday after entering the race on Aug. 13, and the results were so-so. He appeared a bit shaky at first but held his own when challenged by other candidates on a range of issues. Tonight, we'll look for him to warm up with a more confident stage presence.
2. Tea-party questions: It's all about the money. The previous three GOP debates have focused on a wide array of topics, from social issues to China to America's foreign wars. Tonight, that may change. Co-hosted by CNN and Tea Party Express, one of the nation's most prominent tea-party political groups, questions will center on a topic nearer to the movement's heart: "How do we right the country from the economic woes that we face," as Tea Party Express founder Sal Russo described tonight's focus to The Daily Caller. Some questions will be taken live from tea partiers at debate-watch parties around the country, according to CNN's press release. Spending and taxes should dominate.
2. a. More time for the backbenchers? The tea party is a grassroots movement dedicated to fighting the entrenched norms of U.S. politics. And some of the lower-polling candidates in the 2012 race are tea-party favorites, particularly Herman Cain and Rep. Ron Paul (R-Texas). Will CNN devote more questions and screen time to these candidates? Will Rep. Michele Bachmann (R-Minn.), a tea party leader, get as many questions as the two front-runners in the race, Perry and former Massachusetts governor Mitt Romney?
3. Social Security smackdown. Last Thursday, Perry drew fierce criticism from other candidates after he called Social Security a "Ponzi scheme." Pundits have sliced and diced that comment since, and Social Security is trending as a discussion topic in the GOP race. Entitlement reform fits well within the bounds of this debate's expected fiscal focus, so expect a good chunk of the discussion to be about that program and how to reform it. We can expect Perry to defend his comment, with the other candidates teeing off on him once again. Will debate moderators press them for specific solutions to keep Social Security afloat?
4. Perry vs. the world. Perry shot to the top of national primary polls when he entered the race, and, after his first debate, he's maintained that lead. Perry led at 30 percent in the national CNN poll released today, with Romney at 18 percent as his nearest competitor. The clear front-runner, Perry attracted a lot of sniping last Thursday. Expect the other candidates to keep charging tonight, seeking to bring the Texas governor down.
5. Newt Gingrich vs. the moderators. In the last two debates, the former House speaker has openly feuded with debate moderators. In Iowa, he erupted at the "Mickey Mouse games" of Fox's Chris Wallace, who asked Gingrich about his entire campaign team resigning. In California last week, he bellowed at Politico's John Harris for allegedly attempting to divide the Republican Party by asking whether Perry or Romney had a better argument on health care. Tonight's moderator will be Wolf Blitzer. Will Gingrich pick a fight with the seasoned CNN hand? Probably, if he gets a chance.
6. Spat mashup: Ron Paul vs. Rick Perry vs. Mitt Romney vs. Jon Huntsman. Mini spats are emerging between individual candidates. Huntsman took aim at Romney last Thursday, clearly gunning for the moderate vote. Romney and Perry, the two poll leaders, sparred in the debate's opening minutes, loaded with research ammo about their respective records. Paul has launched an anti-Perry TV ad, and the two feuded last week over who really supported Ronald Reagan. Watch for more side-sniping tonight.
7. Can Bachmann get her groove back? The Minnesota congresswoman enjoyed a summer renaissance, leading Iowa polls and generating a lot of momentum and buzz, but Perry's entrance has drawn attention and support from her campaign. Last week she parted ways with campaign manager Ed Rollins. Bachmann struggled to make her presence felt onstage in California last Thursday, but debating is one of her strong suits. With a charismatic performance tonight, Bachmann could loosen the impression that she's losing altitude.
BONUS. Patriots -7.5 might be a good deal. For anyone with picture-in-picture capabilities, Tom Brady has posted 31 TDs and 16 INTs in 18 career games against the Dolphins in his career, and the Pats have placed near or at the top of NFL preseason power rankings. Still, tonight we'll be watching for Dolphins running back Reggie Bush's debut as a real a feature-back in an NFL offense, listed number one on the Dolphins' depth chart, finally free of his combo-back identity. Look for plays to the left side, where the menacing duo of tackle Jake Long and penalty-prone guard Richie Incognito will start. How will the Patriots handle the transition to a 4-3 defense? Guess we'll find out.
Image credit: Danny Moloshok/Reuters