What to Watch for in Tonight's GOP Debate
Republican presidential candidates gather tonight at the Reagan library in Simi Valley, Calif. Here are five things to pay attention to as you view the debate.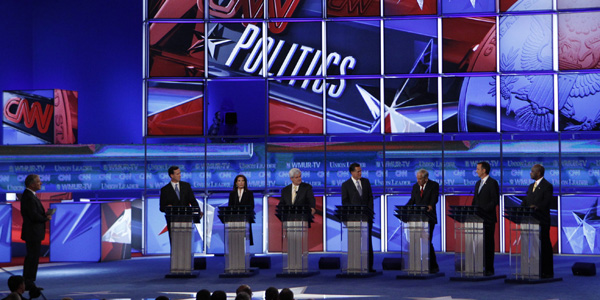 The last time Republicans took the stage for a nationally televised presidential debate, viewers were treated to an evening of snippy back-and-forth. Former House speaker Newt Gingrich accused Fox's Chris Wallace of playing "Mickey Mouse games," former Minnesota governor Tim Pawlenty asked Rep. Michelle Bachmann (R-Minn.) to "please stop" trying to lead on conservative issues in Congress, former senator Rick Santorum (R-Pa.) wasn't happy about his allotted screen time, and Bachmann was asked if she'd be "subservient" to her husband if elected commander in chief.
Tonight, the 2012 candidates are back for another round, this time at the Ronald Reagan Presidential Library in Simi Valley, Calif. at 8 p.m. Eastern. The race has changed significantly since Fox's Iowa debate -- Texas Gov. Rick Perry now leads it, and Pawlenty has since dropped out. So, as we reassess the GOP field, here's a list of things to watch for as the national TV audience gets to judge the Republican candidates once again:
1. Perry's first performance. Everybody's heard about the governor of Texas. Since entering the race, Perry has dominated press coverage of the GOP field. He shot to the top of polls, supplanting former Massachusetts governor Mitt Romney as the GOP's 2012 frontrunner. In the latest ABC/Washington Post survey, he ranked first with 29 percent support, while Romney followed with 23 percent. But few have seen Perry in person or heard him speak. Debates offer candidates a chance to flash charisma, and a chance to mess everything up. National Journal's Beth Reinhard and Alex Roarty report that Perry typically does well in debates without really exciting anyone:
And here's a little secret Perry's team isn't trying to hide, as it seeks to lower the sky-high expectations for his national debut: Behind the podium and under the bright lights, he is solid, but far from spectacular.

"He's completely forgettable and wins every time,'' said Texas-based Democratic consultant Jason Stanford, who worked for Perry's 2006 opponent, Chris Bell. "He does exactly and only what he needs to do to win."
2. Attacking Perry? Continuing with the it's-all-about-Rick-Perry theme of tonight's debate, we'll watch closely to see if candidates attack the Texas governor, directly or with veiled references. Frontrunners usually draw the most fire, and, until now, candidates have taken Romney to task for his record, seeking to bring him down while making themselves look good. Will Perry get the same treatment?
This week, Ron Paul launched the first candidate-sponsored TV ad to attack Perry. Bachmann, meanwhile, won a back-and-forth with Pawlenty in the Iowa debate last month and could try to reclaim her tea-party crown with a dig or two at the Texas governor.
3. Bachmann on the ropes. After a strong start to her campaign, Bachmann is in trouble. She ranked fifth in the latest national GOP primary poll, and her campaign is changing leadership, shedding campaign manager Ed Rollins.
Bachmann became a formidable contender with her first debate performance in New Hampshire. She announced her candidacy onstage and, within an hour, had changed perceptions that she was entering the race as a tea-party longshot. Can she dazzle again with another solid showing tonight?
4. Will any of the lower-tier candidates step up? The 2012 race has separated into two distinct tiers: the top contenders (including Perry, Romney, and Bachmann), and everyone else. Paul and Herman Cain, in particular, have delivered strong debate performances in the past and carry distinct tea-party appeal. Will either of them emerge as a "winner"? Or with a memorable, race-changing zinger?
5. Piling on Romney? The former Massachusetts governor has endured the most criticism of any candidate in the 2012 GOP race, partly because he's been the frontrunner, and partly because he's amassed a moderate record that includes past support for abortion rights and implementation of a Massachusetts health-care plan that looked a lot like President Obama's national reform blueprint. Now that Perry has taken the frontrunner mantle, will candidates lay off, or will they charge ahead with the Romney-bashing, kicking the former governor while he's down? If the do, how will he respond? Romney has taken the high road thus far, saying only "that's fine" when Pawlenty jabbed at him for his wealth. If challenged again, Romney might feel more inclined to mix it up.
Romney can come across as stiff. He's a wealthy businessman, and reporters have noticed his lack of comfort in relating to voters. Having run in 2008, he's accrued plenty of debate experience, and recently he worked from notes, rather than prepared text, during an off-the-cuff speech in Nevada. Can he loosen up a bit and deliver a charismatic performance?
Image credit: Shannon Stapleton/Reuters