What to Watch for in the Fox News-Google GOP Debate in Florida
Some dynamics to look for as you watch the Fox News-Google Republican presidential primary debate, which takes place in Orlando, Fla., tonight at 9 p.m. ET: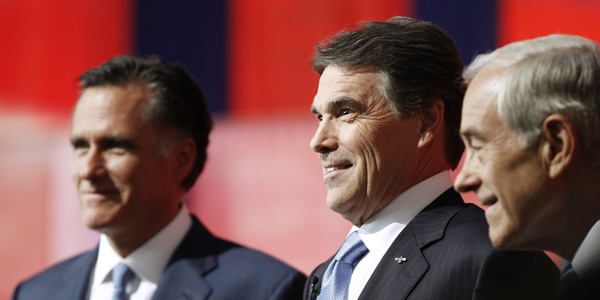 1. Romney vs. Perry on Social Security and the Fight for Florida. Obama is underwater in Florida, a state he won in 2008 with 51 percent of the vote. A new Quinnipiac University poll finds that "Florida voters disapprove 57 - 39 percent of the job President Barack Obama is doing, his worst score in any Quinnipiac University poll in any state" and that "Obama does not deserve a second term, Florida voters say 53 - 41 percent."
Head-to-head polling matchups at this early date don't really tell us much about how a specific Republican candidate might perform as the nominee, but what is clear is that the already weak support for the president in Florida has dropped since early August. "Romney tops the president 47 - 40 percent while Perry gets 42 percent to Obama's 44 percent, a dead heat," the university pollsters report. On August 4, "the president led Perry 44 - 39 percent."
That makes the Social Security fight an even more important one for Democrats seeking to hold the state, which is home to many elderly voters who rely on the entitlement program for support.
Perry has doubled-down on his argument that Social Security is a "Ponzi scheme" and a "monstrous lie," but there is as yet little evidence that his comments about the entitlement program have hurt him statewide in Florida, where the Quinnipiac poll showed he's increased support in recent weeks. To be sure, Perry does less well with elderly voters than younger ones, and that might make a difference in the GOP primary in the state, where older voters turn out at higher rates.
But Romney is trying to make the fight over who wants to transform Social Security more radically a fight over general-election electability, and Democrats fear -- rightly -- that Romney will emerge from that battle having cast himself as a savior on Social Security when they argue he also wants to transform the retirement system in ways future retirees will find objectionable.
Will Romney continue to press on this topic? He's shown remarkable message discipline in the past two years, holding fast to a strategy of focusing on the big subjects that people say they care most about, like jobs, the economy and, now, retirement security, as other candidates have risen and fallen in polls and notoriety by going off on red-meat and so far futile tangents ranging from gay marriage to Obama's birth certificate.
2. Does anyone lay a hand on Romney? New Hampshire polling by Suffolk University released Wednesday showed declining support for Perry in this battleground state since the debates began.
"Romney has surged among Republican voters in New Hampshire, and Rick Perry is a distant fourth, according to a Suffolk University/7NEWS (WHDH TV) poll of likely voters in New Hampshire's GOP presidential primary," the pollsters report. "Romney has opened up a 27-point lead over his nearest rival in New Hampshire."
Coupled with Perry's strong support in Iowa (where he leads in polls, though polling for the caucus is notoriously difficult and necessarily fails to account for the last-minute vote switching deals that can make or break candidates in libraries and auditoriums across the Hawkeye State), this continues to raise the prospect that the two could slug it out through a tough and protracted series of primaries until someone has the delegates to win. Think of it as Hillary vs. Barack all over again. The Suffolk pollsters also caution, however, that Romney's lead is so big "pundits may have to rethink predictions of a two-man GOP race between Romney and Perry."
Unless someone is able to put a dent in Romney, who has proved remarkably durable and resilient -- think of all the mini-surges candidates and potential candidates have had this cycle, from Donald Trump to Herman Cain to Michele Bachmann -- his quietly dominant position in the race seems likely to grow more solid.
Romney has been able to skate in the debates so far -- or create the appearance of doing so by effortlessly parrying those attacks directed at him -- first thanks to the Bachmann-Tim Pawlenty rivalry, and later as Perry became the focal point of attacks. It will be interesting to see if anyone -- and particularly Perry -- will be able to scratch his amiable veneer tonight.
3. Bachmann who? Hunts-what? Bachmann has been sliding in polls and in her public appearances, struggling with what should have been an easy appearance on Jay Leno, after he confronted her about her family's Christian counseling business and opposition to gay marriage, which she tried to brush off with a flat joke about "pray the gray away" as if it were a hair thing. There's a general sense that her moment -- and the Minnesota moment overall -- has passed, as the few who ever expected her to be able to run a campaign beyond Iowa have diminished in number with Perry's rise. Her former campaign manager, Ed Rollins, made that rather explicit early this week when he said she'll lack the resources to compete beyond Iowa if she fails to win the state. But Bachmann was also a strong presence in the early debates, and she's shown a real ability to go on the attack without coming across as angry. Will she try to go after Romney or Perry and bring the conversation back to her own candidacy?
Former Utah governor Jon Hunstman, meanwhile, who can claim a mini-surge in New Hampshire polling, still lacks a clear path to the nomination. But that didn't stop him from trying to be a much more substantial presence at the CNN-Tea Party Express presidential primary debate in Florida, and there's no reason it should stop him tonight, either.
4. Gary Johnson! The former New Mexico governor is being allowed onto a debate stage tonight for the first time since May, when he appeared in the South Carolina Republican presidential primary debate, also hosted by Fox News. He didn't move the needle for himself in that debate, and it's unlikely he'll do so now, but he could provide libertarian ballast to Texas Rep. Ron Paul and will add a fresh perspective to the stage.
Image credit: Danny Moloshok/Reuters