Warren Buffett's 'Secretary' Is Not Amused
The billionaire advocate of higher taxes for the rich has several executive assistants in Omaha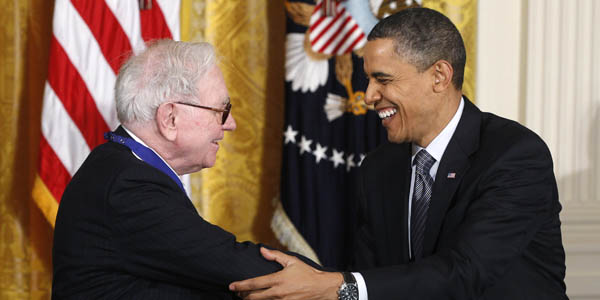 Carrie Kizer is not amused. An executive assistant for Berkshire Hathaway Inc. CEO Warren Buffett in Omaha, Neb., she has been fielding media requests for two days from reporters looking to talk to Warren Buffett's secretary. The calls have been coming ever since the president in announcing a plan to raise taxes on investment income said Monday morning, "Warren Buffett's secretary shouldn't pay a higher tax rate than Warren Buffett."
"I've gotten several of these requests today and yesterday," Kizer said.
Not surprisingly, the billionaire Obama-backer has more than one executive assistant, individuals who are not secretaries per se in duties any more than in titles. Indeed, they help with media and other calls and are sometimes quoted in the press as company spokesmen. Asked point blank if she were Buffett's secretary, she said, "I am not."
Debra Ray, who passed me on to Kizer, took more ownership of the new secretarial role she's been cast in. "I am one of them, yes," she said, though her actual title is also executive assistant, not secretary. You're famous, I told her. She laughed. "Oh, Mr. Buffett is the famous one."
Obama's construction immediately resonated in the public imagination, and the group MoveOn is now trying to turn "Warren Buffett's secretary" into a stock character in election 2012, releasing an online video in which a series of people step up and say, "I'm Warren Buffett's secretary."
Meanwhile, actual staff at Berkshire Hathaway are seeking to stay out of it. Kizer declined to give out more information about how many executive assistants Buffett has or their names. "I can't give you the answers that you are looking for," she said.
Update: Slate's Annie Lowery has more on another Buffett assistant, Debbie Bosanek, who "For nearly two decades ... has fielded press calls, investor queries, and sundry other requests for her boss, billionaire investor Warren Buffett." She's also not talking.
Image credit: Larry Downing / Reuters