Warning Signs for Obama: Bad Polls, Strong Opposition, and Worried Allies
Looking at a stagnant economy and two special-election losses, the president's backers warn that he could be in trouble in 2012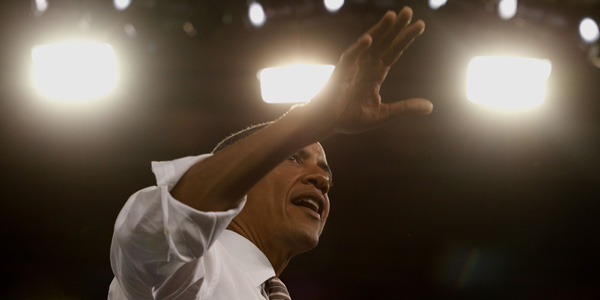 Crushing defeats for the Democratic party in two special congressional elections on Tuesday, an economy that's showing no signs of revival, and Obama's declining approval ratings have become too much to defend, even for some of the party's most zealous spin doctors. The president's support is eroding across the board, and the coalition of liberals, minorities, young people, and labor that helped elect him in 2008 is fraying badly.
---
MORE FROM NATIONAL JOURNAL:
Obama at Arm's Length
Burned by the Economy, Voters Want to Look Forward
Obama Allies: Time to Wake Up
---
"Democrats should be very nervous," said Bill Burton, a former White House spokesman and senior strategist at Priorities USA, which is raising millions of dollars for the 2012 election. "They need to put on their war paint and get ready for what is going to be a very difficult battle. Unless activists really engage and recognize the stakes of this fight, it's going to be impossible for the president to win."
Though Burton strongly cautioned against reading too much into any one Democratic setback, he didn't discount the signs of Obama discontent:
A New York City district held by Democrats since 1923 fell to the GOP in a special election on Tuesday. A Republican political novice, businessman Bob Turner, framed the vote in the heavily Jewish district as a referendum on President Obama, raising questions about the level of his support with a key Democratic constituency.
Republican Mark Amodei on Tuesday cruised into a congressional seat in the battleground state of Nevada in a special election Democrats had hoped would expose a backlash against the GOP over its proposed Medicare overhaul. It didn't.
The Republican National Committee raised more than $8 million last month, marking its best August in a nonelection year and crushing the $5.5 million haul by its Democratic counterpart--even after President Obama's birthday fundraising drive.
In the wake of economic reports showing job creation at a standstill, the U.S. Census reported on Tuesday that one in six Americans are living in poverty. Poverty last year surged to its highest level since 1993.
Obama's approval rating in California, traditionally a true-blue state for Democrats, slipped to 46 percent in a new Field Poll. The latest Bloomberg Poll found most Americans don't believe the president's $447 billion jobs plan will lower the unemployment rate.
"The mine hasn't collapsed, but the loss in New York is definitely a dead canary,'' said Democratic strategist Craig Varoga, president of an independent liberal group called Patriot Majority. "It is going to be a very, very difficult election, and it is time to wake up and be bold.... We have to face reality and the fact of how unhappy and scared people are.''
Obama's advisers are contemptuous of the suggestion that the bottom is falling out from under the president. In their view, his approval ratings, while down slightly, reflect a Democratic base that is strong.
The White House's perspective might be summed up this way: With unemployment over 9 percent for virtually the entirety of the president's term, he should be doing much worse. Independents may not be embracing the president's economic agenda, but they actively reject Republican ideas. And Republicans in Congress continue to poll worse than the Democratic administration.
In some battleground state polls and national polls, Obama comes out ahead of the two leading contenders for the Republican nomination, Mitt Romney and Rick Perry.
"It would be an understatement to say that calling the next election based on a 60,000-vote turnout in a [New York] congressional race 14 months before election day is ill-advised,' " said Ben LaBolt, a spokesman for Obama's reelection bid. "There's no doubt that our organization will be unrivaled. We never allowed it to fade away and we're building it every day as the Republicans are off courting the tea party vote.''
To be sure, the special elections and other Democratic setbacks are snapshots in time, not necessarily harbingers of the future. But they indicate that President Obama will lose in 2012 unless he is able to reverse his poll rating's downward spiral. He carried New York's 9th District in 2008 with 55 percent--a threshold met by very few of the seats captured in Republican wave in 2010.
It's striking that a groundbreaking Democratic nominee who expanded the national battleground to include previously impenetrable states like Indiana, North Carolina, and Virginia is now polling at 43 percent in such a Democratic stronghold. Obama's defensive posture also bodes poorly for Democratic senators in states like Florida, Nebraska, Montana, and Missouri that are pivotal for the party to maintain its slim majority.
Former SEIU president Andy Stern said that even an enthusiastic get-out-the-vote effort by organized labor could not have overcome the "continued level of incredible frustration at everyone in Washington, indiscriminate" evident in the results in New York, a dynamic he said held ominous warnings for Obama next year.
Turning Points
---
President Obama's approval rating is at a three-year low. It first dipped beneath 50 percent in January 2010, after a racous health care debate and the emergence of the tea party. It fell again this year as the economy has stalled.
---
"As much as the Democrats want to tone down the question of whether this is a trend, and I think it's too early to tell, it wouldn't make me sleep very well at night,'' he said. Stern said Obama had "just started doing right" two things: defining his objectives and contrasting choices in fiscal policy that benefit the middle class. If voters fail to cotton to those efforts, he said, the president could be in trouble.
Frustration with Obama has seeped into other deep-blue parts of the country. Democratic congressional candidate Brad Schneider is challenging Rep. Robert Dold in a liberal-leaning, heavily Jewish district near Chicago where Obama won 61 percent of the vote in 2008. But in an interview Wednesday, Schneider acknowledged the still-sputtering economy nearly three years after the president took office has sapped enthusiasm, even among voters near Obama's hometown.
"I think a lot of people were hopeful we would be further along than we are," said Schneider, though he said the president would still be a political asset next year. Schneider isn't the only Democratic candidate avoiding a full-on embrace of Obama. Manan Trivedi, who's vying for a rematch against Rep. Jim Gerlach in southeast Pennsylvania after failing to unseat him in 2010, declined Wednesday to endorse the president's much-hyped jobs plan.
"We all want to know how it's paid for," said Trivedi, whose Philadelphia suburban district favored Obama by 17 points in 2008. "I'm waiting to figure that out as well, and I think that's where voters in the district are."
In contrast, the chairwoman of the Democratic National Committee, Debbie Wasserman Schultz, sounded an upbeat tone in a telephone call with reporters on Wednesday. She said the president was building an "unprecendented'' grassroots campaign and noted and that approval ratings for Republican leaders in Congress continue to lag behind the administration.
While the Bloomberg poll showed widespread skepticism about the president's legislation to boost employment, Wasserman Schultz pointed to a CNN/ORC International poll that showed Americans approve of his economic plan by 43 to 35 percent.
"Our chances remain quite strong,'' said Wasserman Schultz, who represents a heavily Democratic district in south Florida. "We know the president's vision is resonating.''
Sen. Chuck Schumer, D-New York, dismissed the idea that the New York district was a "bellwether,'' calling it "one of the most conservative districts in New York City.'' But the Democratic congressional arm seemed to contradict Schumer in a memo stating: "We are not going to sugar coat it, this was a tough loss.''
Then the DCCC went on to give a litany of excuses for the defeat.
Connecticut Sen. Joe Lieberman, an independent who caucuses with the Democratic party, said the results in the heavily Jewish district in New York reflected the economy and the candidates but "I am sure there was some fallout in Jewish support." Obama received about 78 percent of the Jewish vote nationally in 2008.
Lieberman blamed declining Jewish support on rhetorical missteps by the White House that can be corrected in the next year if the president reassures Jewish and Christian supporters of Israel that "he has the same commitment to Israel's security that most Americans do."
"Historically Jewish Americans have voted overwhelmingly for Democrats, and they did in 2008 for president. So this is not an irretrievable situation,'' said Lieberman, who became the first Jewish nominee on a national ticket when he ran for vice president in 2000. "But there's no question if the election were held today, I'd say at a minimum the president would get fewer votes from Jews."
Members of the House Blue Dog Coalition downplayed the results in New York though they have every reason to be skittish. The group of moderate-leaning Democrats from swing districts was cut from 50 to 25 in the 2010 election.
"I think Blue Dogs have shown our independence and that's the way we will be successful again in the next election cycle,'' said Rep. Heath Shuler, D-N.C., "We are giving what the American people (are) asking for - not what a political parties (are) asking for."
The next House special election is slated for next January, where a crop of Democratic politicians are vying for the nomination against a Republican businessman - for the seat of another scandalized former Democratic congressman, Rep. David Wu.
Image credit: Larry Downing/Reuters