Tim Pawlenty Endorses Mitt Romney for President
After dropping out of the 2012 race last month, the former Minnesota governor will serve as national co-chairman for his erstwhile rival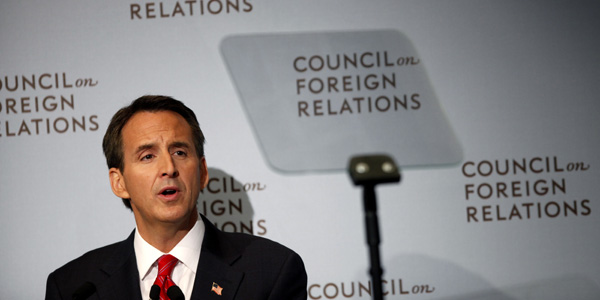 Former Republican presidential candidate Tim Pawlenty, who dropped out of the race last month, endorsed Mitt Romney for president, in an appearance on "Fox and Friends" this morning.
"The next president is going to have to lead on the economy and jobs in a historic way and there's one candidate in this race who is unmatched in his skills and experience and talent when it comes to turning around this economy and growing jobs. And that's Mitt Romney," Pawlenty said on the program. "And I'm proud and excited to endorse him for president of the United States."
Pawlenty said he will be serving as the national co-chairman of Romney's campaign. He also said he didn't want to be considered as Romney's running mate. Pawlenty will be appearing with Romney Monday at a campaign event in Charleston, South Carolina.
Pawlenty's endorsement comes as the Republican establishment still has questions about Texas Gov. Rick Perry's electability in a general election. Pawlenty dropped out of the race last month after the Ames Straw poll just as Perry launched his candidacy.
Asked in the interview about Perry's writings equating Social Security to a Ponzi scheme, Pawlenty noted the contrast on the issue between the two presidential candidates.
"I know this. Governor Romney wants to fix Social Security. He doesn't believe it should be thrown out. He believes it should be reformed and fixed and I think that's the right approach. I think most Americans; most republicans understand that we're going to need Social Security in a reformed and improved fashion going forward. That's what Mitt Romney supports and that's what I support as well."
Pawlenty went on to draw a clear contrast between the two: "Gov. Romney wants to fix Social Security. He doesn't want to abolish it or end it...Gov. Perry has said in the past that he thought it was 'failed'.'"
Pawlenty dropped out of the presidential race last month, and faced criticism for not attacking Romney aggressively on his Massachusetts health care plan. He had called it "Obamney-care" on the campaign trail, but was timid in going after Romney face-to-face on the issue at the debates.
Image credit: Mike Segar/Reuters