The Facebook PAC: When Social Media Discovers It's Big Business
A season of political moves should remind us of the corporate interests of the new Internet utilities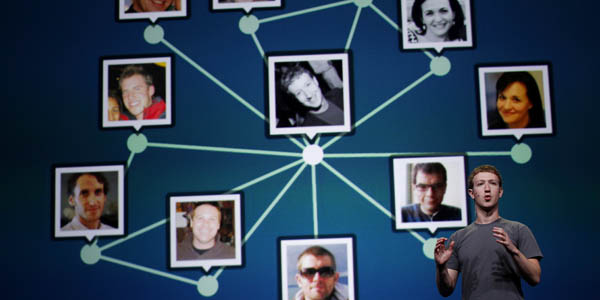 On Monday, Facebook filed papers to launch FB PAC. The political action committee is designed, said company spokesperson Andrew Noyes in a statement, to "give our employees a way to make their voice heard in the political process by supporting candidates who share our goals of promoting the value of innovation to our economy while giving people the power to share and make the world more open and connected." The news burned up Twitter, and more than one tweeter shared the sentiment of @angeleenie, "Ok, this makes me angry." All of which raises the question, is the idea of a new Facebook PAC really such a big deal?
No, not really. And also yes, a little.
In the 'no' column: big companies regularly launch these political vehicles. "Companies -- even entire industries -- have held out against 'playing the Washington game,'" Sheila Krumholz, executive director of the Center for Responsive Politics, told The Atlantic, "but sometimes think the better of it."
A perpetual lack of access and legislative success will do that to you, said Krumholz -- and Internet companies are no exception.
Google started its NetPAC in 2006, and, according to OpenSecrets.org, in the last cycle donated more than $330,000, spread roughly evenly between Democrats and Republicans. (Queens Democrat Joe Crowley got Google money, for example, but so did Obama thorn Darrell Issa, the Republican chair of the House's oversight committee.) Amazon's PAC gave nearly $190,000 to candidates in 2010, and eBay's just slightly less.
Vint Cerf, one of the "fathers of the Internet" who now serves as Google's chief Internet evangelist, argued in an email that this is a natural reaction to lawmakers who produce laws that can harm the tech giants. "In such a situation," wrote Cerf, "one is interested in supporting candidates who are known to be better informed and sympathetic to the conditions these companies face."
But the emergence of a Facebook PAC is worth noting for at least one reason. It's a reminder that Facebook, as well as Google, is a big corporation with corporate interests, when both have spent the last several years reveling in the conventional Washington wisdom that these companies simply are the Internet.
Look back at the last six months alone.
In April, President Obama traveled to Palo Alto to participate in a Facebook "townhall" moderated by CEO Mark Zuckerberg, where both Facebook employees and Facebook users submitted questions for Obama. That session seemed to kick off a bipartisan social media frenzy. In July, Twitter's chairman, Jack Dorsey, was invited to the White House to lead a question-and-answer session where questions for Obama were plucked from the tweet stream. Last Thursday, Google was FoxNews' co-host for the Republican presidential debate. Yesterday, the same day the Facebook PAC news broke, Obama participated in a last-minute forum at LinkedIn headquarters moderated by CEO Jeff Weiner. Also Monday, Facebook's chief operating officer Sheryl Sandberg led a morning Q&A session with the "Young Guns," "Republican congressmen Eric Cantor, Kevin McCarthy, and Paul Ryan. If Sandberg was tired, that's understandable -- the night before, she and her husband had thrown a $35,800-per-couple campaign fundraiser for Obama at their Atherton, Calif., home.
In all these events (well, save the Sandberg fundraiser -- that you weren't invited to), the lines between Facebook user and Facebook employee, between Google.com and Google Inc. were so blurry as to not exist.
Should these sessions set off more alarm bells? Perhaps. Facebook, Google, Twitter, LinkedIn -- these are web platforms that Americans use and enjoy a great deal. But one imagines what would happen were the Obama White House to announce a "townhall" session moderated by AT&T's CEO where citizens could call and ask their president a question (provided that they could get a cellphone connection). People would probably complain; AT&T registers in the public imagination as a corporation, with the usual attendant corporate interests.
Of course, in practice the thing to watch for what sort of candidates Facebook will be channeling money to and which public policies they'll be putting their dollars behind. The company said yesterday that it's too early to say. (A Facebook rep also declined to respond on the record to the idea that maybe Facebook users could pick the candidates and issues through a Facebook poll.) Falling under the rubric of "promoting the value of innovation" that Noyes laid out could be: H-1B visas, STEM education, or even spectrum reform. But what of "mak[ing] the world more open and connected"? That can get tricky. Facebook Inc. and Facebook's 150 million U.S. users might not see eye-to-eye, for example, on the value of the data privacy measures currently before the Senate Judiciary Committee.
It's a particular challenge for Facebook, where their core business model -- making money off the data that the rest of us pour into their system -- can make their core audience exceedingly uncomfortable.
Some Internet advocates are looking forward to having a more powerful ally in the political arena. The groups and people who rallied behind net neutrality regulations last year were disappointed when Google seemed to go a bit wobbly. Perhaps Facebook wouldn't. "We have often likened the battle for net neutrality as a contest that pits David against Goliath," said Tim Karr of the advocacy group Free Press. "It's good on occasion to count a giant in your corner." Put differently, it's the Internet-as-fiefdom model, where we little people are left scrambling for the strongest protector. It's not hard to look at that and see an Internet that was meant to distribute power instead pooling it in certain places.
Google has, of late, embraced a slightly different tactic. Hauled up to Capital Hill last week, chairman Eric Schmidt tried to sell senators on the idea that Google is nothing more than the "GPS" of the Internet (echoes of John Roberts' "my job is to call balls and strikes").
It's probably, finally, time to separate in our minds Google and Facebook -- tools and platforms that many of us love and depend on -- from the companies that supply them. Because they are indeed companies.
Observed Cerf, "the legal environment is simply another market condition with which companies have to cope."
Image credit: REUTERS/Robert Galbraith