Texas Toast: Rick Perry's Death Penalty Calendar
The governor has the authority to stay three pending executions so that the courts can be sure of the prisoners' guilt. But will he?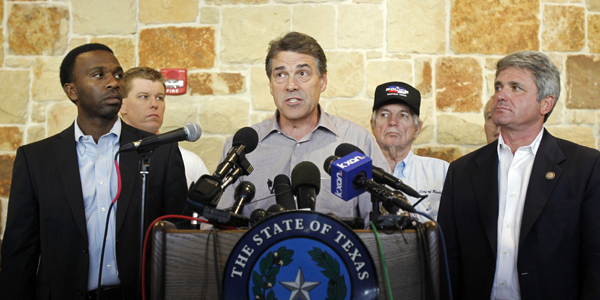 Rick Perry speaks at a media conference / Reuters
Whether or not he was an innocent man, whether or not the nation's justice system
failed
him, Cameron Todd Willingham
is dead
, as dead as Julius Caesar.  He was executed way back on February 17, 2004, and there's nothing Texas Governor Rick Perry can do about it now. The same goes for Humberto Leal Garcia, the Mexican national
executed in Texas
on July 7th despite the earnest protestations of the Justice Department, Mexico's government and the United Nations. Nothing Gov. Perry can do now will bring Garcia back either.
But the leading Republican candidate for president, the governor who has authorized more executions than any other governor in the history of the United States, more even than his infamous predecessor, has the opportunity in the next ten days to do right by a death row inmate named Duane Edward Buck, who is very much among the living, at least for now. Gov. Perry also soon may have to confront the controversial case of another condemned Texas inmate, a man named Larry Ray Swearingen, whose execution is now on hold pending a new court review of important scientific evidence in his case. And the same goes for convicted triple-murderer Hank Skinner, a condemned inmate who has a November execution date despite a pending federal court case over a requested DNA test.
Political analysts seem divided over whether Gov. Perry's pronounced zeal for capital punishment will help or hurt him on the national stage. Just this past weekend, for example, Juana Summers at Politico wrote a piece suggesting that the death penalty won't be a big deal for Perry (or anyone else) on the campaign trail leading up to the 2012 election. That may or may not be true at the surface level of political theater. But either way it doesn't mean that the candidate's upcoming decisions on capital punishment, placed properly into the context of Texas' long and notorious history with the death penalty, aren't a vital topic to explore now that Labor Day has come and gone.
To understand why this is a worthwhile endeavor, notwithstanding what the pundits and spinmeisters are saying about the public's interest in capital punishment as a stump issue, it's useful to go back 15 years or so ago in Texas history. There was an awful lot we all might have learned early on about the governing styles and intellectual rigor of then-Texas Gov. George W. Bush and his Legal Counsel Alberto Gonzales had folks around the country paid more attention in the 1990s to the grossly negligent way in which the pair evaluated clemency petitions from death row inmates.
With the benefit of hindsight, for example, one could reasonably argue that the pair's sloppy legal reasoning, disregard for fundamental legal principles, and contempt for honest evaluation of evidence about the Texas prisoners foreshadowed the subsequent torture memos and other low moments of the Bush presidency. If you don't believe me, if you think I am exaggerating the links and patterns here, please take a few minutes to read Alan Berlow's landmark piece, The Texas Clemency Memos, which appeared in the July/August 2003 issue of The Atlantic Magazine.
Likewise, surely, there are important lessons to be gleaned these days by the way in which candidate Perry handles the pending Buck, Swearingen and Skinner cases. They are all different as a matter of fact and law. But their resolution over the next few weeks and months will tell Gov Perry's new national audience a great deal about where he stands on matters of law and justice, pride and prejudice, and the intersection of law and science. The governor doesn't believe in the science of Evolution? He doesn't believe in the science of global warming? How about science of medicine? How about the science of DNA? How about the science of law?
At a time when several states are moving away from the death penalty as a costly, uncertain experiment, and with a chorus of critics still pressing the governor to better explain his dubious handling of the aforementioned Willingham case, Perry now will have to justify his capital decisions more fully than he ever has before. He'll have to convince death penalty opponents and staunch advocates of capital punishment that he is willing and able to follow the rule of law even if it takes him to a place he doesn't necessarily want to go; a place where some condemned prisoners aren't executed as quickly as the Texas justice system wants them to be-- or aren't executed at all.
Duane Edward Buck
Last Wednesday, lawyers for Duane Buck filed a clemency petition with the Texas Board of Pardons and Paroles seeking to have the Board and Gov. Perry halt Buck's execution, now scheduled for September 15th. They do not claim that Buck is innocent. They do not seek to have him released from prison. Instead, they seek either to have his sentence commuted to life in prison without the possibility of parole or to have his execution stayed so that the courts can grant him a new sentencing trial. The lawyers claim that Buck, who was convicted of murdering two people in Harris County, Texas in 1995, has been prejudiced not once but twice by Texas' justice system.
The first time, they say, occurred when an expert witness at Buck's 1997 murder trial told jurors that Buck's race -- he is black -- "increased the likelihood of his being dangerous in the future," a patently unconstitutional bit of testimony that should have immediately halted the trial proceedings. The second time Buck got the shaft from Texas justice, the lawyers say, is when he alone was treated differently from a group of five other convicted murderers whose trials were similarly tainted by the expert's racial testimony. It's an equal protection violation on top of an equal protection violation and Gov. Perry has an opportunity to fix it.
There is more to the Buck story. His lawyers did not raise the "future dangerousness" issue in their initial appeal -- which was denied.  But in June 2000, Texas Attorney General, John Cornyn (now the junior senator of the Lone Star State) conceded after an investigation that Buck's case and those five others had been unconstitutionally tainted by the racial testimony of the expert, a psychologist named Walter Quijano. Over the next few years, to its credit, the Texas AG's office repeatedly confessed its error in those cases and helped ensure that each of the men would get a new sentencing trial, each of the men but Buck, that is.
All five of those other men were subsequently sentenced to death in Texas without the racially impermissible testimony. And it is quite likely that Buck would be, too, were he afforded the opportunity to have a sentencing trial free from the prejudicial impact of Quijano's statements. If Perry gives Buck the chance for that new sentencing trial, he will be following Cornyn's praiseworthy practice, following constitutional precedent, and making good on Texas's 11-year-old promise to put to right the trials the impacted defendants.
On the other hand, if Gov. Perry does not step in, if he allows Buck to be executed on September 15th, he will be going back on Cornyn's word, shunning precedent, and relying upon legal technicalities that would likely have made Bush and Gonzales blush. And that's saying something. Is America ready for a president who makes John Cornyn look like Sister Helen Prejean when it comes to capital punishment? Is it ready for a president who would countenance such an evident (and conceded) violation of due process and equal protection principles?
Larry Ray Swearingen
Three times now, Larry Swearingen has avoided execution for the 1998 murder of a college student named Melissa Trotter. Convicted in 2000, Swearingen was a day away from lethal injection at the Texas State Penitentiary at Huntsville in 2007 and again in 2009 when the courts intervened. Then, five weeks ago, on July 28th, the Texas Court of Criminal Appeals stepped in and stayed his latest execution date of August 18th. The court's move doesn't necessarily presage victory for Swearingen -- capital procedures under federal and state law make it virtually impossible for inmates to succeed with these sorts of claims even when they have merit. Sooner rather than later, Gov. Perry may be asked to get involved in this case.
The issues raised by Swearingen and his lawyers more closely resembles the Willingham case than it does the Buck case. Defense attorneys now claim that Swearingen could not have murdered Trotter because he was in jail at the time of her death. They base this argument, among other things, upon the testimony of the medical examiner in the case, who helped convict Swearingen at his 2000 trial but who has since changed her mind about her conclusions. Here's how Jordan Smith of The Austin Chronicle recently framed the issue:
At issue is the forensic science of death and decomposition. More than a decade after Trotter's death, a growing number of scientists - including pathologists, forensic anthropologists, and entomologists - agree that Swearingen could not have been responsible for Trotter's death.

 

Specifically at issue is histological evidence (analysis of cell tissue) that nearly a half-dozen doctors have reviewed and that they say shows conclusively that Trotter had not been dead for 25 days at the time she was found in January 1999. Samples of cardiac, lung, and vascular tissues harvested from Trotter at autopsy, saved in a paraffin block and finally recovered from the Harris County Medical Examiner's Office by Swearingen's attorney in 2009, show tissue that is hardly decomposed at all and is most consistent with a person who has been dead less than a week.

If Trotter was dead less than a week when her body was discovered, Swearingen was in jail when she died and could not have killed her.
A few years ago, before Swearingen's second stay of execution, Texas Monthly's Michael Hall wrote a powerful piece about the case titled "The Science of Murder" in which he chronicled the ways in which the Texas courts had consistently refused to respect the growing scientific consensus about the case. If the courts don't fully vet the matter now, a governor who does not respect the science of Evolution or the science of global warming will be asked with a man's life on the line to respect the science of entomology, anthropology and pathology. The Swearingen case thus may be an interesting test of just how far Gov. Perry is willing to go to subvert objective fact in the name of moral policy; a test, it seems to me, that is highly relevant for someone seeking national office as commander in chief.
Hank Skinner
There is science -- and then there is the science of DNA testing, which has caused over the past 20 years nothing short of a revolution in the criminal justice system. Convicted of murdering his girlfriend and her two children in 1995, Hank Skinner and his attorneys have been trying for over 10 years now to get certain evidence against him tested for DNA to see if it would help exonerate him. The defense has long argued that he was too whacked out on drugs and alcohol to have committed the heinous crime. He claims his girlfriend's uncle is the culprit.
Texas has steadfastly refused to authorize the DNA tests Skinner has sought even as state lawmakers have approved measures making it easier for other prisoners to seek and receive the results of such tests. In 2009, Skinner sued the state in federal court. This past spring, the United States Supreme Court, by a 6-3 vote, agreed that he could continue to pursue his efforts to seek the testing. The opinion in Skinner v. Switzer indicates that the Court believes that the potential harm that could come from refusing to allow Skinner to have the evidence tested -- i.e., the possibility that Texas could soon execute an innocent man-- far outweighs any benefit Texas would gain from refusing to do so.
Even though Skinner's federal case now still is pending, even though the Supreme Court's mandate has yet to be fully enforced, Texas went to court in late July seeking a new execution date. And it got one. Skinner now is scheduled to be executed on November 9th. His lawyers believe they will get a ruling from the federal trial judge between now and then but, just in case, they will today (Tuesday) seek another court-ordered stay of the execution and to have the testing done pursuant to the new Texas statute, SB 122, which went into effect just last week. If that fails, they'll be at Gov. Perry's door, asking him to press local prosecutors for the testing Skinner wants, for a stay of execution until the federal case is completely over, or both.
Good luck with that. When it comes to the post-conviction DNA testing of capital defendants, the governor's record is dubious, even by Texas standards. For example, in 2009, as the world-renowned Willingham case was about to be evaluated by the state's Forensic Science Commission, Gov. Perry replaced three Commission members in a move widely perceived as political ploy to avoid an embarrassing report before the 2010 gubernatorial election. The political ally the governor chose to take over the Commission, a prosecutor named John Bradley, not only successfully delayed and denuded the Willingham report but now is under fire from the folks at the Innocence Project for blocking DNA evidence that ultimately may exonerate another death row inmate, a man named Michael Morton. It gets late early in Texas, doesn't it?
Gov. Perry has the authority to ask prosecutors in the Skinner case to authorize the DNA testing. He has the power to grant Skinner -- and Buck-- a reprieve from their scheduled execution dates so that the serious questions surrounding their respective cases can be fully fleshed out by the courts. In all three of these pending cases, and dozens more, he has the power to ensure that the state's death penalty is carried out both fairly and accurately. Whether he fulfills these obligations, which both of Texas's sitting Republican senators publicly have endorsed, shouldn't just matter to the condemned men involved and the victims of their alleged crimes. It should matter to everyone who cares about who they vote for next November.