Supreme Court Stays Execution of Duane Buck in Texas
With hours to go before lethal injection, justices agreed to hear Buck's appeal to the death sentence he was given after a racially tainted trial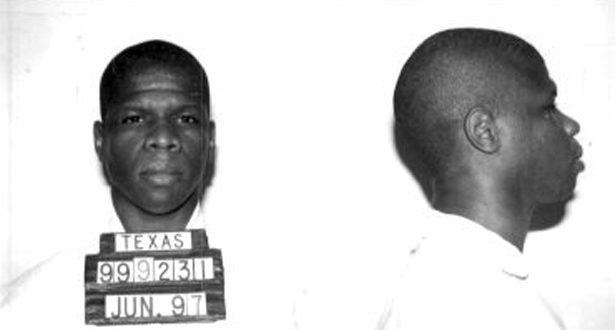 Updated Friday, 7:30 a.m.
The United States Supreme Court late Thursday halted the scheduled execution of Duane Edward Buck, the convicted Texas murderer whose 1997 trial was unconstitutionally tainted by improper racial testimony. Buck's attorneys had sought a new sentencing trial after Texas authorities, in 2000, had conceded his trial was unfair. With hours or perhaps even minutes to spare before the lethal injection protocol was to begin in Huntsville, Texas, the Supreme Court agreed to consider Buck's appeal.
Here's how the Texas Tribune covered the dramatic development:
Buck was praying when Texas Department of Criminal Justice officials informed him of the news, said spokesman Jason Clark. "He said, 'God is worthy to be praised. God's mercy triumphs over judgment, and I feel good,'" Clark said. Buck had already had his last meal of fried chicken, salad, french fries, fried fish, jalapeno peppers and apples before state officials received the decision from the high court, Clark said.
Buck's attorney, Kate Black, said after the stay was issued in Washington:
We are relieved that the U.S. Supreme Court recognized the obvious injustice of allowing a defendant's race to factor into sentencing decisions and granted a stay of execution to Duane Buck. No one should be put to death based on the color of his or her skin. We are confident that the Court will agree that our client is entitled to a fair sentencing hearing that is untainted by considerations of his race."
There is no guarantee that the Supreme Court will grant Buck the new sentencing trial his lawyers have requested. Instead, the justices now will evaluate Buck's claims that his equal protection and due process rights were violated in 1997 when an expert witness told jurors that he would be more dangerous in the future because he was black. In 2000, former Texas Attorney General John Cornyn, now the junior U.S. senator from the Lone Star State, identified as impermissibly tainted the Buck case -- and several others. Each of the other men received new sentencing trials -- all were re-sentenced to death.
Texas Gov. Rick Perry, who was asked to halt Thursday's execution but who refused to do so, was in Jefferson County, Iowa Thursday night at fundraiser for his Republican presidential campaign. The state's Lieutenant Governor, David Dewhurst, was set to "preside" over the execution in Gov. Perry's absence. The Harris County District Attorney in the case, Patricia Lykos, who was asked by Buck's attorneys for a new sentencing trial, was not immediately available for comment after the Supreme Court's stay.
(For more details and analysis on the Buck case, here's Tuesday's piece, last week's piece on Gov. Perry's death penalty positions, and Thursday's piece on transparency in the clemency process in Texas as well as the governor's decision to fundraise in Iowa while a contested execution proceeded in his home state.)