School Stuff, the World, and Laura Bush
Most Americans know former First Lady Laura Bush as a strong supporter of education -- and she puts her time and travel into this cause.  What is less known about Bush is how committed she was to international bridge-building and encouraging Americans to connect abroad.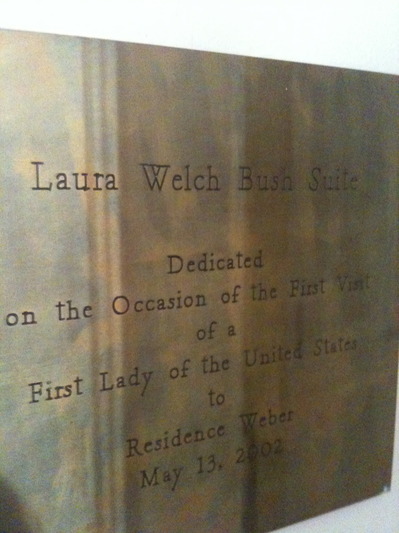 I want to tip my hat to former
First Lady Laura Bush
.
She is an internationalist -- and young folks, in fear of burying the lead, you should know that there is a "Laura W. Bush Traveling Fellowship" administered by the Department of State (Deadline extended to September 26, 2011) that is a great opportunity for young people to work abroad in line with the goals of UNESCO.
Most Americans know Laura Bush as a strong supporter of youth education -- and she puts her time and travel into this cause.  Just today, The Education Alliance -- a support group of business and community for "public" schools in Charleston, West Virginia -- announced that Mrs. Bush would be the keynote speaker of the Alliance's annual fundraiser on November 9th.
On October 7th, Laura Bush will visit the Lubbock-Cooper Independent School District in Texas to attend a ribbon cutting at a middle school named in her honor.  This really impresses me as Charleston while a fine city (and the same goes for Lubbock) doesn't tend to rank among America's most acclaimed metropolises.  She is pushing education in a retail way, out in places that too often get overlooked.  Impressive.
What is less known about our former First Lady is how committed she was to international bridge-building and encouraging Americans to connect abroad.

During her tenure in the White House, she made three trips to Afghanistan; traveled to Asia, Europe, Africa, all over the world really.  She is proud to have a passport -- and weighed in on key international issues such as women's rights, educational development, water and resource challenges in the developing world, global health.  She and her husband, George W. Bush, were champions in standing by and increasing the levels of US government aid to Africa on HIV/AIDS.
Laura Bush sees international engagement as vital to America's national interests -- and I wish her voice were heard louder today in the House of Representatives which seems to be increasingly isolationist and disdainful of American support for struggling people and nations abroad.  She stands as a profound foil to the know-nothingness that seems to be ascending in some wings of the GOP.
The US-Global Leadership Coalition really ought to get Laura Bush to their annual gala next year and challenge each Member of Congress -- particularly the ones who have not traveled internationally -- to attend to hear her make the case for supporting America's pretty meager aid and global assistance portfolio.
Bush, in her first speech on the international stage delivered in Paris at the OECD meeting in May 2002 -- she spoke to the importance of educating and inculcating young people with the values of tolerance.  That is a message that not only needed to be heard abroad, but it's a theme more Americans need to hear at home.  The growing network of Islamophobia that the Center for American Progress recently documented indicates that there are significant pockets of the country thus far immune to what Laura Bush has encouraged.
I took the above photo in the home of the current Ambassador to the OECD, Karen Kornbluh, whose predecessor, former US Ambassador to the OECD Jeanne Phillips, hosted Mrs. Bush.  The room, now named "The Laura Welch Bush Suite", was where I slept, proudly.
Now back to those Laura W. Bush Traveling Fellowships.  Here's the overview:
The fellowship will help fund a proposal designed by the applicant to conduct brief work in a foreign country related to the mandate of UNESCO - using education, natural sciences, social and human sciences, culture, and/or communication and information to build strong ties among nations.



The fellowship is intended for American college/university students who express an interest in international collaboration but as of yet had not been afforded many opportunities to travel abroad.

The length of time for the travel is expected to be between 4 and 6 weeks and should include interaction with individuals from other nations. During his/her travel, the recipient should be willing to participate in public diplomacy events arranged with the pertinent U.S. State Department Consulate, Mission, and/or Embassy.
I am hopeful that whether young applicants from the political right, left, or middle apply that they will remind their family, co-workers, and neighbors -- particularly out in towns and cities like Charleston, West Virginia and Lubbock, Texas that Laura Bush stands both for education and international engagement.
That would be a good thing for many isolationist-tilting Americans to consider.
Remember -- the new, extended deadline for application is September 26th.
(photo credits: top photo, Steve Clemons; Laura Bush in Africa, Reuters)