Rick Perry's Word Jumble and Mitt Romney's Quiet Attack Strategy
The former Massachusetts governor went after the Texas governor's ability to communicate as Perry tripped over his words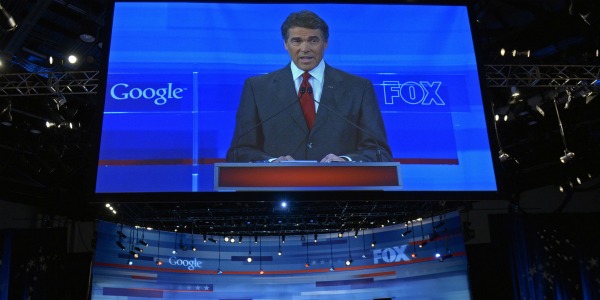 Mitt Romney subtly laid out a line of attack against Rick Perry last night that raised questions about the Texas governor's sometimes garbled syntax and increasingly apparent difficulty giving mid-length answers to policy questions in order to raise questions about his fitness to be president.
The most obvious point of difficulty for Perry in Thursday night's Fox News-Google Republican presidential primary debate came when he was trying to deliver what seemed a pre-scripted line slamming Romney for flip-flopping -- and instead came off like a cross between Gertrude Stein and Joey from Friends. The New York Times transcribed the moment thusly:
"Is it the Mitt Romney that was on the side of -- against the Second Amendment before he was for the Second Amendment? Was it -- was before -- he was before the social programs from the standpoint of -- he was for standing up for Roe v. Wade before he was against first -- Roe v. Wade?" he said. "I mean we'll wait until tomorrow to see which Mitt Romney we're really talking to tonight."
No wonder Romney's attack strategy was to say over and over that you can't understand what Perry is trying to say -- as well as to argue with him on policy.
"I'm not sure exactly what he's saying," Romney said of Perry's views on education funding at one point in the debate, according to the Fox News transcript.
"It's an argument I just can't follow," he said of Perry's views on the Texas DREAM Act.
"I don't think he knows what he was talking about in that -- in that regard," Romney said of Perry's accusation that the former Massachusetts governor's state health plan was socialism.
Perry is on a ledge here. One more debate performance like this and he stops being Texas Gov. Rick Perry, the man who has never lost an election, and becomes Rick Perry, the regional candidate who stumbled on the national stage and got tangled up in his words. If that happens, it doesn't mean he can't still be a formidable national political force -- just look at Joe "Say Anything" Biden -- but it will decrease the odds that he'll be the GOP nominee.
"There are a lot of reasons not to elect me, a lot of reasons not to elect other people on this stage, but one reason to elect me is that I know what I stand for, I've written it down," Romney said at the debate. "Words have meaning, and I have the experience to get this country going again."
The words and experience to be president: It's a message that could have increasing resonance if Perry continues to underperform in the GOP's verbal jousting forums.
Image credit: Reuters