Rick Perry Turns Establishment Heads With Blunt Social Security Talk
The Texas governor gave some Republicans heartburn when he called the program a "Ponzi scheme" on Wednesday night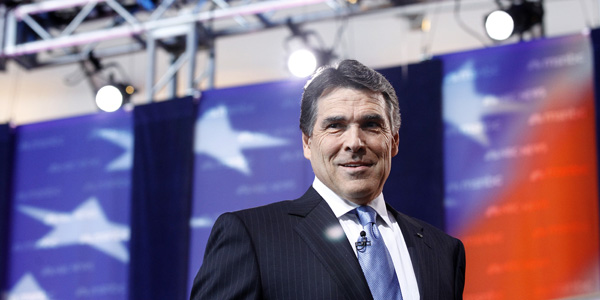 Texas Gov. Rick Perry's loaded descriptions of Social Security as a "Ponzi scheme" and "monstrous lie" in Wednesday's presidential primary debate were nothing new from the hard-charging Republican. But the fact that he repeated the red-hot rhetoric without toning it down for a national television audience surprised some GOP strategists, who questioned whether his head-on challenge of Social Security would become a liability if he's the GOP nominee against President Obama.
---
MORE FROM NATIONAL JOURNAL:
Obama's Jobs Plan: Timely, Targeted, but Incomplete
Congress Approves Historic Patent Legislation
Perry on the National Stage: Powerful but Unpolished
---
"For Rick Perry to call the Social Security check that your mother and my mother receive each and every month a fraudulent way to collect money could be devastating,'' said Florida-based Republican strategist Jamie Miller, who is not working for any of the presidential candidates. "If Mitt Romney is able to turn the primary into a debate about Social Security reform instead of about his health care record in Massachusetts, I think he wins.''
And Mitt Romney wasted no time Thursday trying to capitalize on the issue, with his team convinced that such overheated language is politically toxic even in Republican primaries--where early-voting states like Iowa, South Carolina, and Florida are filled with seniors. Romney went on Sean Hannity's radio show this afternoon, questioning whether Perry was too extreme to defeat Obama.
"If we nominate someone who the Democrats could correctly characterize as being against Social Security, we would be obliterated," Romney told the conservative talk show host.
The head-turning exchange between Perry and Romney on Social Security comes as the Republican field heads to retiree-friendly Florida on Monday for the first of two nationally televised debates this month. One-third of the Florida voters in the 2008 Republican primary were at least 65 years old, according to exit polling in the state, and it's likely to host an early and influential primary in the nomination process.
"I think Perry needs to thread the needle on Social Security, so that he makes his point without losing votes,'' said Republican consultant Eric Eikenberg, who worked for former Florida Gov. Charlie Crist and former Rep. Clay Shaw, R-Fla., when he was chairman of the Social Security committee. "I think people are ready to hear what Gov. Perry is saying if he can find better choices of words.''
Perry spokeswoman Katherine Cesinger emphasized that the governor is not advocating cutting benefits for those currently receiving Social Security checks or approaching retirement. She said his description of the trust fund as a "Ponzi scheme'' refers to his belief that younger workers who are paying into the fund will never reap the benefits.
"The American people want someone who is going to speak honestly about a system that is broken and bring it to the forefront,'' she said.
But while polls suggest Republicans are embracing Perry's fiscally conservative message, his harsh descriptions of Social Security as a "Ponzi scheme'' and a "monstrous lie'' could backfire with voters, particularly seniors.
A Pew Research Center poll released in July 2011 showed Republican voters divided over Social Security reform, depending on their income.
Among Republicans and Republican-leaning independents, 63 percent of those with family incomes of $75,000 or more said it's more important to reduce the budget deficit, while 62 percent of Republicans with incomes of $30,000 or less said it's more important to maintain Social Security and Medicare benefits.
Among Republicans and Republican-leaning independents who agree with the tea party, 57 percent view deficit reduction as a priority over Social Security and Medicare benefits. Among non-tea party enthusiasts, just 36 percent say that reducing the deficit is more important than maintaining benefits.
Democrats are much more united, overwhelmingly favoring preserving benefits.
"Social Security is a minefield that could come back to bite Perry in the general election,'' said Mason-Dixon pollster Brad Coker.
Social Security has long been considered the "third rail'' of politics because seniors vote in large numbers, and have been fiercely protective over keeping their benefits. But mounting concern about the national deficit has created an opening for tea party activists and like-minded politicians to successfully begin a conversation about reform.
And conservative talk show hosts, like Rush Limbaugh, praised Perry for sticking to his guns--underscoring the problem Romney faces as he tries to court elements of the Republican base. Every time he goes after Perry on entitlements, he risks being subjected to rounds of criticism from the right's loudest and influential voices for his moderation--and he's running in a Republican primary.
"Governor Perry wants the country to solve a problem that's bankrupting us all, and he wants to do it with facts and a considerable amount of political courage," Limbaugh said on his Thursday show. "I think he should be encouraged and defended, not proclaimed a political fool by people on our side."
One Republican politician who has broached the subject without political consequences is Florida's newest senator, Marco Rubio, who during his 2010 campaign advocated raising the age at which retirees would begin collecting Social Security. But the conservative rising star approached the topic far more delicately than Perry.
"Marco Rubio successfully dispelled the myth that this is not a topic you can talk about it an election,'' said Republican consultant Albert Martinez, who worked on the Rubio campaign. "He offered a road map talk for how to talk about it in a common sense way.''
Image credit: Mario Anzuoni/Reuters