Rick Perry, King of the Unlimited-Money Groups
In the new era of campaign finance, third-party organizations figure to play a big role in the 2012 election, and the Texas governor happens to be rolling in them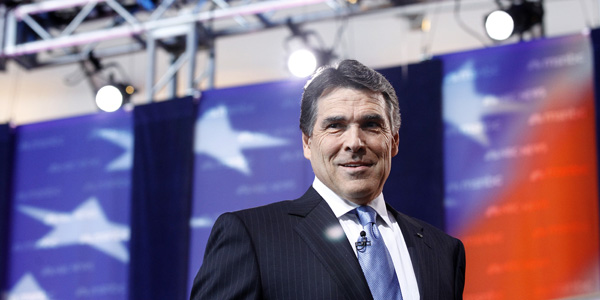 Rick Perry has more money groups supporting him than he knows what to do with.
SuperPACs, the new genre of political group that can gather donations of any size from nearly any source, are expected to play a big role in the 2012 election. The Karl-Rove-initiated American Crossroads is planning to raise $240 million, a group called Priorities USA will back President Obama, and two more SuperPACs will augment the spending of Republicans Mitt Romney and Michele Bachmann.
The Texas governor, meanwhile, is rolling in them. And, thanks to a new group, his supporters can now donate as much cash as they like, all without disclosing their names.
When supporters launched a pro-Perry SuperPAC shortly before he entered the 2012 race in August, the new group supplanted another SuperPAC as the main unlimited-gravy train behind the governor's presidential run -- and it became the seventh Perry SuperPAC in total, as The Washington Post's Aaron Blake reported:
The Make Us Great Again effort has signed up a team of prominent consultants, including Sacramento-based fundraiser Tony Russo, legal counsel Cleta Mitchell and the GOP advertising firm Jamestown Associates. It has also added staff that includes executive director Scott Rials and senior adviser Barry Bennett, who are both close to top Perry adviser David Carney.

The group surfaced this week in an e-mail from former Perry chief of staff Mike Toomey and supporter Brint Ryan, who will work with Russo to lead the fundraising operation. It is one of seven super PACs that have been launched on behalf of Perry's not-yet-announced presidential campaign so far, but organizers say they expect this one to easily be the biggest.
Now, another group of Perry backers is launching yet another unlimited-money group. This one's not a SuperPAC, but rather a 501(c)4, meaning it won't have to disclose where its donations come from. Peter Stone of iWatchNews reports:
Citizens for a Greater America is located in Athens, Ga., at the same address where Paul Kilgore, the treasurer of the Super PAC Make Us Great Again, is based, according to the fact sheet.

Reached by phone, Kilgore told IWatch News that the 501(c)(4) was very new and he didn't know much about it. "I'm the last guy that knows why these things get set up or what their structure is," said Kilgore, who runs a firm that does campaign compliance work. "I get looped in by the lawyers." Kilgore declined to say which law firm approached him about the new group.
Perry himself didn't launch any of these groups. Neither he nor his campaign can talk to them about their activities. Nonetheless, the Texas governor is now covered by the two most popular kinds of political cash machines. This makes him unique among 2012 presidential contenders. While some have SuperPACs, none (to my knowledge) have 501(c)4 groups aiming to support them.
The new group is tailored to the subtle, discrete Perry supporter, as donors won't have to disclose their identities. It's all on the QT.
The new group is also a throwback, to the (semi) innocent pre-Citizens-United days of yore, when the Wild West of political money was still there, but was relatively undiscovered by modern settlers.
Until last year, forming a 501(c)4 or a 527 group was the only way for political interests to collect uncapped donations. Traditional PACs and political campaigns can only take $5,000 per person, but 501(c)4 groups like Americans for Prosperity conducted their business unfettered. Then, after radical changes in campaign finance resulted from a series of court decisions and Federal Election Rulings, including the Supreme Court's Citizens United decision and culminating with the federal SpeechNow case, the SuperPAC arose as a new possibility, and 501(c)4s quickly fell by the wayside. Unlike 501(c)4s, SuperPACs disclose their donations to the Federal Election Commission.
If the new group really does exist mostly to back Perry, as the details of its genesis and Stone's interpretation suggest it might, then it will be breaking the law. While 501(c)4s don't have to disclose where their money comes from, they are bound by the U.S. tax code to "predominantly" exist for the promotion of social welfare, not politics. If the group spends 50 percent of its money on elections, then it will violate its 501(c)4 status -- not that other groups don't already break the law, according to the speculation of campaign-finance experts, and not that those experts think the IRS monitors 501(c)4 groups stringently enough.
Regardless, this is an intriguing new development that could allow a massive influx of corporate dollars, from any one of the companies that has donated to Perry in the past, to slip undetected into the Republican presidential primary.
Image credit: Mario Anzuoni/Reuters