Rick Perry Can Save the Big 12 but Chooses Not To
The governor could win the hearts of sports fans across the country, but his free-market principles have gotten the better of him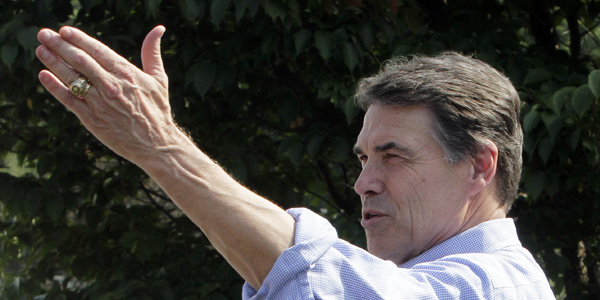 It's not that Texas Gov. Rick Perry can't save the Big 12 conference from collapse -- it's that he won't.
The conference sits on the verge of disintegration, with the University of Texas and Texas A&M both making moves to leave, at a time when three Big 12 football teams rank in the national top 10, according to both major polls. The universities of Colorado and Nebraska bolted from the Big 12 last year, leaving it with only 10 schools -- this after 15 years in which Big 12 fans mocked the Big Ten for having 11 schools, an appalling failure to count that severely undermined the credibility of Big Ten math departments.
If you're a college football fan, particularly if you're a purist, you do not like this conference-collapse business. It bodes horribly for everything you stand for. If Texas, Texas A&M, or Oklahoma proceed with plans to leave, it's likely the Big 12 will fall apart, and that its remaining schools will be swallowed up by the Pac-12, Big East, or Southeast Conference -- hastening the day when NCAA sports are ruled by three or four megaconferences of 16 or 20 teams. These towering collegiate Death Stars would pool billions in revenue and incinerate century-old rivalries and entire planets of fan allegiance with giant laser beams. They would be like SuperPACs, but worse.
Perry, the leading Republican candidate for president and a former yell leader for the Texas A&M Aggies, enjoys a lot of sway over the Big 12's fate. As the governor of Texas, he can pressure the Texas schools to stay, or to work out the differences that caused the Big 12's initial rift. Oil man T. Boone Pickens, a Dallas resident and Oklahoma State booster, recently called on Perry to save the conference.
But Perry isn't going to do it.
"The governor believes those decisions are best left up to the universities and has consistently stayed out of any conference realignment, because he believes the university leadership should be making those decisions," said Lucy Nashed, a spokeswoman for Perry.
Ah, the non-interventionist hand of a Republican running for president. The Market wins again. At least Perry has stuck to his principles.
But the thing is: It would be easy for Perry to step in, at least according to one of the few people qualified to judge.
Former Texas governor Mark White, a Democrat who served from 1983 to 1987, recalls nipping in the bud a similar initiative by Texas and Texas A&M to leave the Southwest Conference early in his tenure.
"I had some strong UT [University of Texas] supporters make an announcement to me that UT was going to leave the Southwest Conference, and probably A&M was going to leave as well," White told me over the phone this week. "I just said, 'Well, please have those two [university] presidents give me a call, and ask how many of their appropriations they're prepared to leave behind ... they never did call me, and I guess they just decided they weren't interested in leaving the Southwest Conference."
The Southwest Conference had existed for 70 years at that point, and White didn't want to see it fold. Big games between the conference's Texas schools -- Texas, Texas A&M, Texas Tech, Baylor, Rice, and Houston -- were good for the state, economically. The same holds true today. Ray Perryman, an economist with degrees from Baylor and Rice, recently claimed that if the Big 12 dissolves, the state of Texas would lost $1.16 billion in aggregate spending, $589.5 million in GDP, $365.2 million in personal income, and 8,329 jobs. Given that Baylor fans want to see the Big 12 stay together, take his numbers with a mild grain of salt.
Handle White's criticism of Perry with similar care. He's not only a Democrat who opposes Perry's White House ambitions, he's also a Baylor graduate. Nevertheless, White said it would be very easy for Perry to save the Big 12.
"Can the governor do something about it? Of course," White said. "A phone call from the governor, it wouldn't even be a long phone call, would straighten this in a minute. Can you imagine the governor of Alabama sitting there and watching Auburn and Alabama go different ways?"
Perry appointed every board-of-regents member at Texas and Texas A&M, so it's hard to imagine he doesn't have leverage over the schools' decisions. If the schools called a bluff to deprive them of funding, I wondered if the legislature, made up of graduates from a slew of Texas schools, would be able to follow through on a threat. White said it could. "It'd be a real mess for [the schools]. They'd be dazzled by what a mess they had. Let me say, it wouldn't be a pretty sight. The governor of Texas is a powerful office."
For Perry, stepping in would have its pluses and minuses. He could wave the day for Iowa State fans, preventing the Cyclones from being forced into the Mountain West and locking up a victory in the caucuses. Or it could backfire: His attempt could fail, and his GOP foes could accuse him of anti-free-market interventionism, a kiss of death in the Republican presidential primary.
For now, the governor is sticking to his free-market principles. Sports fans, however, might wish otherwise.
Image credit: Jim Cole/AP