Republicans Support Obama's Trade Agenda. Do Democrats?
The president is pushing three deals drafted under Bush. When Congress takes them up next week, how will his party vote?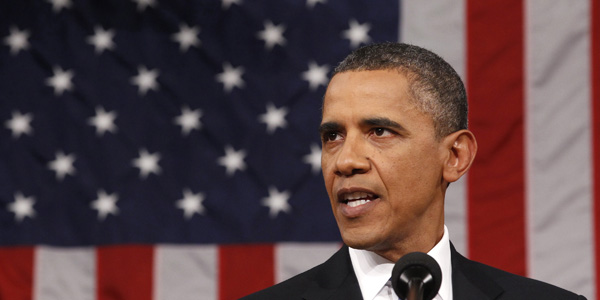 When George W. Bush asked Congress to pass a Colombia free-trade agreement in the waning months of his presidency, Democrats revolted.
"The president took action," then-House-Speaker Nancy Pelosi (D-Calif.) said at a press conference when Bush submitted the deal to Congress in April 2008. "Tomorrow, I will take mine." Labor leaders blasted Bush's deal, citing the murders of Colombian trade unionists. "The AFL-CIO position on the Colombia FTA [free trade agreement] remains unchanged: The violence, murders, impunity and violations of workers' rights in Colombia must end," said John Sweeney, then the labor federation's president.
Pelosi proceeded to block the deal, which went the way of other Latin American trade deals Bush had orchestrated, plus another stalled deal with South Korea.
Flash forward to 2011. President Obama is stumping for three Bush trade deals -- with Colombia, South Korea, and Panama -- as he calls on Congress to immediately pass his latest jobs agenda.
"Now it's time to clear the way for a series of trade agreements that would make it easier for American companies to sell their products in Panama and Colombia and South Korea -- while also helping the workers whose jobs have been affected by global competition," the president said during his speech to a joint session of Congress last week. "If Americans can buy Kias and Hyundais, I want to see folks in South Korea driving Fords and Chevys and Chryslers. I want to see more products sold around the world stamped with the three proud words: 'Made in America.' That's what we need to get done."
What's changed?
For one, Republicans have removed one of the main stumbling blocks for Democrats in 2009.
Republicans agreed this summer to authorize trade adjustment assistance (TAA) -- a program that supplies federal income support to workers who lose their jobs or suffer drops in work hours as a result of increased imports. House Ways and Means Committee Chairman Dave Camp (R-Mich.) agreed to support the measure in June, while extracting some concessions that included spending cuts to offset the cost and a smaller pricetag, reverting to pre-stimulus levels of support. In July, 12 Republican senators sent a letter to Obama notifying him they would support the TAA bill and urging him to send the FTAs to the Senate.
Next week, Senate Majority Leader Harry Reid will take the first step in pursuing Obama's trade agenda by introducing the TAA bill. According to spokesman Adam Jentleson, Reid hopes to pass it by the end of the week and move on to the three FTAs.
Not all Democrats will cooperate.
Sen. Sherrod Brown (D-Ohio), a labor ally and a staunch Obama backer in 2008, has lambasted the three trade deals even as Obama has pushed for them. "I continue to believe it is a dangerous mistake to pursue the same kind of trade deals that ballooned our deficit and led to massive job loss," he wrote in December.
Sen. Bob Casey (D-Pa.) spoke out against the trade deals in July. "I think this is a road we shouldn't take," he told the Pittsburgh Gazette.
While AFL-CIO President RIchard Trumka refrained from mentioning the trade agreements in a measured response to Obama's jobs speech last week, he has maintained the AFL-CIO's opposition. "These trade deals are absolutely not solutions to the jobs crisis. Instead of continuing to advocate for policies that got us into this mess, we need to focus on investing in our future and keeping and strengthening the jobs we have," AFL-CIO spokeswoman Alison Omens said.
In the Senate, Democratic leaders have not yet begun to whip the trade deals, according to a senior Democratic aide, so it's difficult to tell how many will support the deal. In the House, resistance could be more significant.
While the agreement on TAA money has won Obama some support, it's unclear whether the deals will pass -- and, if they do, whether their passage will erode any of the president's support among his Democratic allies.
Image credit: Kevin Lamarque/Reuters