Poll Shows Romney Leading Once Again in GOP Race
Rick Perry has faltered since shooting to the top of the Republican primary contest. Has the former Massachusetts governor reclaimed his front-runner status?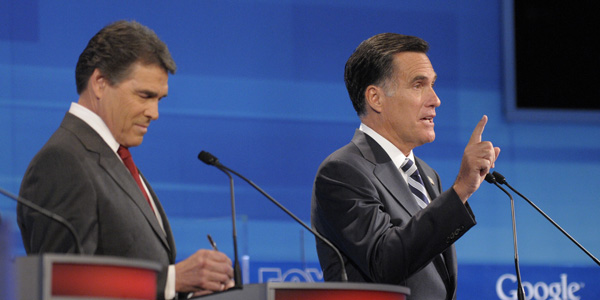 Texas Gov. Rick Perry has led the 2012 presidential race since his splashy entrance last month, but former front-runner Mitt Romney has re-taken the lead, according to a new poll from Fox News:
Mitt Romney        23%
Rick Perry         19%
Herman Cain        17%
Newt Gingrich      11%
Ron Paul            6%
Jon Huntsman        4%
Michele Bachmann    3%
Rick Santorum       3%
Perry still leads in the latest polls from CNN, USA Today, and McClatchy.
The Texas governor shot to the top of GOP polls without many voters having seen him on television or heard him speak, and his quick ascent seemed to reveal, at least in part, a dissatisfaction with the available options. But since then, the other Republicans have attacked him relentlessly in a series of three nationally televised debates. The governor has struggled to explain his executive order requiring HPV vaccines for girls in Texas, and he drew boos from an audience for defending in-state college tuition for young illegal immigrants in Texas.
During the last debate, Romney pounced on Perry as the Texas governor struggled with his words.
Usually one poll isn't too significant, on its own. Different news agencies and polling firms contradict each other all the time, and Fox News has released its share of surveys that didn't match up with other firms' results.
But with Perry's honeymoon over, a logical question seems to be: How long will his lead hold? Huffington Post polling editor Mark Blumenthal has called Perry's hold on the front-runner mantle tenuous. Last week, Blumenthal plotted Perry's plateau last week and noted that his Gallup name recognition had shot up from 55 percent among Republicans in July to 76 percent earlier this month. It's empirical proof that Republicans are just getting to know Perry.
If more polls agree with Fox's finding this week, it will mark a major shift in the 2012 Republican primary. Before Perry's entrance, Romney had led in every reputable national survey since November. After Perry officially entered the race on Aug. 13, the Texas governor has led in every poll. Fox's new survey is the first since Aug. 9 to show Romney as the outright leader.
Image credit: AP